Il 14 aprile, i Genesis sono a Pavia. 
Ecco la registrazione di un fan. Preziosissima testimonianza di quel concerto - ASCOLTA:
Doppio concerto, pomeridiano e serale. Ma il secondo è funestato da disordini per la contestazione di coloro che ritengono eccessiva la somma di millecinquecento lire del biglietto.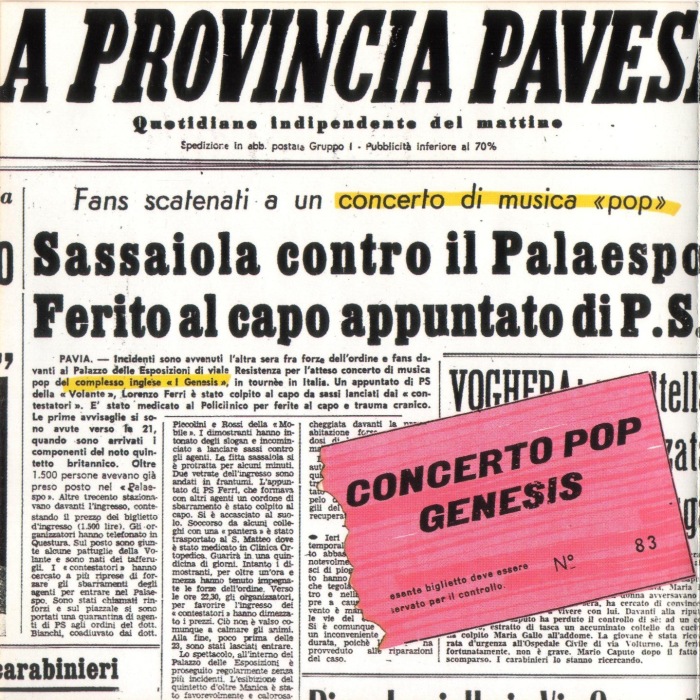 Ecco il ricordo di due presenti tratto dal sito Genesis The Movement:
"During "The Return Of The Giant Hogweed", the electricity goes off. Phil Collins played a drum solo and when power returned, they didn't restart the song but continued it from the point they left it at.[Matteo]

The show was one. absolutely NOT 2 (I was there). The Police arrived when, after 20 mins from the show start, people outside tried to get in without paying. But only 2 cars of Police got only a BIG CLAP from the crowd and people got in... A bootleg is been released in Italy from that show. A very poor q .ty bootleg, but is been released (NO CD-R). I had a copy in my hand and i sold it to a friend in Miami, USA to make another Silver-CD (NO- CDR too). [Romano]"
Se anche tu hai ricordi di questo concerto scrivi a info@horizonsradio.it
Salva
Salva
Salva
Salva
Salva
Salva
Salva
Salva
Salva