Phil Collins e Mike Rutherford (e qualcuno spera che si faccia vedere anche Tony Banks) al British Summer Time di Hyde Park a Londra, Steve Hackett al Jardín Botánico di Madrid. Sul palco c'erano "i Genesis".
Ecco i video:
Phil Collins al British Summertime Festival a Hyde Park, Londra. Sullo stesso palco, tra gli altri, anche Mike Rutherford con i suoi  The Mechanics (con un nuovo disco e un tour che toccherà anche l'Italia, leggi sotto). Clicca qui per i dettagli dell'evento.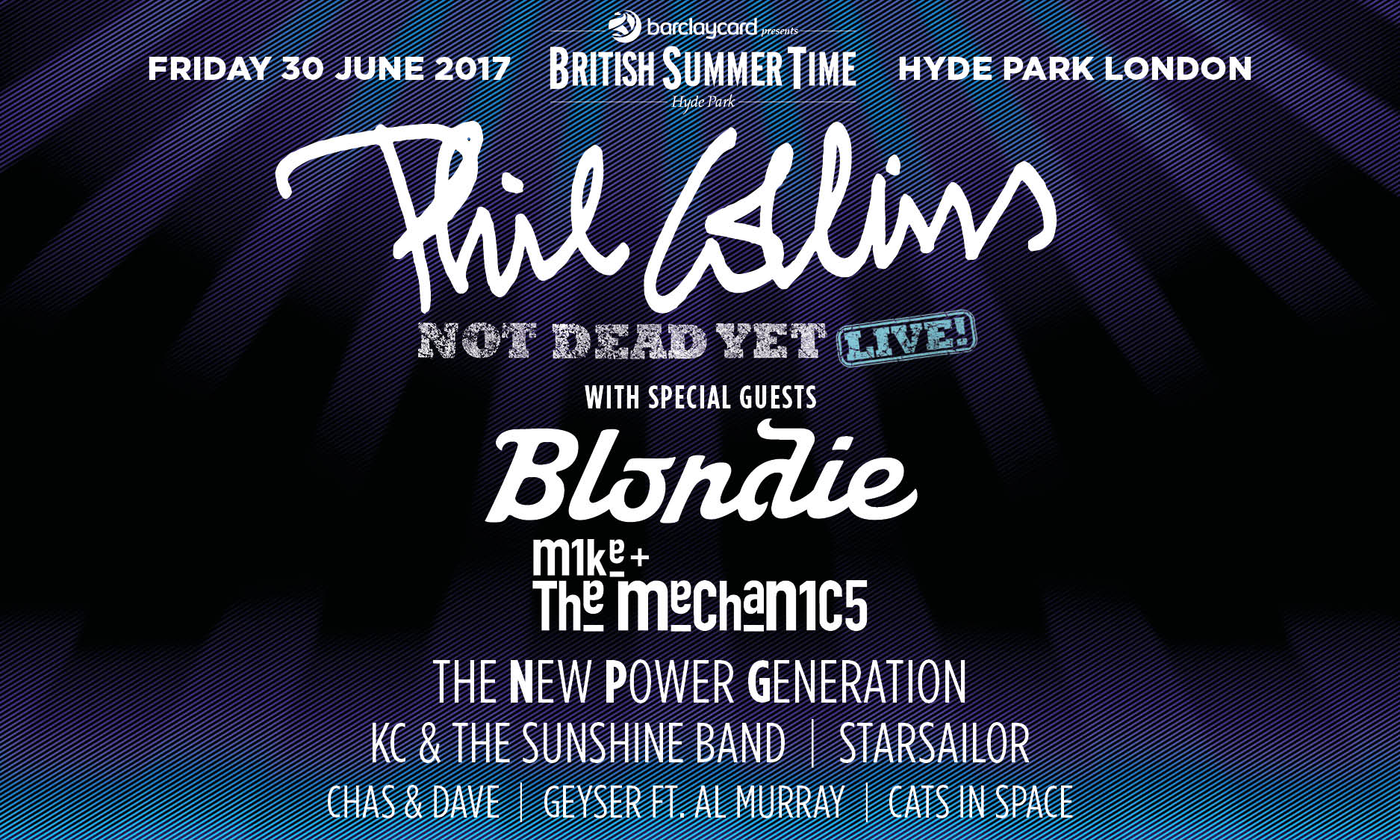 Ecco Phil nel momento dell'annuncio dell'evento:
Nelle stesse ore Steve Hackett è stato protagonista de Las noches del botanico 2017 al Real Jardín Botánico Alfonso XIII di Madrid. Poi Steve arriverà in Italia per quattro appuntamenti (leggi sotto).  
Ecco i video:
Clicca qui per i dettagli dell'evento di Madrid.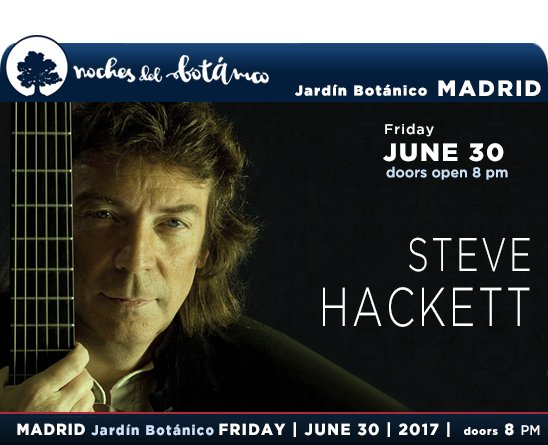 Not Dead Yet Live di Phil Collins. Ecco tutti i video girati e postati dal pubblico.
Guarda i video nella Playlist di Horizons Radio:
Set list:
Against All Odds
Another Day In Paradise
One More Night
Wake Up Call
Follow You Follow Me
Can't Turn Back The Years
I Missed Again
Hang In Long Enough
Separate Lives
Only You Know And I Know
--- Break ---
I Don't Care Anymore
Something Happened On The Way To Heaven
You Know What I Mean
In The Air Tonight
You Can't Hurry Love
Dance Into The Light
Invisible Touch
Easy Lover
Sussudio
--- Bis ---
Hyme à L'Amour / If You Love Me (Really Love Me)
Take Me Home
Line-Up
Phil Collins: Vocals (possibly a little bit of drumming)
Nicholas Collins: Drums
Leland Sklar: Bass
Daryl Stuermer: Guitars
Ronnie Caryl: Rhythm Guitar
Brad Cole: Keyboards
Arnold McCuller: Backing Vocals (replaced by Bill Cantos in Dublin and Hyde Park)
Amy Keys: Backing Vocals
Bridgette Bryant: Backing Vocals
Lamont van Hook: Backing Vocals
Luis Conte: Percussions
Harry Kim: Trumpet
Dan Fornero: Trumpet
George Shelby: Saxophone
Luis Diego Bonilla: Trombone
Steve Hackett Genesis Revisited & Hackett Classics 2017 tour. Ecco i video  dai concerti postati sui social.
Nel Tour Steve Hackett rivisita i classici dei Genesis in particolare ha celebrato il 40.mo anniversario di Wind & Wuthering, oltre al suo immenso repertorio solista. Grande protagonista anche il nuovo album The Night Siren.
Salva
Ascolta Genesis & Co.anche su: