Il 20 novembre esce il libro dell'ex tour manager della band con la prefazione di Peter Gabriel. Ora è prenotabile.

[glt language="English" label="English"]
[glt language="Spanish" label="Español"]

[glt language="Chinese (Simplified)" label="中国"]

[glt language="Russian" label="Россия"]
[glt language="Portuguese" label="Português"]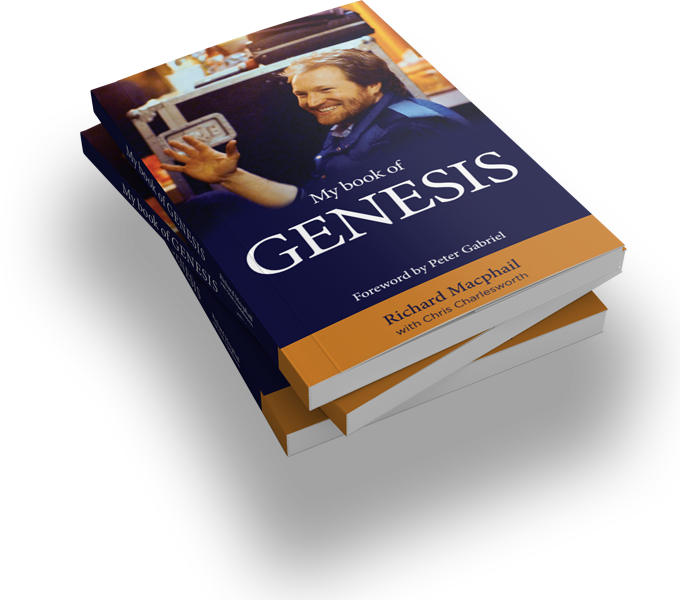 Si intitola "My Book Of Genesis", la biografia di Richard Macphail, l'ex road manager del periodo che va dal 1969 al 1973, dei primi giorni della band e delle sessioni per la registrazione dell'album Trespass , che prese vita proprio nel leggendario Cottage di proprietà dei suoi genitori.
Ora si può prenotare anche su Amazon per ora solo nella versione inglese (non c'è ancora notizia di un'edizione italiana) - CLICCA QUI
Figura sempre più importante all'interno dei Genesis, fino al clamoroso addio dopo Foxtrot. Ufficialmente per occuparsi d'altro, ma pare che fosse sempre più in difficoltà di fronte agli appetiti del music business nei confronti della band.
Un ultimo e caldo saluto lo si può trovare nel retro di copertina dell'album Genesis Live, tanto da mettere in allarme i fan e far loro temere la morte di Richard. Il quale è invece vivo e vegeto, ancora in contatto con Genesis & Co. e partecipa spesso ai Genesis Day in tutto il mondo, Italia compresa.
Ora arriva "My Book Of Genesis" e la prefazione di Peter Gabriel dimostra gli ottimi rapporti di Macphail con gli ex compagni d'avventura. 
Il libro è scritto con Chris Charlesworth e darà ai lettori un quadro nella vita della band di quel periodo, vista dalla sua angolazione. Oltre a Gabriel ci saranno interventi degli altri membri della band e 30 foto inedite.
Al momento l'unica anticipazione concessa è un gruppo di titoli di alcuni capitoli. Eccoli: In The Beginning, Mick Jagger - The Devil Incarnate, The Wilderness Years, The Guy In The Top Hat, Why Did You Leave Genesis, Busted In St Gallen and The Reunion.
Ascolta i Genesis anche su:
Per non perdere nessun dettaglio sulle prossime novità iscriviti alla Newsletter qui sotto.