"Dreaming on the Beach" è il titolo della serata di gala con concerto, che si svolgerà sabato 9 dicembre alle ore 20:00 a The Fillmore, Miami Beach al Jackie Gleason Theater, organizzato da Little Dreams Foundation di Phil and Orianne Collins.
Partecipano a questa terza edizione Laura Pausini, Phil Collins, KT Turnstall, Pitingo and Fifty Eight Hundred.
info
1700 Washington Ave
33139 Miami Beach, FL
Phil Collins ha anche annunciato 11 nuove date tra Messico e Sud America nel periodo febbraio/marzo 2018. I biglietti saranno presto disponibili, quindi resta aggiornato/a attraverso la newsletter di Horizons Radio.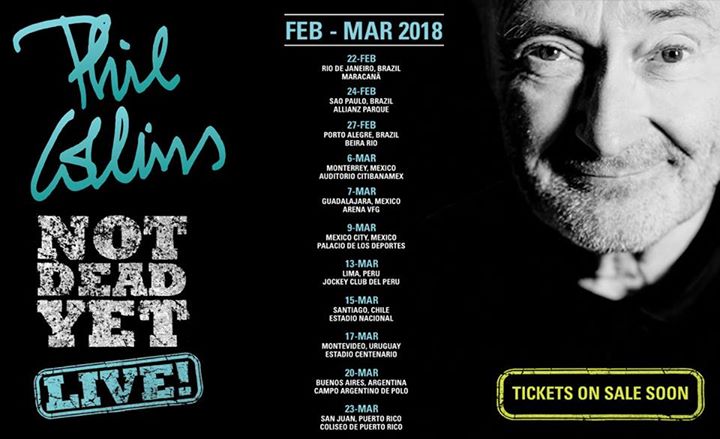 Intanto procede il Not Dead Yet Live di Phil. Ecco tutti i video girati e postati dal pubblico.
Guarda i video nella Playlist di Horizons Radio:
Set list:
Against All Odds (Take a Look at Me Now)
Another Day In Paradise
Who Said I Would
(first time since 3 Oct 1990)
Follow You Follow Me
Separate Lives
(Stephen Bishop cover)
In The Air Tonight
You Can't Hurry Love
(The Supremes cover)
Easy Lover
(Philip Bailey cover)
Invisible Touch
Something Happened on the Way to Heaven
Sussudio
Encore
Take Me Home
Line-Up
Phil Collins: Vocals (possibly a little bit of drumming)
Nicholas Collins: Drums
Leland Sklar: Bass
Daryl Stuermer: Guitars
Ronnie Caryl: Rhythm Guitar
Brad Cole: Keyboards
Arnold McCuller: Backing Vocals (replaced by Bill Cantos in Dublin and Hyde Park)
Amy Keys: Backing Vocals
Bridgette Bryant: Backing Vocals
Lamont van Hook: Backing Vocals
Luis Conte: Percussions
Harry Kim: Trumpet
Dan Fornero: Trumpet
George Shelby: Saxophone
Luis Diego Bonilla: Trombone
Ascolta Genesis & Co.anche su: