Everyday is a Genesis & Co. day - AUDIO & VIDEO.
Il 24 marzo 1975 i Genesis sono in Italia con il The Lamb Lies Down on Broadway Tour. Unica data a Torino.
Ecco la registrazione audio del concerto:
00:00 - Intro/The Lamb Lies Down On Broadway;
06:41 - Fly On A Windshield/Broadway Melody;
10:52 - Cuckoo Cuckoon;
13:58 - In The Cage;
21:18 - The Great Parade Of Lifeless Packing;
25:01 - Story Of Rael I;
26:30 - Back In NYC;
32:39 - Hairless Heart;
35:17 - Counting Out Time;
39:10 - The Carpet Crawlers;
44:53 - The Chamber Of 32 Doors;
50:42 - Story Of Rael II;
53:43 - Lillywhite Lillith;
56:38 - The Waiting Room;
01:04:12 - Anyway;
01:07:52 - Here Comes The Supernatural Anaesthetist;
01:10:25 - Interlude/The Lamia;
01:19:09 - Silent Sorrow In Empty Boats;
01:22:45 - The Colony Of Slippermen;
01:31:12 - Ravine;
01:32:37 - The Light Dies Down On Broadway;
01:35:50 - Riding The Scree;
01:39:48 - In The Rapids;
01:42:07 - It;
01:47:23 - The Musical Box;
02:00:13 - Watcher Of The Skies.
Il concerto al Parco Ruffini di Torino resta l'unico di una tournée italiana che viene annullata dopo gli incidenti e i tafferugli in altri live, che stanno per condannare il nostro paese a una quarantena senza  artisti stranieri durata anni. Di fatto resta uno degli ultimi di quel periodo. Una ricostruzione dettagliata degli eventi prima durante e dopo il concerto su Genesis in Italia. I concerti 1972-1975 di Mino Profumo.

Peter Gabriel abbandona i costumi e le maschere che hanno reso celebri i Genesis e cambia registro per interpretare Rael: trucco pesante, jeans, maglietta bianca, scarpe da ginnastica, giubbotto di pelle nera. In alcuni momenti starà anche a torso nudo.

Fondamentali anche le bellissime proiezioni sugli schermi della scenografia. Ecco la ricostruzione: "The Original Lamb Slide Show"
Per avere un'idea di cosa ha visto il pubblico di Torino ecco alcuni interessanti estratti dei live mondiali del 1975:
Ed ecco come quel concerto viene raccontato da "I Magnifici Destini", una trasmissione di Radio 24:
Il Tour Programme è da collezione - CLICCA E GUARDA SE LO PUOI ACQUISTARE:
Ed ecco un biglietto della serata: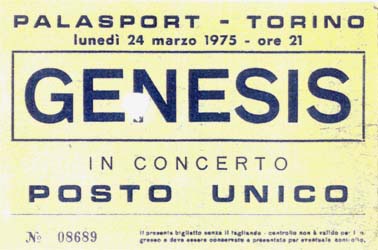 Concerto mirabilmente e dettagliatamente ricostruito da:
Genesis in Italia. I concerti 1972-1975 di Mino Profumo
"E' significativo che, dopo gli applausi iniziali raccolti sui minuscoli palchi delle nostre province, l'avventura di Peter Gabriel con i Genesis in Italia si chiuda a Torino, che insieme a Reggio Emilia e Roma è la città più legata alla loro presenza sul suolo italico".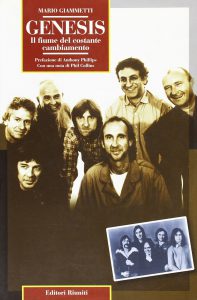 Salva
Salva
Salva
Salva
Salva
Salva
Salva
Salva
Salva
Se hai ricordi di questo concerto da condividere in forma scritta o audio/video inviali a info@horizonsradio.it e saranno pubblicati con la tua firma.

Ascolta Genesis & Co.anche su: