The Concerts that made History.
Il 3 febbraio 1974 i Genesis sono di nuovo in Italia con il Selling England By The Pound Tour. L'esordio live è a Torino.
By D.B.
Non hai ancora Selling England By The Pound? Acquistalo qui e aiuti Horizons Radio (leggi come e perché):
Ecco la registrazione audio del concerto:
00:00 - Watcher Of The Skies;
10:58 - Dancing With The Moonlight Knight;
21:59 - The Cinema Show;
33:35 - I Know What I Like;
41:17 - Firth Of Fifth;
53:44 - The Musical Box;
01:05:30 - More Fool Me;
01:08:50 - The Battle Of Epping Forest;
01:24:02 - Supper's Ready;
01:50:28 - The Knife.
Concerto preceduto da una conferenza stampa inclusa in un servizio della RAI, consultabile su YouTube. Eccolo:
Ed ecco due video amatoriali dello spettacolo, con l'audio aggiunto successivamente:


Un Live, quello di Torino che ha una particolarità: l'orario di inizio. Come racconta infatti Mino Profumo in Genesis in Italia, I concerti 1972-1975, lo show inizia alle 18.00, dato che "per gli italiani erano iniziate le domeniche di austerity a partire dal dicembre 1973 con lo stop del traffico veicolare per far fronte alla penuria di carburante ed al caro energia causato dalla crisi petrolifera". Quella domenica 3 febbraio vede quindi il concerto iniziare e finire presto per un migliore ritorno a casa degli spettatori.
Tra questi, alcuni hanno dato vita al Gruppo Facebook Genesis: live a Torino 3 febbraio 1974, con interessanti e appassionati ricordi e del materiale inedito audio e video.
Allo show è presente anche la band prog di Cuneo Pandora, che al concerto ha dedicato un brano dal titolo appunto 03.02.1974 tratto dal disco Sempre e Ovunque Oltre il Sogno del 2011. Eccolo:
Ed ecco un biglietto della serata: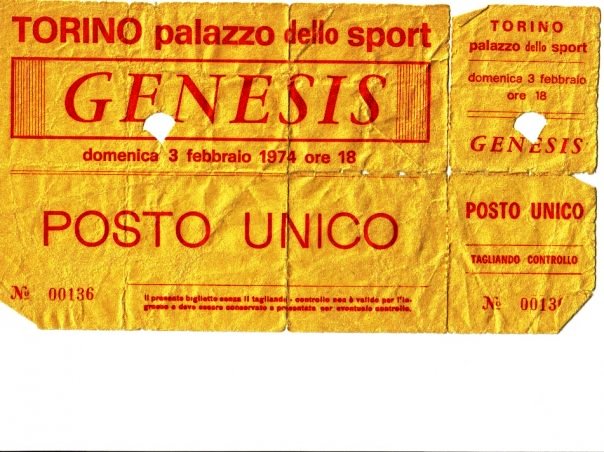 Copertine e articoli sull'evento: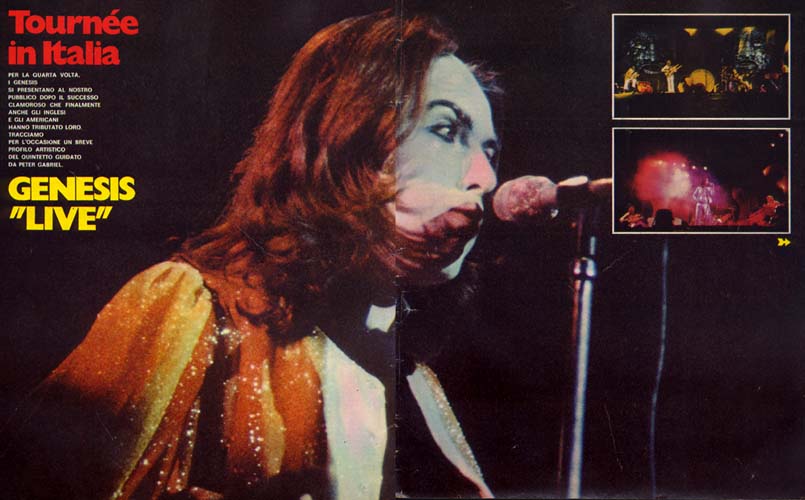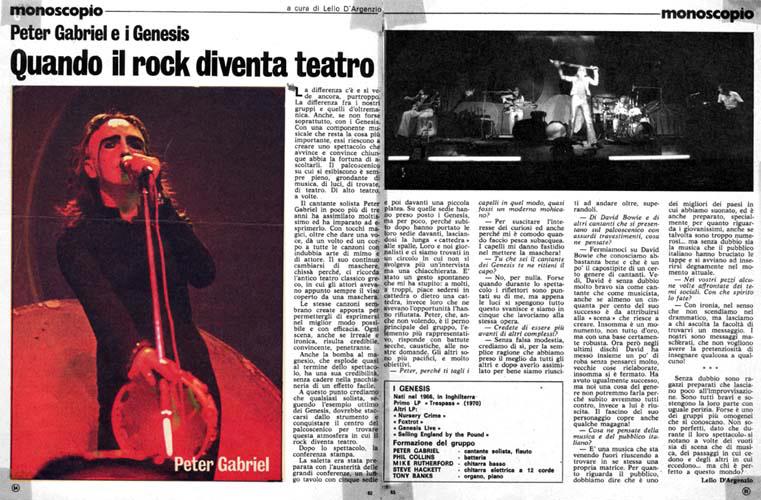 E bootleg:
Ecco alcuni video del Selling England By The Pound Tour. Sono migliori di quelli di Torino e possono aiutare a comprendere le dinamiche dello show:

Se hai ricordi di questo concerto da condividere in forma scritta o audio/video inviali a info@horizonsradio.it e saranno pubblicati con la tua firma.
Iscriviti alla nostra Newsletter
Iscriviti alla nostra Newsletter
Ascolta Genesis & Co.anche su: