Video Memories, Genesis & Co. History through videos.
By D.B.
11-Mar-1970 - Genesis Roundhouse gig performed and filmed by Yoko Ono.
E' un rarissimo video dei Genesis in concerto in quel periodo.  E' girato all'Atomic Sunrise Festival, l'11 marzo 1970 al Roundhouse Club di Londra. L'unico in cui appare Anthony Phillips.
Ant in questa fase sta per lasciare i Genesis.
"La fobia del palco era molto più che una semplice paura, era terrore", racconta Mike Rutherford nella sua autobiografia The living years.
Ant è molto dimagrito e appare distrutto, ma la band non ha il tempo per accorgersi di ciò che sta accadendo nell'animo dell'amico. E' un momento in cui le cose sembrano muoversi. Hanno appena registrato Trespass (uscirà in autunno) e sono in tour, anche se le date non sono da grandi numeri.
Tra i tanti impegni dei Genesis in quel periodo c'è la registrazione dei Jackson Tapes il 9 gennaio 1970 ai BBC Studios Shepherds Bush di Londra. ASCOLTA LO SPECIALE DI HORIZONS RADIO.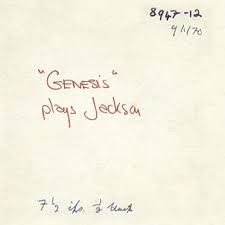 "Dopo le session di registrazione mi sentivo come uno  zombie", ha raccontato  Phillips nel 2007. In più ha avuto problemi di salute, probabilmente legati al troppo lavoro. 
"Ero mentalmente e fisicamente debilitato - ha raccontato sette anni dopo Ant ad Armando Gallo e riportato nel suo libro Genesis: I Know What I Like -.  Eravamo un branco di perfezionisti.  Dopo ogni concerto c'erano sempre lunghe, lunghe, lunghe autopsie".
La musica che ama tanto sta diventando per Ant causa di infelicità e la sua buona educazione inglese gli impedisce di affrontare a muso duro i compagni per cercare di cambiare le dinamiche della band. "Non mi sentivo più amico di nessuno - continua Ant - ero come alienato. Eravamo ormai divisi in due gruppi che avevano perso la loro strada". 
Mike è il primo a conoscere le intenzioni di Ant. Poco prima di un concerto al Richmond Rugby Club si sono appartati ed è arrivata, come una doccia fredda, la rivelazione. Rutherford sa che l'amico ha paura del palco, ma non c'è stato tempo per approfondire il discorso e Ant non ne aveva più fatto cenno alla sua fobia.
Il 18 luglio ad Haywards Heath i Genesis suonano davanti a 25 persone. Il tragitto verso casa Mile Rutherford e Peter Gabriel lo compiono nella nuova auto di Pete, una Hillman Imp. Insieme prendono in considerazione la situazione.
"Per me non c'era dubbio che senza Ant i Genesis non avevano ragione di esistere", ricorda Mike nell'autobiografia.  Anthony sembra insostituibile, i Genesis appaiono come indivisibili, la voglia di smettere sta per prendere il sopravvento.
Eppure durante il viaggio qualcosa di diverso matura, l'idea di potercela fare anche senza l'amico prende il sopravvento. "Si trattava piuttosto di sviluppare una nuova filosofia basata sull'assunto 'proviamoci e vediamo che succede'", scrive Mike. Così non viene presa in considerazione una pausa per consentire ad Anthony di raccogliere le idee. Bisogna andare avanti.
Ecco i Genesis  che eseguono l'inedita "The Shepherd" live al programma radio della BBC "NightRide" il 22 Aprile 1970. Probabilmente il più antico live dei Genesis registrato in un disco, il bootleg omonimo:
Una decisione condivisa poi anche da Tony Banks e che oggi appare giusta, ma molto sofferta: "E' stato il colpo più duro che abbiamo mai ricevuto", ha detto Gabriel a una rivista l'anno dopo e citato in Without Frontiers: The Life and Music of Peter Gabriel by Daryl Easlea. "Ci sarebbero state altre dipartite - rivela Mike -, ma nessuna avrebbe avuto su di me l'effetto che ebbe l'abbandono di Ant".
I Genesis ne approfittano per operare una piccola rivoluzione. Stanno per entrare nella band Phil Collins e Steve Hackett. 
Horizons Radio #NowPlaying Live:
Non perdere i nuovi contenuti.