The Concerts that made History.
By D.B.
Il 18 settembre 1993, al Cowdray Park, nel Sussex, Regno Unito, in uno specialissimo concerto, va in scena l'ultimo concerto di Phil Collins con i Genesis (non definitivo). Ecco il racconto di quei giorni.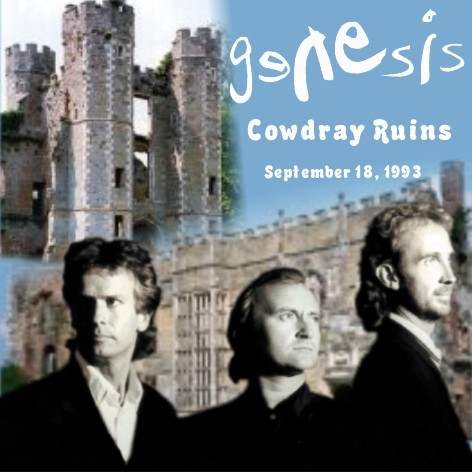 Un concerto di beneficenza per il King Edward VII Hospital, al Cowdray Park, dalle parti di Oxford, si è trasformato in un evento speciale in assoluto, ma storico per i Genesis.
Sul palco, davanti a 1000 persone circa, quel 18 settembre 1993 ci sono i Queen senza Freddy Mercury, i Pink Floyd e i Genesis con Phil Collins per l'ultima volta (anche se non definitiva).
I Genesis suonano I Can't Dance, That's Just The Way It Is (di Collins solista), Turn It On Again, Hold On My Heart e Invisible Touch con Phil Collins alla voce, Mike Rutherford al basso, Tony Banks alle tastiere, Tim Renwick alla chitarra, Gary Wallis e Roger Taylor alla batteria.
Il supergruppo si chiama The Ruins Band, nome e formazione che durerà lo spazio di una notte e che prende spunto dalla location del concerto, nelle rovine del Castello di Cowdray.  La costituiscono i membri di band come Queen, Pink Floyd e, appunto, Genesis. 
Mike Rutherford suona il basso anche per i Pink Floyd, mentre Paul Young dei Mike + The Mechanics canta e duetta con David Gilmour. Eric Clapton esegue due brani accompagnato da Mike Rutherford e Roger Taylor.
Poi tutti insieme sul palco per i bis: Ain't That Peculiar, Gimme Some Lovin' e Witness Together.
Ecco la registrazione di una parte del concerto:
Ed ecco la super line-up: TONY BANKS Genesis Keyboards, ERIC CLAPTON Guitar, PHIL COLLINS Genesis Vocals, JOHN DEACON Queen Bass, DAVID GILMOUR Pink Floyd Guitar, ADRIAN LEE Mike &. Mech Keyboards, NICK MASON Pink Floyd Drums, TIM RENWICK Mech./Floyd Bass/Guitar, MIKE RUTHERFORD Genesis Guitar/Bass, ROGER TAYLOR Queen Vocals/Drums, GARRY WALLIS Drums, RICHARD WRIGHT Pink Floyd Keyboards, PAUL YOUNG Mike &. Mechanics Vocals.
Ma torniamo a Phil Collins. Per lui questo non è un concerto come i tantissimi che ha già sostenuto nella sua carriera. E avrà un ruolo devastante nel futuro dei Genesis. 
Scrive Phil nella sua autobiografia No, non sono ancora morto, Mondadori:
"Il 17 novembre a Wolverhampton, ultima data del We Can't Dance Tour, non ci sono con la testa. Conclusa la mastodontica serie di concerti in giro per il mondo, sono a pezzi."
Il We Can't Dance Tour è stato sfiancante, ma trionfale. Ancora Phil:
"Il successo dei Genesis non è mai stato così immenso, ma io non mi sono mai sentito così piccolo. (...) Ripensando al We Can't Dance Tour, mi rendo conto che il peso della leadership mi aveva ormai logorato. Sin dal principio del tour più grandioso della storia dei Genesis si era respirato un senso di nostalgia, stile «guardate quanta strada abbiamo fatto»."
Ascolta l'intervista alla BBC, nel programma Rockline il 6 maggio 1992, sull'inizio del tour a Dallas:
Come spesso accade nella vita di Phil, sono le situazioni sentimentali a complicare le cose, anche nell'ambito professionale. Un groviglio di emozioni, alla base dell'album solista Both Sides, che uscirà nell'ottobre 1993.
"Mentre volo a destra e a sinistra per promuovere «Both Sides» alla fine del 1993, la mia vita è un caos. Ho pubblicato quello che considero il mio album migliore, ma a che prezzo? Queste canzoni nascono dal tentativo di fare chiarezza dentro di me: parlano di separazione, di un amore perduto. Inoltre, la libertà che ho sperimentato realizzandole mi ha messo voglia di registrare altri dischi come «Both Sides», personali e autosufficienti. Chi mi obbliga ad avere un gruppo?"
Proprio in un momento di grandi ripensamenti e "guai" sentimentali, arriva questo concerto a Cowdray, che riporta Phil al fianco dei compagni della band dopo quasi un anno travagliatissimo. Ma quel giorno scatta qualcosa e Collins sente definitivamente che l'avventura con i Genesis è finita.
"Insomma, per ragioni positive e negative, dopo aver dedicato metà della mia vita ai Genesis, è ora di congedarmi da loro."
Ne parla al manager e confidente Tony Smith. Il quale gli chiede però di non rendere nota subito la decisione. Una prassi che ricorda l'addio di Peter Gabriel. Su questo argomento LEGGI LO SPECIALE DI HORIZONS RADIO.
"Le persone attorno a me mi prendono per pazzo, me ne accorgo. Tony Smith, in particolare, si rende conto che lasciare i Genesis e la mia seconda moglie mi costerà caro, anzi, il doppio. Ma a me non importa, ho bisogno d'aria."
Tony Smith spera in un ripensamento di Phil, che però non avviene. Ancora Phil:
"Non incolpo i Genesis per i continui traumi nella mia vita privata. Può darsi che mi sentissi perennemente in dovere di andare in tour, di onorare impegni e progetti, di garantire a tutti soddisfazione e lavoro. Fondamentalmente, però, la responsabilità è mia."
Durante un drammatico pranzo, Collins comunica agli altri la sua intenzione. Ecco il ricordo di Mike Rutherford nella sua autobiografia The Living Years, Arcana: 
"A ripensarci adesso, mi rendo conto di quanto fu strano per lui passare dal ruolo di batterista a quello di cantante. Lo fece con tale disinvoltura che io e Tony non facemmo caso a tutti i risvolti che poteva comportare, ma restava una cosa che non era mai stata nei suoi piani. Tutto questo significò che quando fissammo un incontro a casa di Tony Smith a Chiddingfold un giorno del 1996 e Phil disse: «Penso che sia meglio fermarmi qui», non fu veramente una sorpresa. La sorpresa era che fosse rimasto coi Genesis tanto a lungo, dopo tutto quello che gli era capitato con la carriera da solista"
Il 28 marzo 1996 un comunicato alle agenzie di stampa di tutto il mondo racconta la fine, dopo più di 25 anni, della lunga avventura di Phil Collins con i la band, anche se promette la prosecuzione dell'esperienza Genesis con un nuovo vocalist.
E, come sappiamo, anche l'addio di Phil non sarà definitivo, seppure episodico. Mike se lo sentiva, allora:
"E io penso che sapevo anche che c'era la possibilità che non fosse ancora finito del tutto."
Ma questa è un'altra storia.
by D.B.
Non perdere i nuovi contenuti.