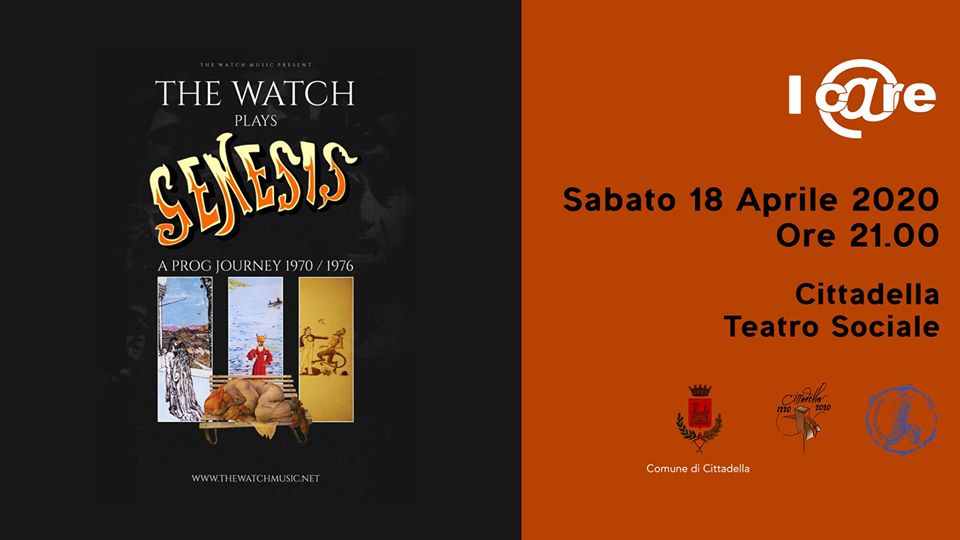 EVENTO ANNULLATO
Sabato 18 aprile 2020 ore 21:00 -
Teatro Sociale - 
Via Indipendenza 19, Cittadella - 
Prezzo del biglietto 20 euro.
PER INFO E PRENOTAZIONI: 3462161253
Posti disponibili 200.
The Watch plays Genesis - "A Prog journey 1970/1976"
European tour 2020
Retemaranathà è lieta di presentare e invitarvi all'edizione 2020
"I C@re".
Sabato 18 aprile alle ore 21:00, nello splendido Teatro Sociale di Cittadella, si esibiranno i The Watch.
Il modo unico in cui solo i "The Watch" sanno interpretare i brani dei Genesis, contando tra l'altro su una voce che mai come nessun'altra band si avvicina a quella di Peter Gabriel, darà la possibilità unica di poter compiere un viaggio nel tempo, tornando agli anni'70.
Clicca qui per altre informazioni sull'evento.