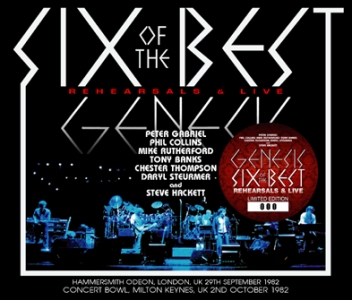 October 2, 1982. On the advice of Genesis manager Tony Smith, Peter Gabriel and his former bandmates, they agree to play together in a unique and unforgettable show that will be called 'Six of the Best'.
A reunion that was actually "supportive" as the former Genesis singer and the company he founded, WOMAD, were facing a disastrous economic moment, after the equally unsuccessful organization of a festival in July of the same year.
With Daryl Stuermer on guitar, Chester Thompson, on drums and the arrival for the encores of the ex member Steve Hackett (who was on vacation in South America but who did not want to miss), the concert, held at the National Concert Bowl, in Milton Keynes, Buckinghamshire, England was an exceptional event for the nearly sixty thousand lucky people who were in front of the stage in incessant rain.
Eugeno Delmale tells some curiosities of that historic date.
To know more: "Without borders. Life and music of Peter Gabriel
":
Listen to the Horizons Radio Tube program:
Sign up to our newsletter
Sign up to our newsletter
Listen to Genesis & Co. also on: