Genesis Revisited & Hackett Classics 2017 tour, tickets for italian dates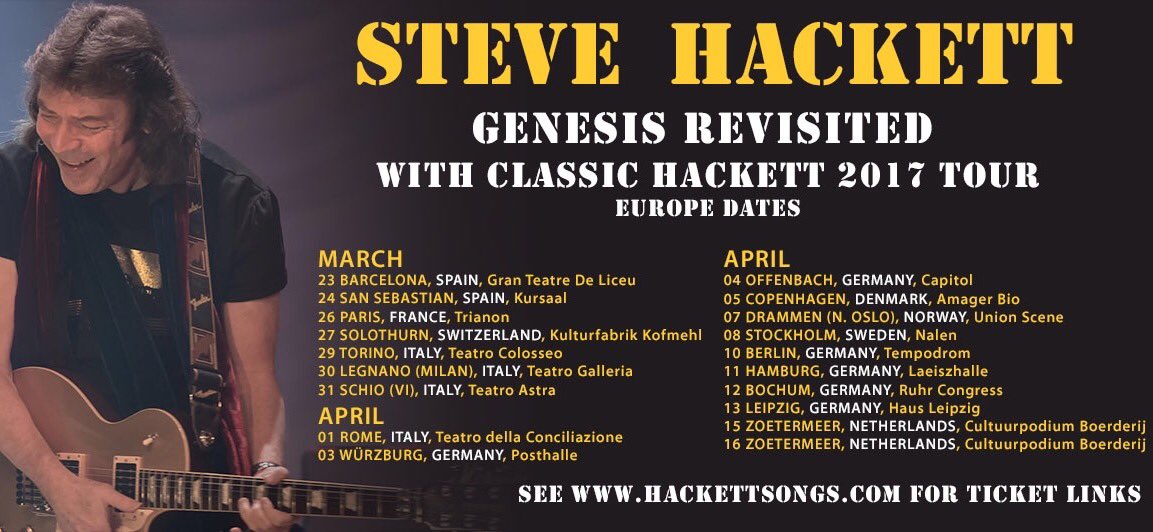 March 2017
Wednesday 29 March - Colosseo Theater, Turin, ITALY - Tickets available on TicketOne - CLICK AND BUY

Thursday 30 March - Galleria Theater, Legnano (Milan), ITALY - Tickets available on TicketOne - CLICK AND BUY

Friday 31 March - Teatro Astra, Schio (Vicenza), ITALY - Tickets available on Vivaticket - CLICK AND BUY
April 2017
Saturday 1st April - Teatro della Conciliazione, Rome, ITALY - Tickets available on TicketOne - CLICK AND BUY

The repertoire will be a new version of his Genesis Revisited.
Le data they will see Steve playing songs from Wind & Wuthering. Also other Genesis songs will be on the lineup as The Musical Box, Inside & Out e Anyway.
"I am delighted to tour a new set of Genesis & Hackett in the UK in 2017," said Hackett. on its website.
With him the band faithful, with Roger King on keyboards, drums and percussion by Gary O'Toole, Rob Townsend on saxophone and flute, Nick Beggs on bass and on vocals still Nad Sylvan.
Save
Save
Save
Save
Save
Save
Save
Save