Double concert also at the Piper 2000 in Viareggio, at 18 pm and 21 pm. The evening one has an encore that is most likely offered only on this occasion: Harold The Barrel.
Listen to the Horizons Radio special: CLICK HERE
An appointment masterfully described by Silvano Martini in its Blog "Last Music Rebel", where he tells both evenings as a spectator in the front row and also a background outside the stage. READ THE ARTICLE BY SILVANO MARTINI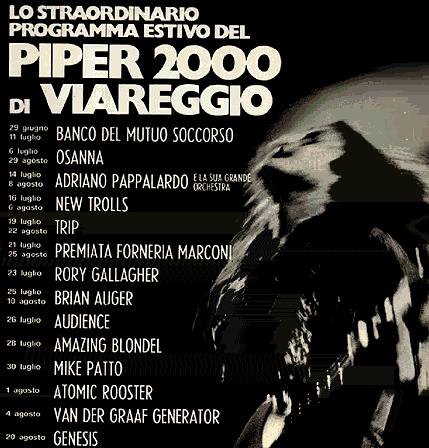 The excerpts from Foxtrot, album in the recording phase and expressly mentioned during the concert, they are now in the final version, with some exceptions, as the book recalls Genesis in Italy. The 1972-1975 concerts of Mino Profumo, where other anecdotes of this date are told.
If you have memories of this concert write to info@horizonsradio.it
Listen to Genesis & Co. also on: