Mario Giammetti tells Horizons Radio about new number of Dusk, il Genesis Magazine of which he is founder and director e which, as usual, hosts in-depth analyzes, exclusive interviews and services on current events and news from the Genesis world.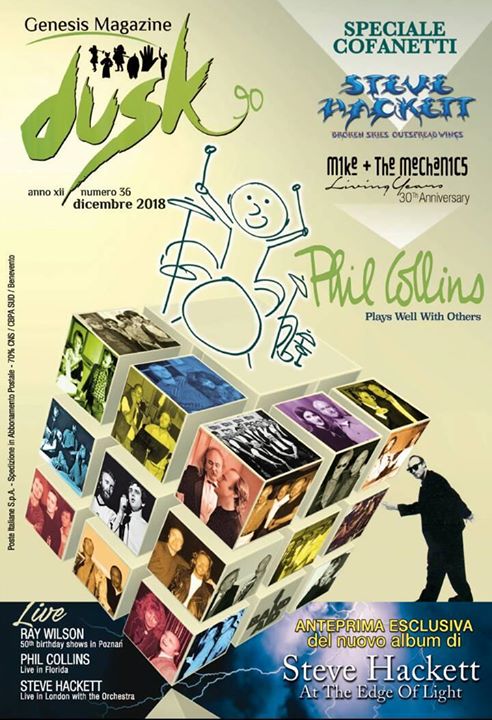 By Eugenio Delmale
"The new issue of Dusk focuses on caskets of the last few weeks - explains Giammetti -. On the cover, the one dedicated to Phil Collins collaborations, who announced his return to Italy 15 years after the last time (Milan 2004). In the Plays Well With Others box, as is known, we can admire the great drummer (but also a refined singer) that Collins was especially in the 70s and 80s, when he lent his drumsticks to very different artists, demonstrating his extraordinary versatility ".
"An important anniversary is instead constituted by the thirty years of Living Years, second album by Mike + The Mechanics which had an incredible success thanks to the single of the same name (number 1 in America, number 2 in Great Britain). To celebrate, Rutherford published a beautiful box with 2 vinyls and as many CDs (the remastered version of the 1988 disc plus a live of the period) and, in addition, a 40-page book. In issue 90 of Dusk we re-read that disc with today's critical eyes, as well as review the box set. "
"The third box - continues Giammetti - is dedicated to Steve Hackett. Broken Skies Outspread Wings it even consists of 8 discs, basically his studio albums from 1984 to 2006, plus the video Somewhere In South America and some rarities. Also this box is enriched by a photo book. In our special, however, we go further: we get those records from Steve and above all the oldest, Till We Have Faces, the only one published before the birth of our magazine and, therefore, never examined so thoroughly. Technical sheets of all the albums complete the service ".
"One is also dedicated to Hackett tasty preview: At The Edge Of Light, his 27th album, will only be released on January 25th, but we have already listened to it and we talk about it widely".
"Finally the usual live window, in this case all abroad: in fact, we review the double concert-celebration of 50 years of age Ray Wilson held in Poland in September, the first date of the Not Dead Yet tour of Collins in America (Ft. Lauderdale 5 October) and finally the concert by Steve Hackett at the Palladium in London on 11 October, which closed its short tour with the orchestra ".
"Letterpress printing in 68 pages with a sixteenth color (as well as the cover) - concludes the Director Mario Giammetti -, Dusk closes his 28th year with this issue and is preparing, full of ideas like never before, to continue this fantastic adventure thanks to the support given by the associates ".
All that remains is to wait for the new issue of Dusk, as always rich in Genesis & Co. material.And who hasn't already done so, can sign up here.