By Antonio Filippi
Genesis & Co. Today available (helping Horizons Radio).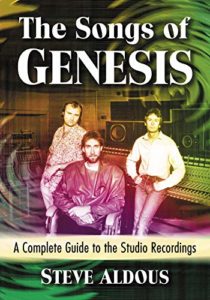 A new book on Genesis: "The Songs of ...
Read More
Horizons Radio was born from the passion for Genesis and all their former members.
All those who make this reality possible do it with enormous enthusiasm.
But energy is not enough. HR incurs daily, monthly and annual expenses, which allow you to take advantage of these pages.
In addition, we plan to return to listen to the music of Genesis & Co. and our live streaming programs, with additional costs.
To finance ourselves, therefore, we insert advertising, which, if clicked, produces (very small) earnings, but visits to advertisers help HR. If you see a link to Amazon or Ebay that sells Genesis & Co. material or an advertisement that interests you, don't worry: it's not dangerous, it doesn't violate your privacy and it helps us.
If instead you want to donate the amount you want, directly and in total security to become a "shareholder" of HR, CLICK THE LINK BELOW:
Thank you!
The editorial staff of Horizons Radio.
Listen to Genesis & Co. on:
Sign up to our newsletter
Sign up to our newsletter