Unforgettable stories and memories, through audio, video, documents and much more.
By DB -
On March 7, 1971, the Genesis went on stage abroad for the first time, at La Ferme V, Woluwe St Lambert, Belgium. LISTEN:
1. Announcer's introduction and Peter's intro
2. Happy the Man
3. Cheese-and-onion crisp man story
4. Stagnation
5. intro
6. The Light
7. intro
8. Twilight Alehouse
9. story
10. The Musical Box
11. intro
12. The Knife
13. intro
14. Going Out to Get You
Stories and Memories:
«We crossed the Channel, taking a ferry from Dover to Ostend from Dover to Ostend », said Richard Macphail in My book of Genesis.

"It was the middle of winter and there was hardly anyone else on board. (...)
It was still just the seven of us on the road together, which when you look at the armies of crew that bands employ nowadays seems ludicrously small.

It was a four-hourcrossing and we were bored stiffbecause there
there was nothing to do. I found this box with life vests in it,,
and so we all got our vests on and posed for what has now become a famous picture of Genesis, all of us with our hair down past our shoulders, Mike drinking from a small bottle of Mateus Rosé
because that's what we drank in those days, that or Liebfraumilch.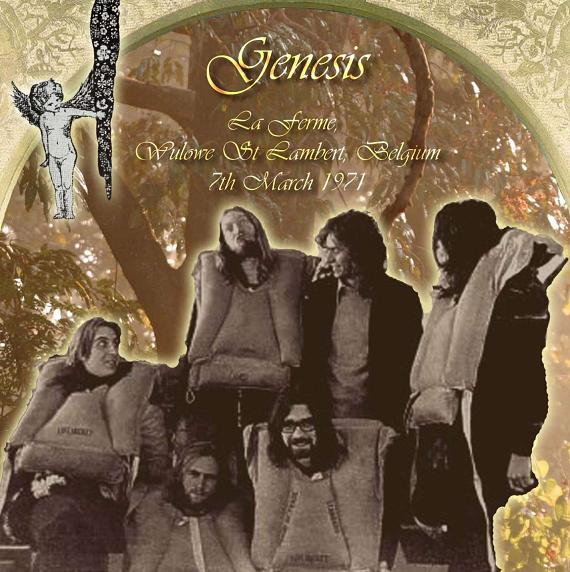 (...) Nowadays when you go abroad you have satellite navigation that tells you precisely where to go and mobile phones or with maps on them, but I really had no idea where we were heading in Belgium. I didn't even have a fold-out map.
(...) The place, a club called Ferme V, packed to the roof, but the fans knew every note. It was unbelievable. While in England it was a very slow build-up, in Belgium it happened very suddenly, like a minor explosion as far as we were concerned.
Another thing I remember is that we stayed in a three-star hotel, very comfy, and that Peter shared a room with me because he couldn't bear to share with Tony ever again, not after his experiences at the cottage.»

«Philippe Grombeer (future artistic director of the major Belgian theaters) is a member of the" Club of the Eagles ", and has rented, on behalf of the municipal administration, a farm in Woluwe-Saint-Lambert (a suburb of Brussels) "STOP V". The space is not large, the interior is old, but what does it matter! " - CONTINUE ON GENESIS PLACES
«5 bold young musicians hold their first concert across the border ...
They have behind them a first bankruptcy album and a second (the last one) that something has picked up, especially right where they are going to play) ... » - CONTINUE ON:
«Some privileged people saw them in all intimacy and shared everything with them. And with good reason: Belgium was the first foreign country in which the Genesis set foot. " - CONTINUE ON NOSTALGIE
«Like all the superstars before being successful, they slept in lousy hotels, murky rooms in the back of smoky pubs, lost in the countryside. But luck always smiles on those with talent. " - FIND OUT MORE ON FACEBOOK GABRIEL'S ANGELS
Books:
Bootleg - CLICK ON THE IMAGE TO FIND OUT MORE: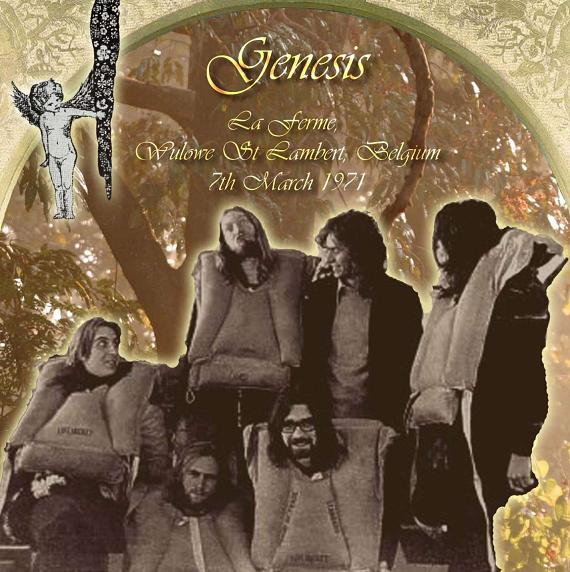 Sign up to our newsletter
Sign up to our newsletter
Listen to Genesis & Co. also on: