Unforgettable stories and memories, through audio, video, documents and much more.
By D.B.
Genesis' first concert with Phil Collins singer took place at the London Arena in London Ontario, Canada on March 26, 1976.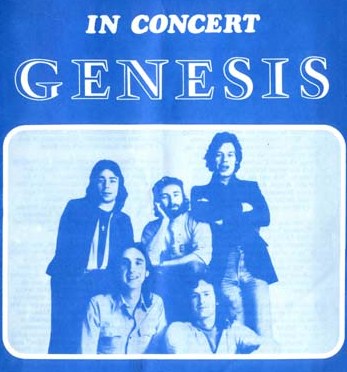 Listen to the podcast (in Italian) - CLICK HERE
With Peter Gabriel's farewell to Genesis, Phil Collins became the frontman of the band, which released "A Trick of the Tail" on February 2, 1976 - READ THE ARTICLE OF HORIZONS RADIO.
The LP comes in third place in the rankings of the United Kingdom, such as "Selling England by the Pound "and becomes their greatest success. Which reassures them. After all, the expectations for the future of the group were very low. But then people heard the record and the quartet's prices went up.
The tour will start on March 26th.
But of course we have to solve the problem of who will play the drums in concert. And Phil doesn't want to abandon his instrument. Collins recounts in his autobiography:
"Bill Bruford, already with Yes, is a good friend who introduced me to a lot of jazz drummers. He comes to one of the tests of the Brand X (we're writingI sell "Unorthodox Behavior") and asks:
"How are you with Genesis? Have you found a singer? '
"Not exactly. I sang on the album, and they want
try to make me sing. But to do it we need toto find a drummer. "
"Well, why don't you ask me?"
«I think you would say no. A little too similar to Yes for you, no? "
"Instead I would."
And here Genesis have a new drummer. "
So Phil has no more excuses. Everyone adapts and gets used to the new set-up and new training.
set-up and new training.
"We don't great ceremonies: it just happens. I don't remember nemless than having rehearsed, or an announcement ", Phil remembers.
Bill Bruford fits in immediately, moreover, it is one of the largest of its kind prog and not only.
"I'm not particularnervous about the idea of ​​singing, nor about the fact to do it in front of an audience - racconta Phil Phil says -.
to do it in front of an audience - Phil says -. I was already used to it with Oliver !, in his time. But sing with just a microfono between me and the audience, instead of a row of dishes: this is the problem to overcome. If one does not it is worn for bat hats and for flying to in mid-air, what do you do when you don't sing? "
Remember Mike Rutherford in his autobiography:
"We had deliberately chosen Canada because they had less memory of the concerts with Pete there than in Europe. Pete had been such a strong figure that we couldn't imagine how Phil could replace him. "
There are also other practical problems.
For example: how to dress. The suit from
worker was ideal when he was only the drummer. And to wear masks and costumes "Peter Gabriel" is not mentioned.
"I can put on my coppola and kingdingote for Robbery, Assault and Battery, but this is it the most I am willing to do ", says Phil.
Then the worker suit is chosen. And then there is another concern. Peter Gabriel was very good at entertaining the public with his stories while Mike, Tony and Steve agreecompartment. What can Phil tell?
Then the time comes.
At the London Arena the hall lights dim.
"I spend most of the concert hiding behind the microphone stand: I am a XNUMX-year-old being as thin as a drumstick.
And I don't even touch the microphone. Removing it from the support would be a gesture too ... as a singer.
But I get to the end of the concert bringing only small dents to my fragile awareness of frontman.", recalls Phil.
"People were on his side from day one - Mike says -. On stage, Phil has always been a very visual drummer - never flashy but very spectacular.
I will never forget Phil in his T-shirt, his long beard and his trembling hand. And then don't have Pete there ... A strange moment for everyone.
But after playing the first two songs, I realized that it would be all right.
And so it was. Phil's lecture helped us. It lightened the atmosphere. Pete was mysterious on stage, Phil was always the boy next door ", recalls Mike.
There are 2.200 fans at the London Arena on Bathurst Street for Collins' debut as frontman. Genesis expected no more than a hundred people and instead here is the proof that the band's popularity is not decreasing.
Nthere is no public recording of this concert, although it appears that a copy is owned by a collector. Here are those of two successive dates:

The most of setlist of that March 26 is taken from A Trick Of The Tail
.
For the 40th anniversary of that historic date for Genesis and rock all, the site Genesisfan has reported...
The memories of those who were in the Canadian arena.
"The band members seemed very nervous - says one of them, Brad Ashton-Haiste -. But after a couple of tracks, everyone had huge smiles. Maybe they thought, 'Phil will work' ".
Another fan, Jim Fisk, took photographs of the concert, which he later sold to the press.
"Phil and Bill's duets are incredible. Speed, technical and musical excellence", remember Fisk.
And say that when the Canadian date had gone on presale Genesis did not yet have a singer.
Ma on March 26 Collins proved to be true frontman. And those present attended a "historic" event.
Here is a video showing what the show was like in 1976:
To learn more:
A Selection of Shows: Genesis & Solo Live Guide 1976-2014
Sign up to our newsletter
Sign up to our newsletter
Listen to Genesis & Co. also on: