Mario Giammetti tells Horizons Radio about new number of Dusk, il Genesis Magazine of which he is founder and director e which, as usual, hosts in-depth analyzes, exclusive interviews and services on current events and news from the Genesis world.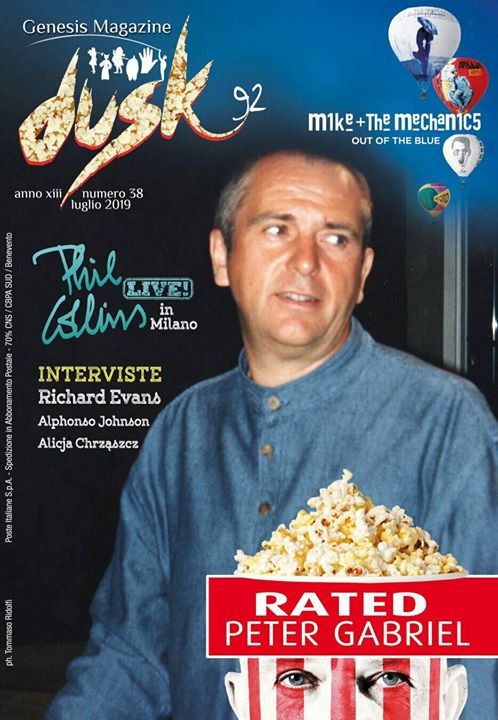 "Issue 92 of Dusk dedicates the cover to Peter Gabriel - explains Giammetti. The excuse is the vinyl released on Record Store Day, Rated PG. Nothing shocking, but in truth we hadn't dedicated a cover to the singer for too long. To make the cover story more interesting, we managed to track down Richard Evans, an inconspicuous musician but, in reality, a great collaborator of Peter for twenty years, both on stage (from 2002 to 2007), and in the studio. Evans told us many things and made us discover, for example, a live appearance by Gabriel in Berlin in January of this year that nobody knew about. "
"The other record we are dealing with - continues the Director of Dusk - is Out Of The Blue by Mike & The Mechanics, consisting of three unpublished works and a reinterpretation of the historical pieces by the new line-up. "
Giammetti also points out that "Tony Banks' box is also about to come out but we have voluntarily decided to postpone it to the next issue; I have already interviewed the keyboard player for the occasion and we will create a special that traces the entire career". So the gem that awaits us soon deserves the wait.
"The other important topic of this issue is, of course, the return to Italy of Phil Collins, which took place a few weeks ago in Milan. We obviously were there and we tell that concert (as well as any other Genesis record or event), as always, with total honesty and sincerity ".
"They complete the number tour analysis by Steve Hackett, which is playing around, by the way, an integral version of Selling England By The Pound, the usual reviews, among which we point out the new vinyl edition of Seconds Out, Chester Thompson's new studio record e the double cd of Algebra, with Steve Hackett and Anthony Phillips guests!.
"Finally - concludes Giammetti -, we have traced, as we always try to do, two tangential characters: the first is Alphonso johnson, legendary American bass player whose ties to the Genesis world are more than we thought, and Alicja Chrzaszcz, who has been playing with Ray Wilson for many years now ".
But the element of which the Director of Dusk Mario Giammetti is justly proud is that for the first time the number is all in color. "This is a gift from our most precious and most generous collaborator, Stefano Tucciarelli, owner of the Sound Pusher agency, who wanted us to do it another qualitative leap".
All that remains is to wait for the new issue of Dusk, as always rich in Genesis & Co. material.And who hasn't already done so, can sign up and subscribe here.