Live Facebook
By DB with the invaluable collaboration of Leonardo Antonelli
And here's the interview with Ray Wilson (in English):
HR: Ray, you played several times in Italy. Do you have a special bond with the Italian public?
Ray Wilson: I think Genesis and their music has a special bond with the Italian public. I love Italy the people and the culture. I hope the feeling is mutual, at least from my fans. Some Italian people are slowly discovering my music. This makes performing much more enjoyable.<
Do you feel this connection when you play in Italy?
Yes, like I said before. Genesis are very special for Italian people and I feel honored to be part of their history. The music of Genesis is magical and Italian fans have a real passion for it, which is great to see.
You reinterpret Genesis music in a very personal way. What are your criteria?
I play song I love and that I feel I do a good job of. Carpet Crawlers, Mama, No Son of Mine all sit very well with me, as a vocalist. That is the criteria I follow.
Can you tell us something about the setlist in Rome on 21 September?
I will perform a mix of songs from Genesis, Peter Gabriel, Phil Collins and my own Music. In Your Eyes, In the Air Tonight, Carpet Crawlers, Inside, for example.
What will the line-up be?
Ali Ferguson on Lead Guitar and Vocals
Kool Lyczek Keyboards
Ray Wilson Vocals and Guitar.
You do very long tours. How do you like being "on the road" so long?
It is something I have grown to love. I didn't always enjoy touring, but it is my life now. I couldn't be happy without it.
Would you like to do more concerts in Italy?
Of course. I do some shows in Italy, but it would be good to do more, for sure.
Would you like that to become a regular appointment (coming to Italy on tour)?
Yes. I could add a few shows every year. Would be perfect.
How easy is it for you to devote time to write new material you are working on the production of a new record?
I always seem to find time for this. When you travel so much, there are many situations that influence your music. I am always very insprired by people and their struggles. I love to perform and allow people to escape for a while, during the concert.
What's the best memory of the time you were a member of Genesis?
Probably performing in Glasgow. It was amazing to perform in Scotland as the frontman of such rock legends as Genesis.
Did you feel the weight of Phil Collins' "ghost"?
Not really no. Phil is trully great, but I am different and my own person. I was pround to do this job after him and Peter.
They always ask them so we ask you: do you think that Genesis can or should be reunited (in the original line-up, of course)? And how would you like a super-reunion with all the members who played in the band over the years, including yourself of course?
I have no idea. It would be such a great idea to involve everyone in a tour. I really do not understand why they do not do this.
Speaking of your musical career there is a song that you are particularly attached to is if yes why?
Alone, Change, Calling all Stations, Inside. They are all songs from important times in my life.
Ray at the end of your summer tour, can you say that all roads lead to Rome?
Yes, for sure. It is really true for me this time.
They say that when you turn 50, you start thinking about regrets. Do you have any?
No its not. Everything has it's purpose, good and bad. It's all part of life. We should never waste time with regret.
And what dreams do you still have?
Just to stay healthy, happy and do my music. Simple really.
Press Review: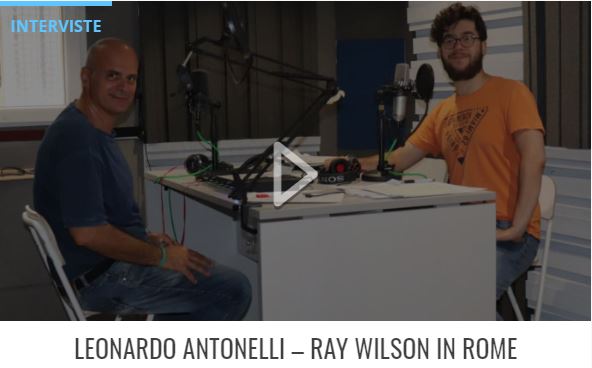 Watch the promos:
Ray Wilson he gave an acoustic concert.
The Scottish singer performed some Genesis songs from the Gabriel era together with the Irpina band Notturno Concertante (Lucio Lazzaruolo, Raffaele Villanova on guitars and Nadia Khomoutova on violin) and others of his solo production, which now includes almost twenty albums.
Il Night Concertante, historic band from Irpinia, has six albums and a new forthcoming album entitled "Let them say".
Ray was accompanied, in the final part of his concert, by his irreplaceable musicians on European tours: Michał Łyczek on keyboards and Ali Ferguson on guitar.
The evening was opened by a formation made up of some musicians, indefatigable Genesis fans, coming from some Italian Tribute Bands. This group, i 'Masters of Jam', formed for this occasion, on the stage of Stazione, he interpreted some of the most famous pieces of Genesis; guitarist Max Pugi, also a member of the group, took care of the Music Direction.