By Old King Cole & Saimon P. -
Genesis & Co. Tribute Band. The Musical Box performs "A Genesis Extravaganza Vol. 2" in Europe. Tour dates, info and videos.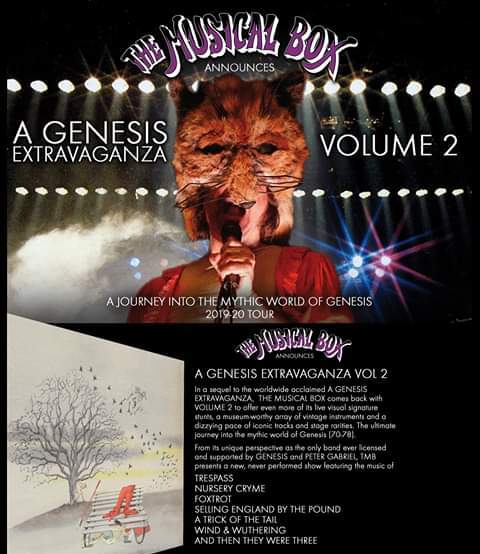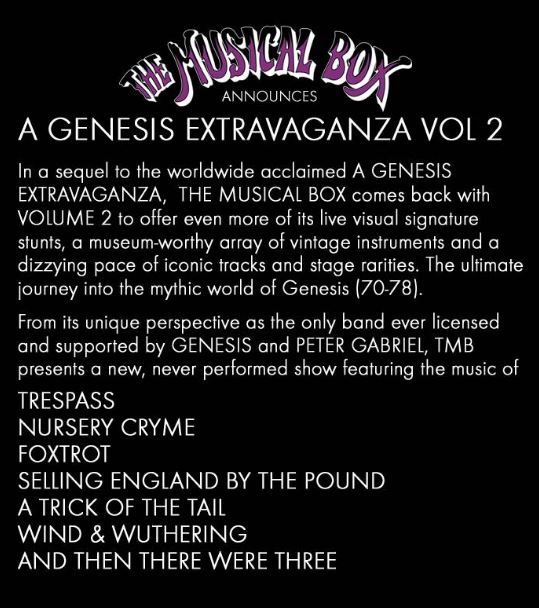 THE MUSICAL BOX
Genesis as you've never seen them
The Musical Box, the most important and acclaimed Genesis tribute band in the world, arrives in Italy with a new and unprecedented show with the music of their historical albums: Trespass, Nursery Cryme, Foxtrot, Selling England By The Pound, A Trick Of The Tail , Wind & Wuthering and And Then They Were Tree.
The story of Genesis, told by the Canadian The Musical Box and acclaimed all over the world, returns with "volume 2" to still offer live performances accompanied by a series of original instruments. A journey into the mythical world of Genesis of the period most appreciated by fans of the first hour, the one from 1970 to 1978.
The Musical Box hosted two historical Genesis members such as Phil Collins and Steve Hackett as guests on stage.
"They are not simply a tribute band - Collins says about them - exactly reproduce our shows of the time ".
In fact The Musical Box are acclaimed for their historical re-enactment of Genesis, thanks to the detailed study of the first rare videos of the English band, and they have performed for millions of spectators all over the world in some of the most prestigious venue as the London Royal Albert Hall e Paris Olympia.
"I saw them in Bristol with my children - says Peter Gabriel - so I could show them what their father did when he was young. "
In their search for authenticity they are in fact mentioned all over the world for their excellent interpretations of the Genesis of the first period. Nothing is left to chance: from the masks that Peter Gabriel wore (some donated by the former singer), to the reproduction of costumes, lights and movements on the shows.
"Not only is the sound authentic - says Steve Hackett - but on stage they are identical to Genesis also in appearance ".
"Better than the originals", says Mike Rutherford.
Their world tour now also arrives in Italy, organized by Musical Box 2.0 Promotion and Ventidieci.
November 14 in Bologna, Europe Auditorium - TICKETS on TICKETONE
November 15 in Milan, Teatro del Verme - TICKETS on TICKETONE
November 17 in Genoa, Politeama Theater - TICKETS on TICKETONE
November 18 in Rome, Brancaccio Theater - TICKETS on TICKETONE
November 19 in Ancona, Teatro Le Muse - TICKETS on TICKETONE
November 20 in Udine, Teatro Nuovo - TICKETS on TICKETONE
Video Playlist (updated):
Videos:
https://www.facebook.com/OfficialTheMusicalBox/videos/2367836056784881/
https://www.facebook.com/OfficialTheMusicalBox/videos/265148664366948/
Serge Morissette talks about "Genesis Extravaganza 2.0" - Video:
Sign up to our newsletter
Sign up to our newsletter
Sign up to our newsletter
Listen to Genesis & Co. also on: