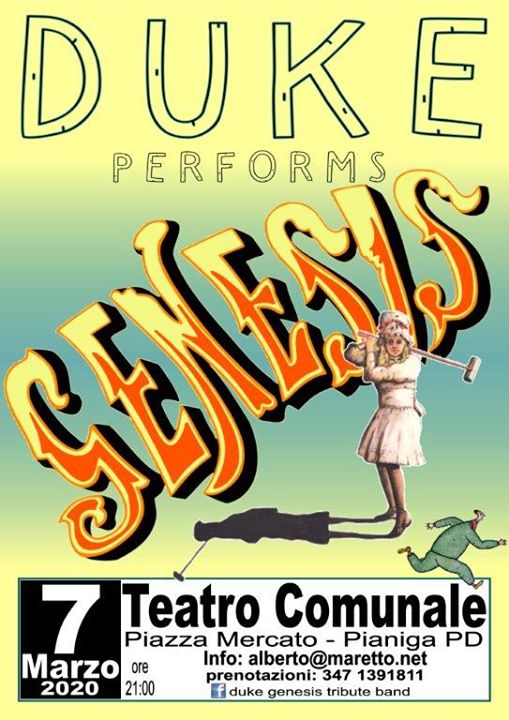 Event Canceled -
AAA DUE TO THE NOTED HEALTH SITUATION AND BASED ON THE INDICATIONS OF THE NATIONAL AND REGIONAL AUTHORITIES, THE ORGANIZER OF THE EVENT OF 7 3 20 AT THE MUNICIPAL THEATER OF PIANIGA (VE) HAS DECIDED TO POSTPON THE CONCERT TO A DATE TO BE DESTINED, WITH THE HOPE TO BE ABLE TO RECOVER IT AS SOON AS POSSIBLE. FOR THOSE WHO HAVE ALREADY BOUGHT TICKETS THE ORGANIZATION COMMUNICATES THAT THEY CAN BE USED AT THE NEXT CONCERT. THE NEW DATE WILL BE COMMUNICATED IN THE NEXT DAYS. I ask you the courtesy to share in such a way that the message is received by as many people as possible. thank you all, see you soon. mduke & duke.
Saturday 7 March 2020 at 21 pm -
Municipal theater of Pianiga (VE) -
DUKE performs Genesis live.
Click here for information on the event.