By Eugenio Delmale -
Mario Giammetti tells Horizons Radio about the themes of new number of Dusk, il Genesis Magazine of which he is founder and director e which, as usual, hosts in-depth analyzes, exclusive interviews and services on current events and news from the Genesis world.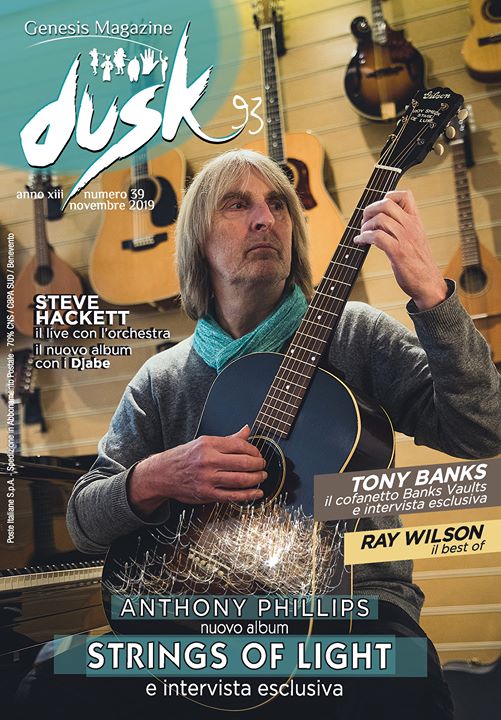 "Dusk number 93 is mainly focused on Anthony Phillips - tells Mario Giammetti to Horizons Radio -, who just released his new studio album. And this is not a small news, because in reality, absorbed by the music library and by the scrupulous work of remastering of its back catalog in recent years, published by its new Esoteric label (Cherry Red group), Ant was missing the appointment with a new unreleased album since 2012 but, if we talk about a really new compositions, we must go back to 2005. Strings Of Light is a splendid double album, with the best Phillips possible. Lucio Lazzaruolo analyzed it painstakingly and I talked about it at length with Anthony in a telephone interview. "
"Interview also with Tony Banks, to comment on his Banks Vaults, box set that traces his entire rock solo career. For the occasion - adds Giammetti - we made a special where each collaborator reviewed an album, putting together, in fact, a retrospective on the keyboardist's artistic career."
"There is also talk of Ray Wilson (his Best Of with two unpublished Upon My Life) and of course it is inevitable, also on this issue, a large space dedicated to Steve Hackett. In this circumstance we deal with the live with the orchestra filmed in London last year (Genesis Revisited Band & Orchestra: Live At The Royal Festival Hall) and the new studio album with Djabe, Back To Sardinia, which will be released in a few days. . "
"I am also happy to confirm the choice of color for the whole issue, thanks to the generous participation of Stefano Tucciarelli. This time, then, the printing house changed the printing house, obtaining a more precise result in the trimming phase and a better definition of the photographs. We hope, with slow but steady steps and without ever going beyond our means, to offer our supporters an increasingly beautiful product to be seen, as well as compelling to read."
"Appointment then to spring 2020 with the next issue - concludes Giammetti -, with whom we will inaugurate the thirtieth year of Dusk's activity."
All that remains is to wait for the new issue of Dusk, as always rich in Genesis & Co. material.
And who has not already done so, can sign up and subscribe here.
Sign up to our newsletter
Sign up to our newsletter