Steve Hackett: A Genesis In My Bed, the autobiography of the great guitarist and former member of Genesis, also in paperback edition.
A new version paperback edition in English.
Buy it here:
On his website you can order copies signed by Steve - CLICK HERE.
Here is the Italian edition:
And the previous English edition:
In this short video Steve thanks everyone «For the excellent feedback on the autobiography, and for those who have not yet read it»:
As for his music, Steve wrote a very detailed tome, fun and enveloping who traces the graph of his life, but with emphasis on his years with Genesis, from the band's rapid rise to success.
Steve speaks frankly of his first years of life, of the period with Genesis and of his personal relationships with the other four members of the band, with an anecdotes in the daily life of this important rock band.
Naturally A Genesis In My Bed also tells Steve's solo career, since he left Genesis and the many different journeys he took.
With his creative talent and his great lightness, A Genesis In My Bed it is a compelling reading.
A must for Genesis fans, but also for music lovers in general and for avid readers of autobiographies full of heartfelt and emotional stories.
He says Steve: "I explore personal feelings. I have answered many questions that fans have asked me over the years, such as why I quit Genesis. It took fifteen years to complete this book, writing between tours, recordings and legal challenges, but this gave me time to really develop it ».
Here are some quotes from Steve from the book (from Steve Hackett website):
The arrival in Genesis:
"He raised his head and looked at me with a steel look ..." You heard about it, didn't you? "
Once again I was against that invisible wall, aware that I could have chosen to sit there and give in or climb over it. But once you get over the wall, you can't go back. I knew I was about to take a leap into that new world and that my life was about to change forever. I was about to board a spaceship on a new planet with a group of aliens. I emptied my glass, put it down and walked out the door into the sun, clutching that note to Mars. "
The creation of The Lamb Lies Down On Broadway:
"We were writing and recording at high intensity. The Lamb is a dense album with tons of details. All full of ideas, the record was full of themes like "Times Square is full of people on a hectic night, the voice suddenly abrasive like the horn of a New York fire truck. Forget sweet dreams ... the drama. takes place day and night ".
The Lamb seemed like a titanic adventure that we were trying to survive ... We hit the icebergs, but bravely dragged us into shark-infested and unexplored waters. "
The exit from Genesis:
"Did I do the right thing? It was a big risk and a huge step into the unknown. I was leaving a world class band that was now filling arenas internationally. I had to trust the power of my instincts and my inspiration ... "
Anecdote about a border customs experience:
"On one occasion, after customs found a leftover illegal substance left by a previous band in the car we hired, we were taken to separate rooms. The customs officers were pugnacious and aggressive, challenging me with large dogs while I was there without my clothes on. Then suddenly an alarm startled these nervous characters who quickly pulled out their guns and turned wildly, their nostrils sniffing ... "
A Genesis concert involved in a revolution:
"The government was about to be overthrown the next day and it was like an explosion. There was a riot outside the club with guns and firecrackers exploding and overturning army jeeps on the street. I've heard there have been fatalities. The concert was oversold. Pyramids of people climbing one another, we were dangerously close to the balconies. "
And of his latest works, Steve says:
«Musically, I am proud of the most recent album 'At The Edge Of Light', with the creative involvement of Roger and Jo, as well as the contribution of band members, orchestral musicians, singers and instrumentalists from distant worlds ...»
The launch of A Genesis In My Bed arrives when Steve is stuck at home, like all of us, after having to abandon his US tour on short notice.
«I had never had to stop a tour halfway before ... However the concerts have been postponed, so we'll be back!
Being on the last flight from Philadelphia to London reminded me of my song "The last train to Istanbul". We were lucky to come home ...
We have the "Seconds Out" tour in front of us, so we can look beyond these dark times. We have every intention of playing as soon as the spaces are open again. "
On the occasion of the book's release, Steve has released some videos that tell passages of his career closely related to his autobiography. Here they are:
Read some interviews below (read on the interviews reported on Steve's website):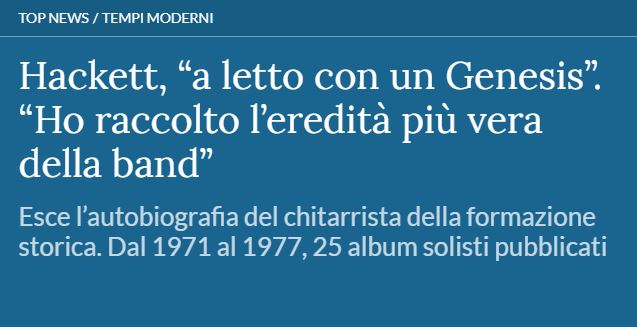 Reviews collected on Steve's site - READ HERE.
Sign up to our newsletter
Sign up to our newsletter