All the news from Peter Gabriel's Real World universe.
By AR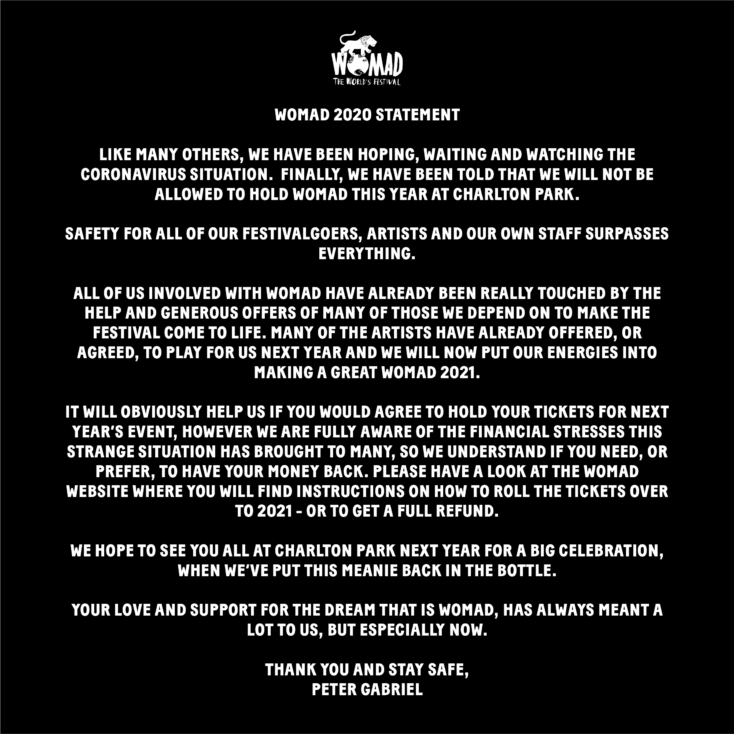 Statement from the WOMAD Team:
Dear friends of WOMAD,
At WOMAD we have been overwhelmed by the messages of support and love that we have received since the Coronavirus entered our lives to devastating effect. Thank you.
We are all experiencing extraordinary and worrying times, for our families, our friends and our communities. There is uncertainty in all walks of life but if there's a message from this pandemic it's that we are all in the same situation, that we must pull together and show respect to each other more than ever; something that's at the heart of the WOMAD ethos.
Nothing matters more than our responsibility to protect the health, safety and wellbeing of the WOMAD community and through that the wider community in which we live. We must support our emergency services, our neighbors and do all that we can to prevent the spread of this virus.
We are also critically aware that our festival is an important part of the lives of our artists, our crew and contractors who earn a living in an industry that has been among the first to be hit, hit harder than many others, with livelihoods being lost overnight all over the world and with no sign of recovery in the short term. The economic impact of our festivals in the communities where they take place is also significant and important to local and regional businesses.
So, whilst WOMAD is a bit part player in a global crisis we take our responsibilities to our whole community very seriously and have taken our time to consult, to learn and to make the right decision based on the information available.
Following a meeting with the Licensing authority, the combined emergency services and taking fully into account the government advice on halting the spread of the virus, it is clear, that in order to meet our goal of protecting the health, safety and wellbeing of the whole community there is no way we can go ahead with WOMAD 2020.
We are devastated but confident that this is the right and responsible decision and that we have to play our part in helping the country stay safe and to recover.
WOMAD is fortunate that we have already completed 3 festivals this year around the world and it seems our future is secure. We are already planning for WOMAD 2021 and talking to this years' artists about next year - we all need something to look forward to!
To those of you who have already bought tickets there are two options. You can either hold onto your purchase and we will issue you a new ticket for 2021 very soon or, you can claim a full refund. The same applies to tickets being bought in instalments. You can either pause payments and pick them up again next year for WOMAD 2021 or claim a refund of the face value of your ticket. Details of how to do this are below.
We hope to see you all next year, we will definitely be in Charlton Park with our doors open but until then, take care, look after each other and keep Following the various WOMAD social media feeds for information And Also tasty WOMAD snacks festivals to keep you going!
Keep Safe,
The WOMAD (2021) Team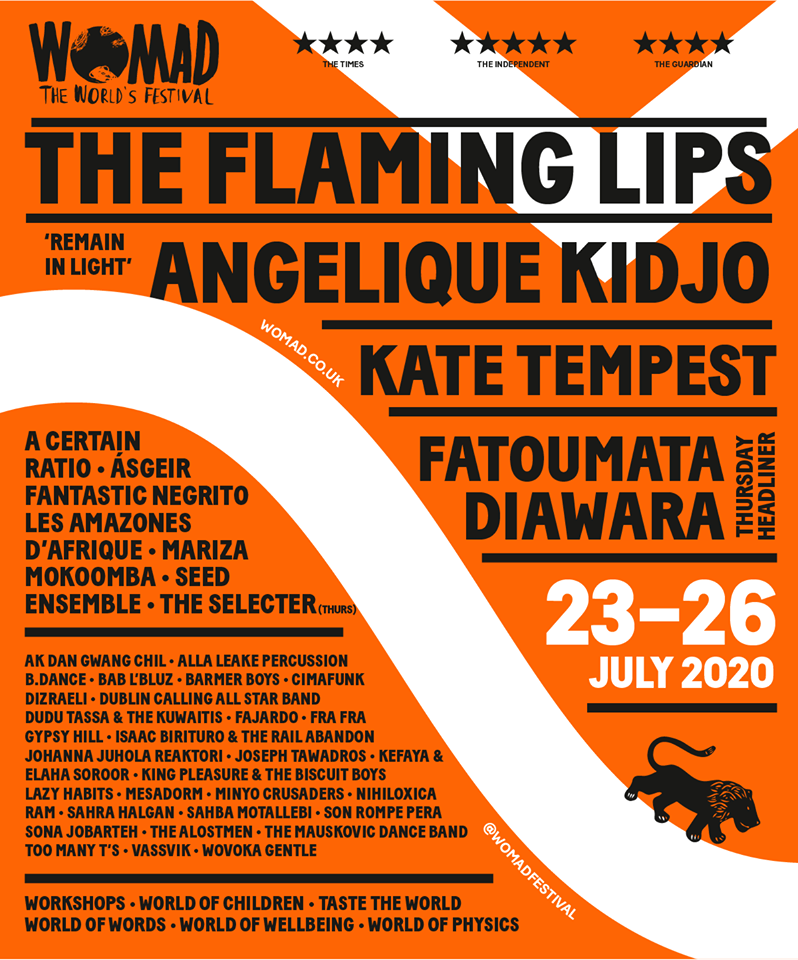 This year the line up sees, among the first artists announced Angelique Kidjo, The Flaming Lips, Kate Tempest, Mariza and Thursday's headliner Fatoumata Diawara, together with a series of incredible musicians from all over the world, for a weekend of musical discovery, dance, spoken word, food, science and more.
Fresh from his victory at Grammys last month, the legendary Angelique Kidjo makes a triumphant return to Charlton Park with his surprising voice, electrifying rhythms and the fusion of West African traditions with R&B, funk e jazz.
The Malian singer-songwriter and the candidate for Grammy Fatoumata Diawara, distinctive and powerful style, will kick off the festival Thursday night, bearing their mark of Malian music, melodies and memorable lyrics.
Kate Tempest makes its debut with WOMAD with its creative diagnosis of the urban condition of the 21st century.
The iconic avant-garde rock band The Flaming Lips brings his frenetic maze of psychedelic hymns to WOMAD for the first time. The three times winners of the Grammy Award they are highly anticipated with their exaggerated and energetic performances.
There will be the queen of doom Portuguese and all-round superstar Mariza, celebrated for the exciting sounds that will take the audience's breath away.
The two-tone Ska group The Selecter will be on stage on Thursday 23 July. Known as one of the key bands in the British Ska revival of the late 70s and early 80s and one of the few racially and sexually integrated shows on the scene, dealing with sexism and racism.
The Haitian group RAM will show his exuberant and joyful rasin mizik - a mix of percussive Vodou, rock and funk music that creates a glorious musical narrative.
The only group of women from West Africa Les Amazones d'Afrique follows the exceptional concert at Real World Studios in January. The group is a creative force whose vibrant harmonies are an appeal for the women of the world to unite and rise against patriarchy.
For the first time at WOMAD, Fantastic Bold, whose story looks like a movie: he was going on a date to sign a record deal, when he made a terrible car accident that caused him to break all his limbs and left him in a coma. Today is a solo vortex that mixes soul, blues e R&B to tell his story through his music.
On the other side of the musical spectrum comes one of the largest Icelandic musical exports, the indie folk-pop di Ásgeir.
Expected return of A Certain Ratio, whose last appearance on the stage of a WOMAD was 35 years ago.
There will also be i SEED Ensemble with their sound between the jazz and groove influenced by London, West Africa and the Caribbean. The project features a stellar line-up with some of London's most emerging young jazz musicians including Theon Cross and the tenor saxophonist Chelsea Carmichael at the tuba.
Sahra Halgan she is one of the most important singers of the self-proclaimed independent state of Somaliland, with her warm voice that mixes the struggles of her own and those of her compatriots, while Elaha Soroor, who will perform with Kefaya, she had to flee her native Afghanistan after taking a stand against the government.
There is not only music in WOMAD; there is really something for everyone, adults and children.
Find out more about each artist Click here.
#nowplaying:
A second group of artists will be revealed in the spring. To know it in preview subscribe to ours newsletter.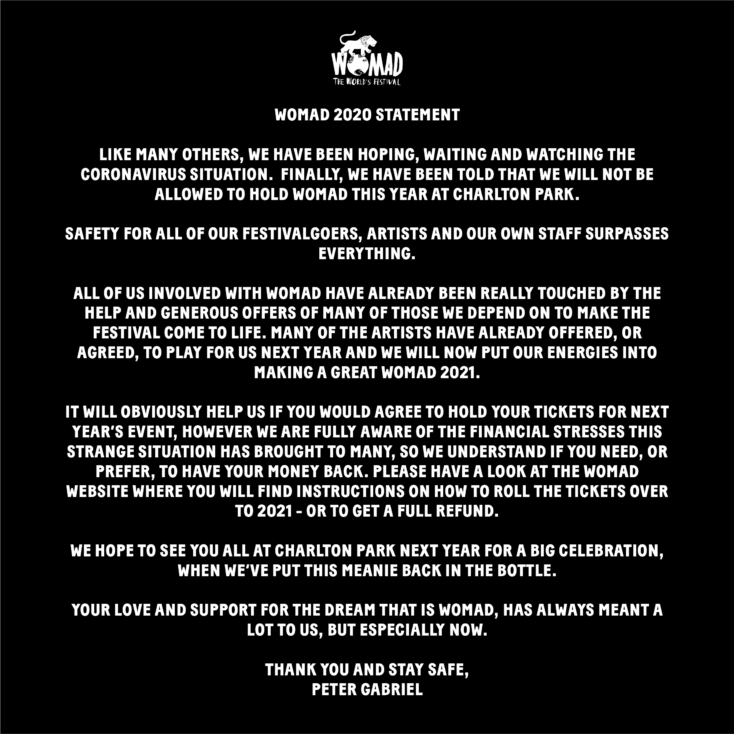 Live Facebook
Sign up to our newsletter
Sign up to our newsletter
Listen to Genesis & Co. also on: