Unforgettable places in the history of Genesis & Co., through audio, video, documents and much more.
By D.B.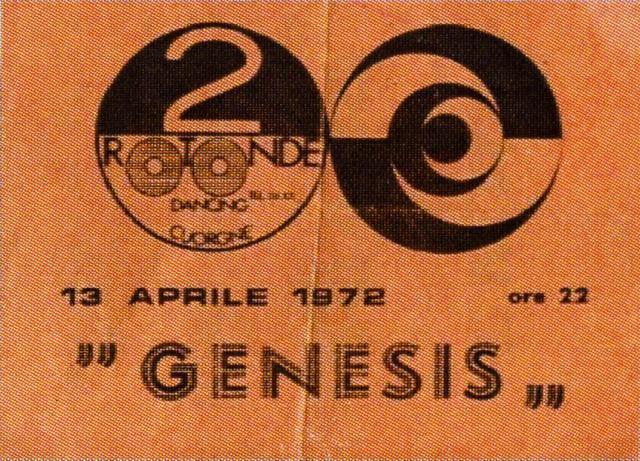 Cuorgnè, in the province of Turin is one of the places in the history of the Genesis.
Their concert of April 13, 1972, in fact, remains unique and unforgettable in their tours.
So Mike Rutherford remembers it in The Living Years: The First Genesis Memoir:
"We played in the mountains one evening when Tony had food poisoning. We resisted for a while without him, but it was like being in a car that had lost a wheel and we had to finish the set early. Since we hadn't been able to sell many tickets, the promoter had the excuse that he was looking for not paying. Rich didn't want to know about it and was a little aggressive. The promoter had a gun. We weren't paid. "

But what was a band like Genesis doing in a dancing hall in a small town in the province of Turin?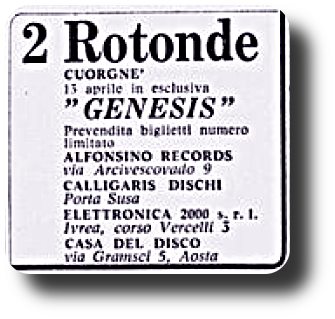 In fact, at 2 Rotonde, they all played a bit big of the Italian song and also foreigners, come remember the book The Beatles and Genesis in Canavese. History of beat & pop music in Canavese from 1962 to 1974 by Gianpiero Madonna, which contains a profile of the lively music scene of the period in the Cuorgnè area:
Born from the happy intuition of Angelo Porcellana, who disappeared 5 years ago, together with the brothers Dino and Claudio, the place attracted audiences from Turin, from all over the province and beyond. In 1972 Genesis did not have a large following, not even at home, and in fact this first tour in Italy takes place in clubs and small sports halls.
Le 2 Rotonde was among the most capacious.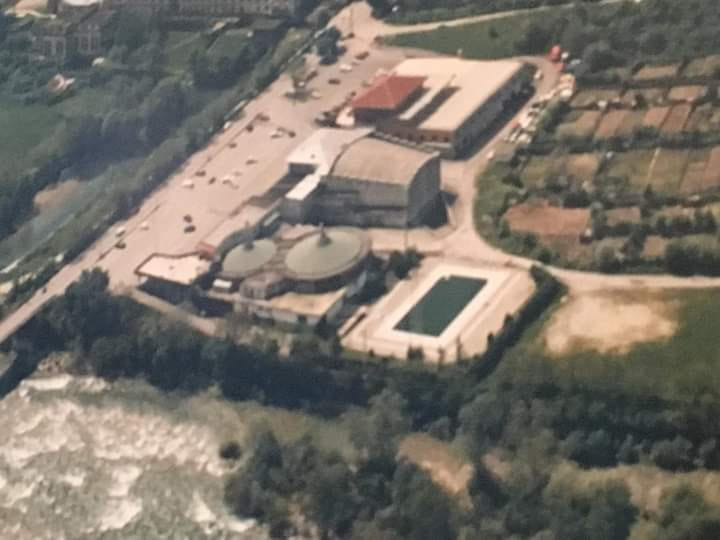 "A dancing goer, friend of my husband", tells exclusively to Horizons Radio Marisa Porcellana, Angelo's widow and she also engaged in the management of the 2 Rotonde of the golden years, «He was a great admirer of Genesis and had suggested that we play them with us, because they are of excellent quality. So when an entrepreneur proposed them to us, Angelo remembered the board and signed them. "
«The Genesis were very nice guys», continues Marisa Porcellana.
"They didn't act like rock stars: they drank little and were very polite. We didn't have a real stage, so they played in the audience, without any attitude of superiority or similar things. When the concert was interrupted, everyone understood that there were health reasons and did not create problems. They were kids, the musicians and their fans. "
Ms. Porcellana does not remember the episode of non-payment and the threat with a gun, cited by Rutherford. "There were no weapons in the room, nobody has ever bothered us like this ", He tells us.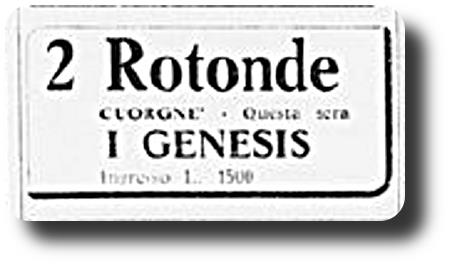 And here what he told exclusively to Horizons Radio Pierluigi Gassino, present at the concert:
«The concert was interrupted because the keyboardist Tony Banks felt bad ... and as a consolation I managed to exchange four words with Phil Collins, while Peter Gabriel had a drink leaning against the bar counter where they had performed in front of a few of us ... I remember that then the bassist and the guitarist wandered on stage at the end of the concert collecting some cables and equipment ... all this before becoming rock stars!»

"My brief dialogue with Phil Collins", read more Pierluigi Gassino, "It was due to a fact that made the evening even more bitter for me and my friends because on leaving we found the car no longer in the parking lot and, having returned to the disco to ask for a ride in order to return home, I met Phil outside the club who approaching an Alfa model 1750 with a guy who seemed to be the manager driving it. »

«I asked him, gesturing in Anglo-Italian, a passage to Turin, explaining the fact that just happened and the evident difficulty. He told me that they were going to Milan and there was no place, then added that those who had stolen the car were killed by making the gesture of cutting the throat as a joke. He greeted me by shaking my hand ... beautiful and bitter memory ...! »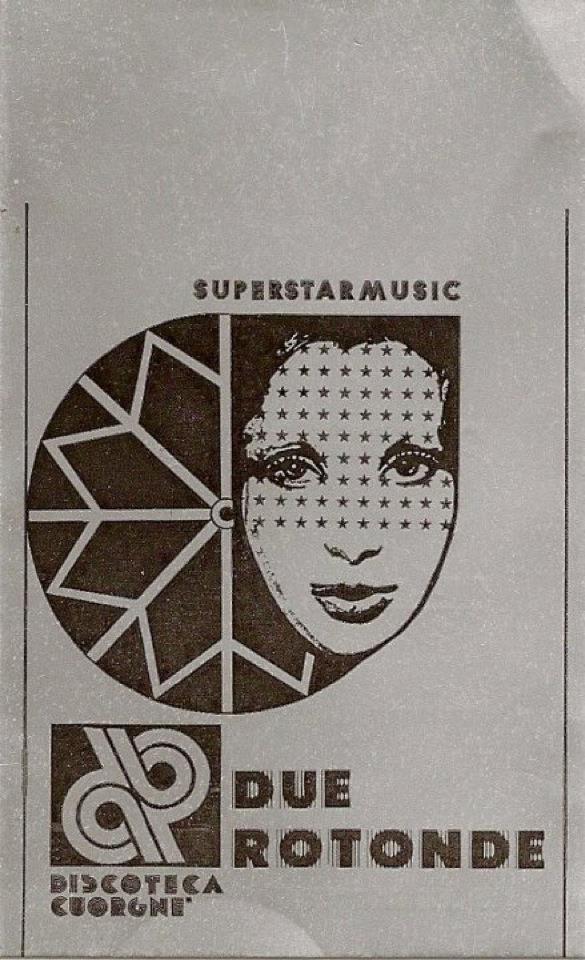 Here the testimony Beppe Crovella audio, leader by the band of Torino Arti e Mestieri, posted on Facebook - LISTEN:
https://www.facebook.com/beppecrovella/videos/3281989403288/
Su Dusk n ° 55 a detailed reconstruction of the evening by Beppe Crovella (click on the cover to order a copy):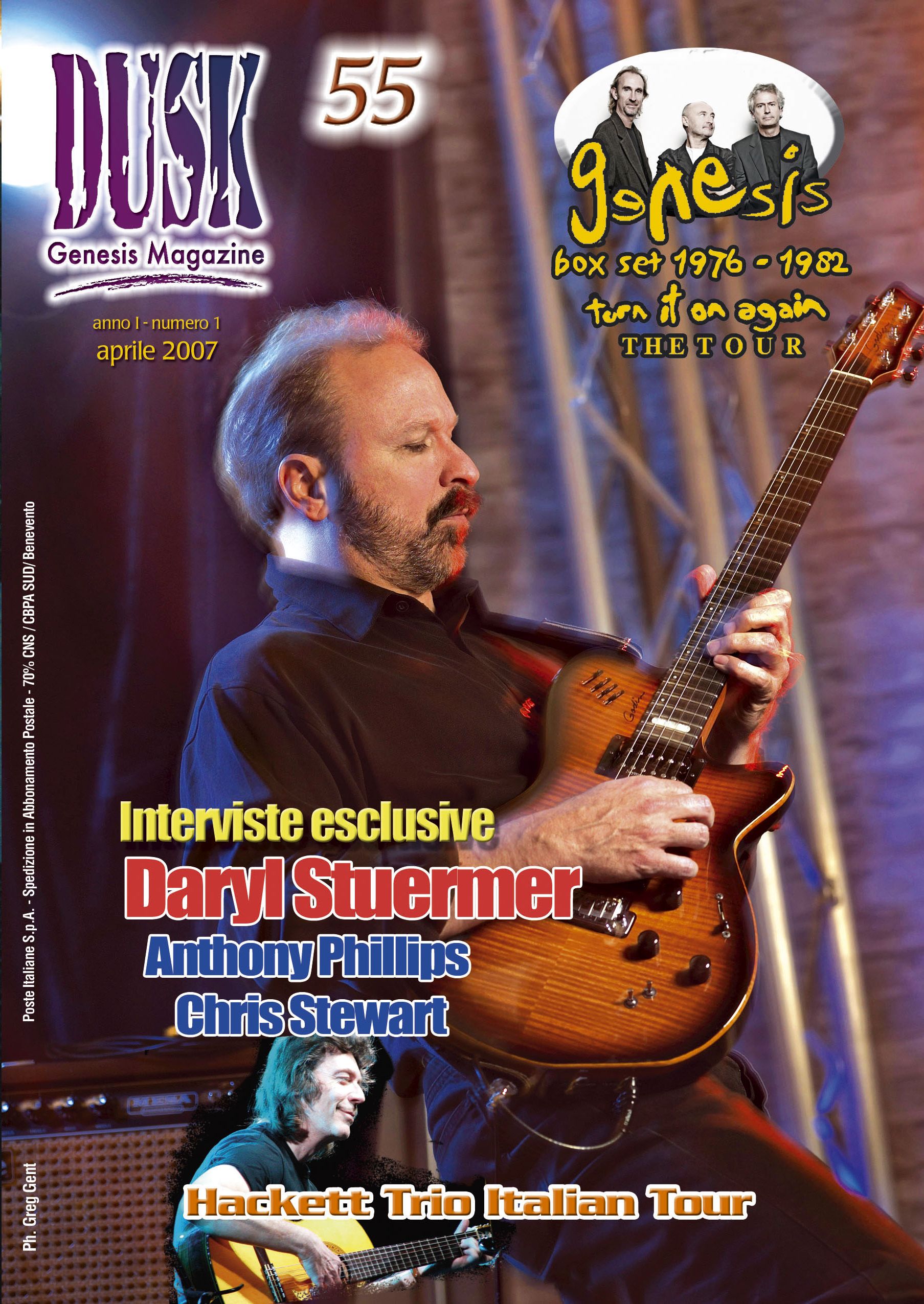 Read other memories on

Sign up to our newsletter
Sign up to our newsletter
Listen to Genesis & Co. also on: