The Last Domino? Tour: here are all the dates in Europe and the USA. In addition, words, news, press reviews, tickets on sale.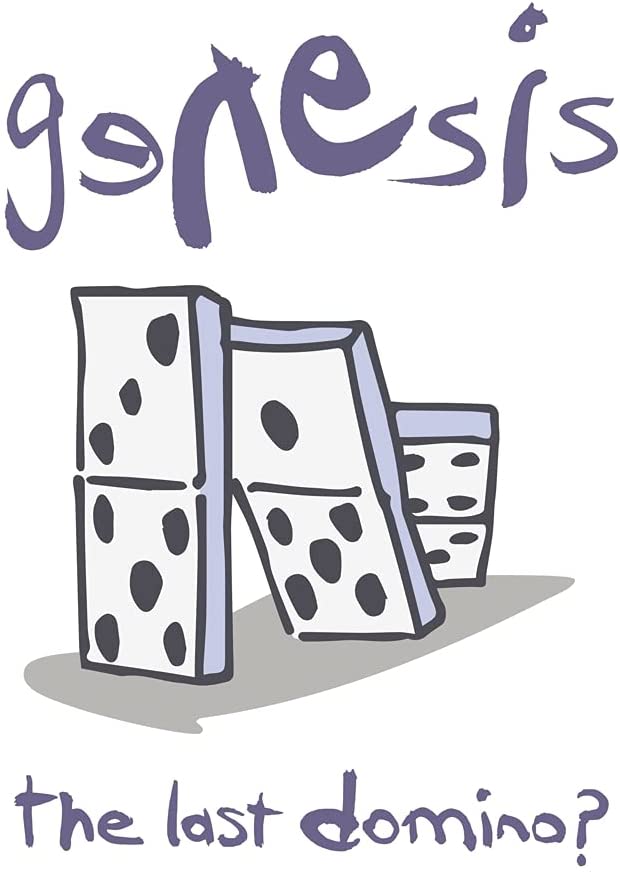 New European dates announced:
March 7 - Mercedes-Benz Arena, Berlin, Germany
March 8 - Mercedes-Benz Arena, Berlin, Germany
March 10 - ZAG Arena, Hannover, Germany
March 11 - ZAG Arena, Hannover, Germany
March 13 - LANXESS Arena, Cologne, Germany
March 14 - LANXESS Arena, Cologne, Germany
March 16 - La Défense Arena, Paris, France
March 17 - La Défense Arena, Paris, France
March 21 - Ziggo Dome, Amsterdam, Netherlands
Tickets are on presale from Friday 29 October at 10am CET on genesis.music.com
The three London shows canceled in October have been rescheduled for March 24, 25 and 26, 2022. Here is the post:
More information on the postponed Glasgow show will arrive shortly.
Dublin and Belfast concerts have been canceled.
Added a date in New York on December 11th.
Genesis are back in concert also in the United States, after 14 years.
The Last Domino? Tour in USA kicks off in Chicago on November 15th.
Presale tickets for all shows are available on Ticketmaster Verified.
All US dates, ticket pre-sales and more information about the tour, tickets and VIP packages are on www.genesis-music.com.
Dusk No. 97 revealed in a worldwide exclusive that the two backing singers on the Genesis tour are Daniel Pearce and Patrick Smyth.
Look at the images and statements of the evidence and more:
Tony Banks, Phil Collins and Mike Rutherford have confirmed the reunion in the Zoe Ball program on BBC Radio 2.
It's official.@genesis_band are back together and heading out on tour later this year! ?

Hear the band chatting to @ZoeTheBall right now on @BBCSounds ? https://t.co/TuXpxQoWkG pic.twitter.com/S9n2MDAEmK

- BBC Radio 2 (@BBCRadio2) March 4, 2020
The trio will be joined by Collins's XNUMX-year-old son, Nicholas on drums and Daryl Stuermer on guitar and bass.
Here are the words of the Genesis:
https://www.facebook.com/BBCR2/videos/204374560635499/
"I think it's the right time"Banks said. "We are all good friends, we are all mature and ... here we are".
"I will do my best to play some parts of the tour", Phil Collins explained. "I have to start thinking about it seriously, but I've already calculated what I'm going to do and what songs to play."
"We all thought, 'Why not?', Collins said. "It seems a somewhat pathetic reason, but we like mutual company, we like playing together."
Banks added that the trio did not ask Gabriel to participate in the reunion tour, Because "Most of the songs people know came after he left. Peter left the band 45 years ago and has lived as he wanted since then."
"There is a Genesis sound that is still present", said Mike Rutherford. "I missed it, it's nice to play it again."
"It's a good feeling, it's the right time, we can't wait to do it", continued Mike Rutherford. Many of our contemporaries have played a lot, we've done two shows in the UK in the past 28 years. "
On eighteen year old son Nicholas, who will play the drums in ShowPhil Collins said: "He sounds like me and has the same attitude. So it's a good place to start."
On the potential lineup, Collins said: "There are songs that you feel you have to play because the audience would feel cheated if you didn't, then it's about putting together the rest of the material with songs that we haven't played for a long time. But there are some old dogs that won't run." .
The voices of one reunion they have been around since Collins and Rutherford performed together in Berlin last June.
Collins then hinted at the possibility of one reunion: "We remain close friends, so you never know."
Earlier this week, a photograph of the three members appeared on theaccount Genesis official Instagram with the caption: "And then there were three."
The last Genesis concert dates back to 2007, when the British group played at the Circus Maximus in Rome, in a free concert, in front of over 500 thousand spectators.
Press review:
Live Facebook
Sign up to our newsletter
Sign up to our newsletter