I Genesis: The Last Domino? Tour, DATE MOVE TO 2021 with two more shows. Here are the NEW DATES the words, the news, the press review, the tickets on sale.
The dates for autumn 2020 have been rescheduled in April 2021: Here are the old and the new: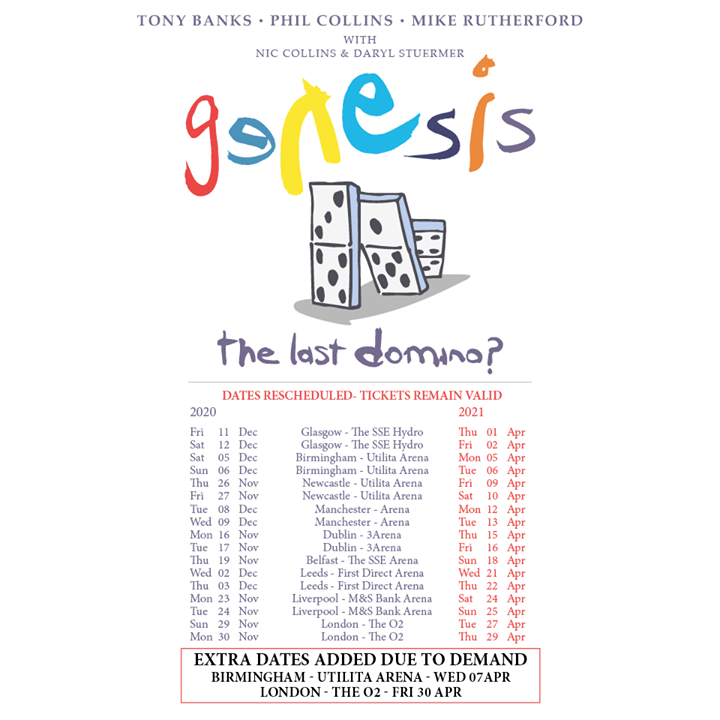 Tickets remain valid or can be purchased HERE.
Genesis will gather for a UK tour, 14 years after the l: Here they are: gold last performance.
Tony Banks, Phil Collins and Mike Rutherford have confirmed the reunion in the Zoe Ball program on BBC Radio 2.
It's official.@genesis_band are back together and heading out on tour later this year! ?

Hear the band chatting to @ZoeTheBall right now on @BBCSounds ? https://t.co/TuXpxQoWkG pic.twitter.com/S9n2MDAEmK

- BBC Radio 2 (@BBCRadio2) March 4th 2020
The trio will be joined by Collins's XNUMX-year-old son, Nicholas on drums and Daryl Stuermer on guitar and bass.
Here are the words of the Genesis:
"I think it's the right time"Banks said. "We are all good friends, we are all mature and ... here we are".
"I will do my best to play some parts of the tour", Phil Collins explained. "I have to start thinking about it seriously, but I've already calculated what I'm going to do and what songs to play."
"We all thought: 'Why not?', Collins said. "It seems a bit pathetic, but we like each other's company, we like playing together."
Banks added that the trio did not ask Gabriel to participate in the reunion tour, Because "Most of the songs that people know came after he left. Peter left the band 45 years ago and has lived as he wanted ever since. "
"There is a Genesis sound that is still present", said Mike Rutherford. "I missed it, it's nice to play it again".
"It's a good feeling, it's the right time, we can't wait to do it", continued Mike Rutherford. Many of our contemporaries have played a lot, we have done two shows in the UK in the last 28 years ".
On eighteen year old son Nicholas, who will play the drums in ShowPhil Collins said: "He sounds like me and has the same attitude as me. So it's a good starting point ".
On the potential lineup, Collins said: "There are songs that you feel you have to play because the audience would feel cheated if you didn't, so it's about putting the rest of the material together with songs we haven't played for a long time. But there are some old dogs that won't run ".
The voices of one reunion they have been around since Collins and Rutherford performed together in Berlin last June.
Collins then hinted at the possibility of one reunion: "We remain close friends, so you never know."
Earlier this week, a photograph of the three members appeared on theaccount Genesis official Instagram with the caption: "And then there were three."
The last Genesis concert dates back to 2007, when the British group played at the Circus Maximus in Rome, in a free concert, in front of over 500 thousand spectators.
Press review:
Live Facebook
Sign up to our newsletter
Sign up to our newsletter
Listen to Genesis & Co. also on: