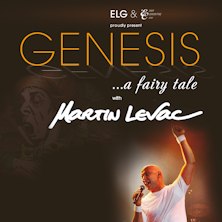 EVENT CANCELED - Saturday 9 May 2020 at 21:00 -
Auditorium Parco della Musica - Sinopoli Hall -
Pietro De Coubertin, 30, 00196 ROME -
"For this special event, an ad hoc band was created made up of some of the best Italian and non-Italian professionals, including Luca Velletri, Luca Leonori, Alessio Bonucci, Tiziano Leonardi and Luca Bernardini.
Special guest of the evening Martin Levac famous singer and multi-instrumentalist known all over the world for having founded the Musical Box.
The Canadian artist who is about to leave with his world tour "Genesis & Phil Collins", returns to Italy for the first time after playing The Lamb ten years ago together with his former companions.
Considered by all as Collins' natural heir both vocally with the extraordinary resemblance of the voice and in playing the drums, being even left-handed like him.
The show will be an unforgettable journey into the world of the English band through lights, sounds, masks and a sound power that will inflame the hall with three sets of drums, double guitars and keyboards and with four singers to take turns on stage.
With video surprises and arrivals of prestigious gueststhe."