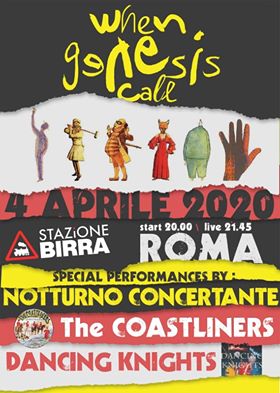 Beer Station: THE ACTIVITY STOPS UNTIL NEW MINISTERIAL PROVISIONS
Saturday 4 April 2020 at 21:45 pm -
Beer Station -
Via Placanica 172 00118 - Rome -
CONTACT CENTER: +39 06 79845959 06.40060282 (from 15:00 onwards)
WHATSAPP (Text messages only) +39 349 5979997
"WHEN GENESIS CALL is the unmissable event that in the same evening will see the performances of three established bands that will perform the best known songs of Genesis on the prestigious stage of Stazione Birra.
The Notturno Concertante is a group that has six CDs to its credit, their next release will be the album entitled "Let them say". They have numerous collaborations, such as in the publication of the song "Nocturne" as part of the Double Exposure compilation, curated by Steven Wilson. Former Genesis guitarist Anthony Phillips also attended this compilation. Notturno Concertante has collaborated on more than one occasion live with the ex singer of Genesis Ray Wilson the last circumstance was When Ray in Rome; in other musical collaborations we also find them with Tony Pagliuca (keyboard player of the Orme),
their components are: Lucio Lazzaruolo on guitar, Raffaele Villanov on guitar, Nadia Khomoutova on violin and Francesco Margherita on drums
The Dancing Knights, are a historic Tribute Genesis group from Rome, which were founded in 1976 by a group of fans of the Progressive of the 70s. The first name was 'The Group', then 'Pullman' and finally the current name. They are related to the musical period of Peter Gabriel's Genesis, from which they rarely depart. Their names: Andrea Borella, on drums who is one of the founders of the group. Roberto Boccardo on electric guitar, 12-string guitars, second voice, another founding member of DK. Vincenzo Misceo on vocals, Massimiliano Pugi on solo guitar, Paolo Bonori on bass and bass pedal, and finally Alessandro Fraschetti on keyboards (Nunsery Crime keyboard player).
The band 'The Coastliners' also devotes its work to the execution of the songs of the Genesis 70s. Historically the band was born in Ostia with the name of 'Globus' in 1977, and performed for about a decade; subsequently after thirty years of break, in 2010 there was the 'Reunion' at Salsedine in Fiumicino, the new headquarters of the group. Since 2014, with the entry of the new solo voice and the flute and second voice, the band was refounded and renamed 'The Coastliners', precisely by virtue of its location on the coastal territory in tribute to the song from the Foxtrot album.
2016 sees the entry of the current solo guitar after various collaborations.
Andrea D'Ettore: transverse flute and choirs; Angelo Catania: soloist voice; Daniele Gardon: bass, guitar, bass pedal; Fabio Loppi: keyboards and guitar; Giorgio Cocanari: drums; Paolo Menichetti: solo guitar "
EVENING INFO:
ENTRANCE SHOW € 10
DINNER ENTRANCE FROM 20:00
START OF CONCERT H 21.45