Video Memories, the Story of Genesis & Co. through videos.
By DB
Defector it is Steve Hackett's fourth studio album, released on June 13, 1980 with Charisma Records.
In this video Steve recalls the main moments of the composition and recording of the album:
Her previous album, Spectral Mornings it had been his best seller. Hackett wanted to capitalize on the commercial momentum, trying new material with his band on tour before recording it in the studio.
After the Spectral Mornings tour, in fact, Hackett brought his band to Wessex Sound Studios in Highbury, north London, to record the album.
Defector is Hackett's album which reached the highest point in the UK Albums Chart, placing at n. 9.
"The Show" was released as a single. Here is the official video:
Many fans consider this to be the last album of his classic solo period. Indeed, after its release, Hackett became increasingly aware of the musical direction of his previous albums and pointed to a turning point in the next.
In 2005, Defector has been remastered to Virgin Records. The new edition features updated cover notes and five bonus tracks.
A surround mix was included in the box set "Premonitions: The Charisma Recordings 1975–1983".
Track list
All tracks were written by Steve Hackett, except where indicated.
Side 1
"The Steppes" - 6:05
"Time to Get Out" - 4:11
"Slogans" - 3:46
"Leaving" - 3:16
"Two Vamps as Guests" - 1:58
Side 2
"Jacuzzi" - 4:36
"Hammer in the Sand" - 3:11
"The Toast" - 3:42
"The Show" - 3:40
"Sentimental Institution" (Steve Hackett, Peter Hicks) - 2:44
2005 Remaster Bonus Tracks
"Hercules Unchained" (B-side of "The Show") (Steve Hackett, Peter Hicks) - 2:44
"Sentimental Institution" (Live at the Theater Royal, Drury Lane) (Steve Hackett, Peter Hicks) - 3:02 am
"The Steppes" (Live at the Reading Festival) - 6:33
"Slogans" (Live at the Reading Festival) - 4:19
"Clocks - The Angel of Mons" (Live at the Reading Festival) - 5:54
2016 Remaster Bonus Tracks and DVD - New Pseudo 5.1 Surround Sound Up-mix From The Original Stereo Master Tapes
"The Air Conditioned Nightmare" (Live at the Reading Festival) - 4:42
"Every Day" (Live at the Reading Festival) - 6:48
"Ace Of Wands" (Live at the Reading Festival) - 6:45 am
"Funny Feeling" (Live at the Reading Festival) - 4:17
"The Steppes" (Live at the Reading Festival) - 6:12
"Overnight Sleeper" (Live at the Reading Festival) - 4:52
"Slogans" (Live at the Reading Festival) - 4:42
"The Tower Struck Down" (Live at the Reading Festival) - 3:13
"Spectral Mornings" (Live at the Reading Festival) - 6am
"The Show" (Live at the Reading Festival) - 4:32
"Clocks - The Angel Of Mons" (Live at the Reading Festival) - 6:05 am
Steve celebrates 40 years of DEFECTOR, playing the key pieces of his album. In this video he tells the emotion of taking him on tour:
Musicians
Steve Hackett - electric and acoustic guitars, voices in "Time to Get Out, The Toast", backing vocals on "Leaving, The Show", Optigan in "Sentimental Institution", Roland GR-500 guitar synthesizer
Pete Hicks - lead vocal on "Time To Get Out, Leaving, The Toast, The Show", backing vocals on "Sentimental Institution"
Dik Cadbury - bass, Moog Taurus bass pedals, backing vocals in "Time To Get Out, Leaving, The Toast, The Show"
Nick Magnus - keyboards, Prophet 5, Clavinet, Fender Rhodes & RMI electric piano, Novatron, Vox String Thing, Minimoog, Roland SH-2000, Roland Vp-330 Vocoder in "Slogans", Piano in "Hammer In The Sand"
John Hackett - flutes
John Shearer - drums, percussion
PRODUCTION
Steve Hackett - production
John Acock - production
Jed and Vince - organization
Kim Poor - interior and cover paintings, enamels, cover design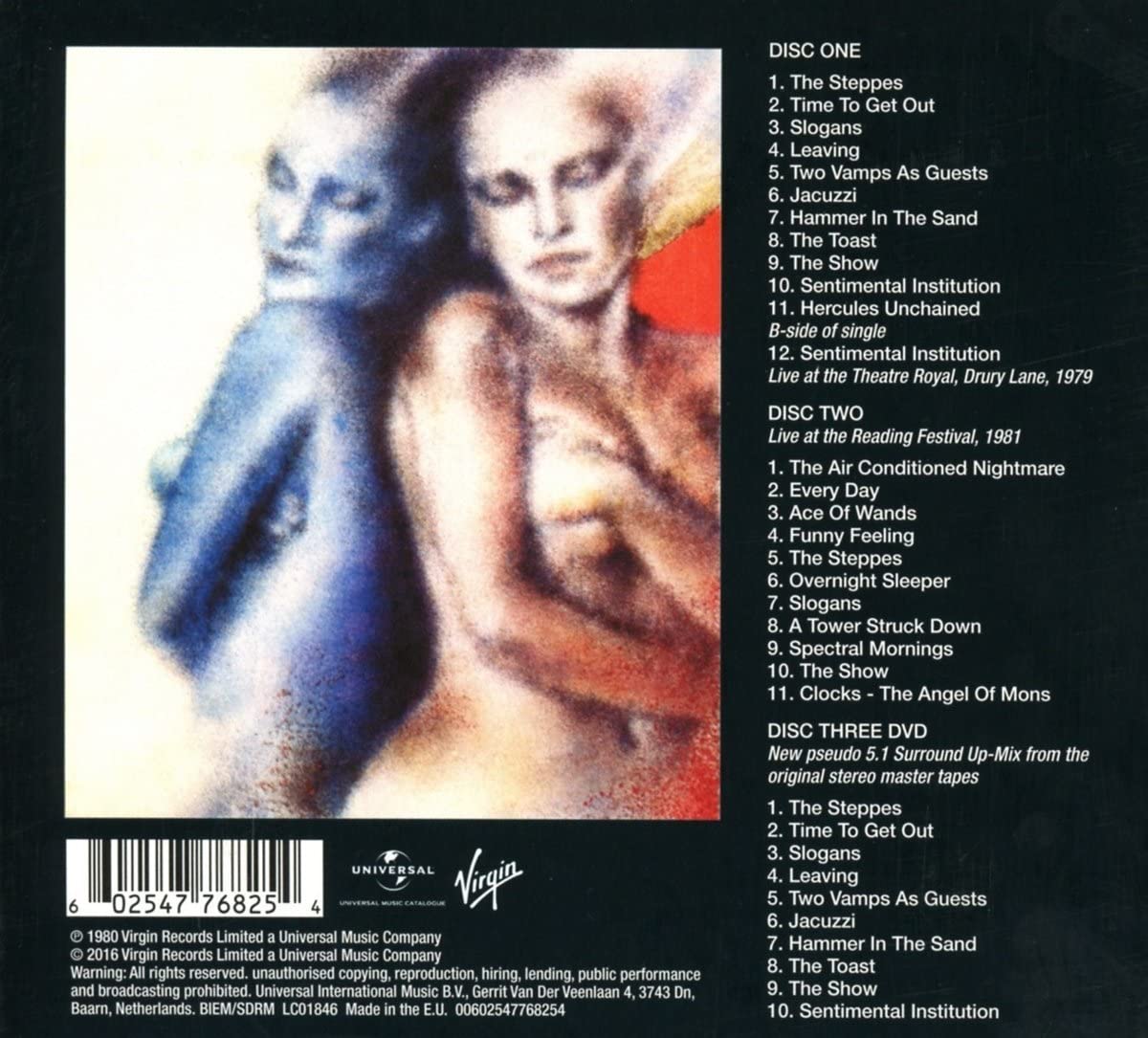 Kim and Kobz - cover design
Danny Padova - inside cover
Armando Gallo - photo collage
Gered Mankowitz - photo collage
Sign up to our newsletter
Sign up to our newsletter
Listen to Genesis & Co. also on: