The DVD "Mr. Rael's Story" is a gift to Genesis fans and an aid to Emergency. The author talks about it: Mimmo Vitale.
By DB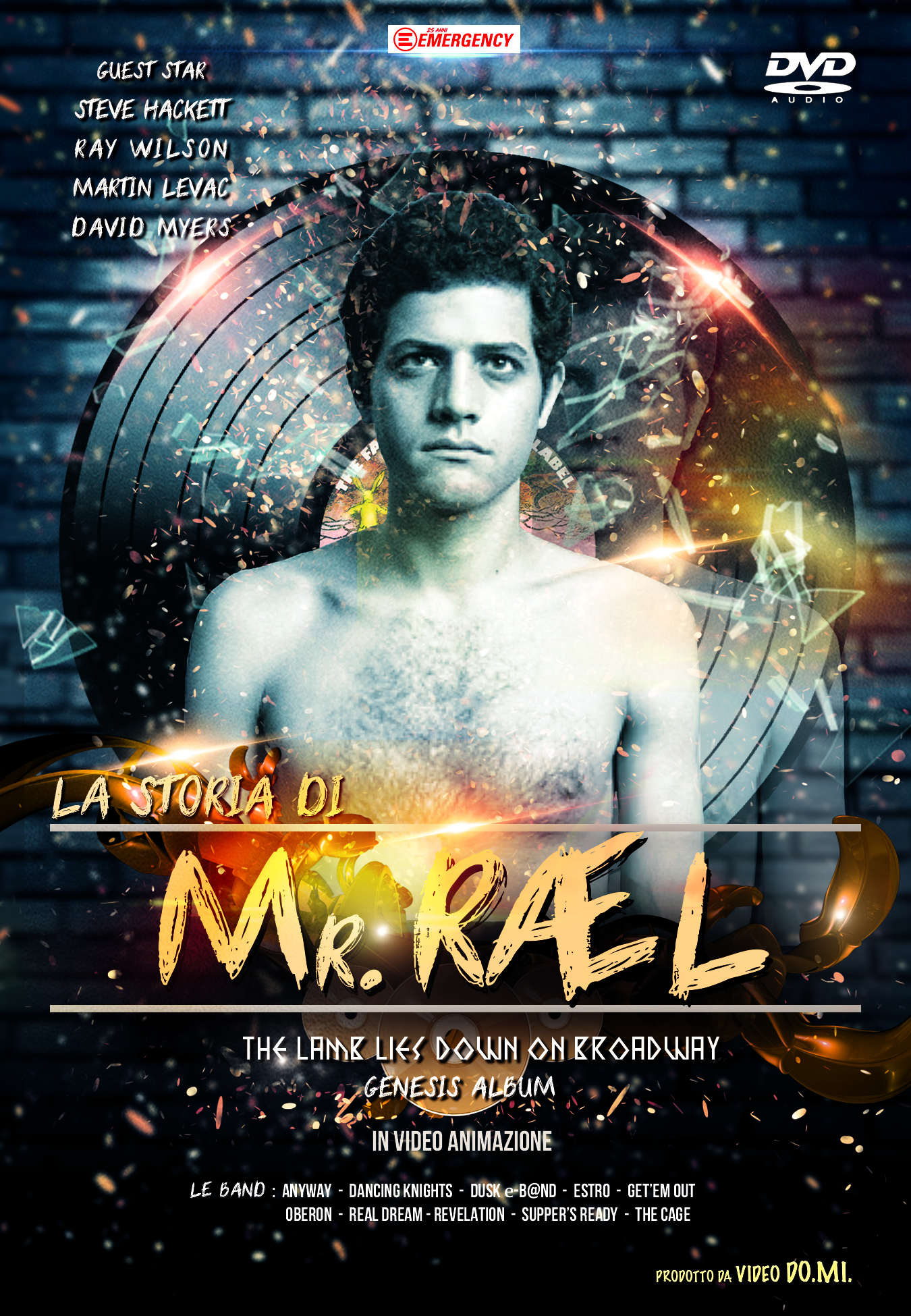 Mimmo Vitale made a film of animated images, accompanied by the music of the double album "The Lamb Lies down on Broadway" performed by the best Italian tribute bands - Real Dream, Get'em Out, The Cage, Revelation, Supper's Ready, Dusk e-band, Anyway, Estro, Dancing Knights, Oberon - and international.
Not only. The film also involves two ex Genesis (Steve Hackett and Ray Wilson), Martin Levac (from the Musical Box) and pianist David Myers.
It is also a generous project that aims to collect donations in favor of Emergency (Rael for Emergency).
To buy the DVD send requests to: vitaledomenico.mimmo@gmail.com.
Horizons Radio talked about it with the author: Mimmo Vitale.
HR: How did you come up with this project?
Mimmo Vitale: This project was born from far away, the idea of ​​giving this concept album by Genesis "The Lamb Lies Down On Broadway" animated images of Rael's path, took more and more foot in me. I cleaned the disc, put the thumbtack on the grooves and entered another world, just like the protagonist (Rael). I imagined seeing a film with all the vicissitudes that Genesis told and, as I saw them, I wanted other fans like me to be able to experience them too.
Genesis have never managed to concretize the proposals of a film in all these years, and I don't think they will do it anymore. So I threw myself with my modest means in this adventure with the heart, then, if I succeeded, it is up to all those who will believe in this project to evaluate it.
You have involved - and, let's face it, even agreed - the main Italian Tribute Band of Genesis. How did you do? Have there been any discussions?
Honestly, the project was born with the original backing tracks of the album. What made me change my mind are the years I have spent so far chasing the concerts of the "Genesisian" tribute bands. First in Lombardy where I live, and then, more and more involved you also want for my photographic hobby, in other regions.
Often in their set lists they included "The Lamb", so I said to myself: "but why not give these musician friends the opportunity to accompany this project". By now Peter Gabriel & Co. no longer have to prove anything to anyone, while the cover bands felt more involved and willing to play them, and each of them also in different and interesting ways.
I made a list of bands to contact and with my friend Leonardo Antonelli, who lives in Rome, already organizer of the event "When Ray in Rome" with Ray Wilson, Notturno Concertante and a Jam session consisting of several elements of various Italian bands the "Masters of Jam", we divided the tasks to contact them, and so we left for this adventure.
We clarified with them what the project consisted of and that it was intended to donate the proceeds to Emergency so that, given the pandemic period of COVID-19, we could help Lombardy, which was undoubtedly the most affected. I have to say that all the bands responded positively from the start, and this helped us a lot.
Topics? I would say more than anything else I had to give priority to those bands that had good quality audio material, and there was a first skimming there. Then the rest worked itself out.
By what criteria did you match a song from The Lamb to a band?
This was one of the questions that Leonardo and I immediately agreed with. It was obvious that here we had to decide not based on a movie that the bands had in their drawer, but on the audio, which had to be of excellent quality, we could not produce a DVD in high definition and then have poor audio. And this was the priority request to the bands that we had forwarded. Once all the audio material was sent to me, I sorted all the pieces, deciding which video clips could be combined. And here I must confess that unfortunately some bands I reluctantly had to oust from the project. Even if we had already announced to friends that if their audio had not been good we would have discarded it and we are very sorry.
If you allow me the thought that in this regard I have expressed to those who are not there, it is that, in the near future, never to be found unprepared in these things, at any time you consider it appropriate, create a sort of data base, try to record video or audio from a service or friend who has the right tools, and then put them away, they are always needed.
You also involved international stars: two ex Genesis (Steve Hackett and Ray Wilson), Martin Levac (from the Musical Box) and the pianist David Myers. What criteria did you follow with them?
A - It may seem strange, because rightly of them we think of sacred monsters, so getting close for a few requests always becomes a bit complicated. The merit in reality is always in showing heart, for us, because Leonardo Antonelli "precisely heart" is the classic piece of bread that many love and these are the results.
He contacted his friend Mario Giammetti whom we know as one of the greatest connoisseurs of Genesis in Italy and I believe also abroad, he explained the project and its purposes and in a few days Steve Hackett gave his consent. He didn't even impose the song, we put it in "The Chamber of 32 Doors" and so it was.
Ray Wilson as I said before, with the 2019 project "When Ray in Rome" he knew of the goodness and seriousness of our work and adhered with his eyes closed.
Martin Levac and David Myers, former members of the Canadian "The Musical Box", consequently encouraged by mutual friends Giorgio Rosa and Michele Maran, they also accepted willingly. The thickness of the artists as you see is not only assessed by the music.
What kind of animation technique did you use?
I usually work with Apple's "Final Cut Pro X" or Adobe's "After Effects". They are two of the best professional programs that I feel better with. Very versatile editing with the first, and effects during the creation of clips with the second.
I can talk to you about "brainstorming". The purpose of this technique is to gather ideas on a certain theme, both in the presentation phase and in a subsequent phase of reflection. We try to display on the time line the main ideas that arise regarding the topic in question, and then we try solutions at the moment. Or the "Stop Motion" which consists in taking a frame-by-frame image and moving it, then making the same appear in real motion. Etc ...
How did you deal artistically with the subtle border between reality, dream and hallucination that characterizes Rael's story?
As I already describe in booklet inside the DVD that accompanies step by step the various adventures of Mr. Rael, "The Lamb Lies Down On Broadway" is the story of a young American boy of Puerto Rican origins, led on an adventure in an underground world of New York, halfway between dream, nightmare and the most overwhelming reality.
From Peter Gabriel's explanation, Rael makes a "journey into his soul", it is not only a physical transport but also (and above all) a mental one. Phil Collins also recalls that the story of The Lamb derives from a split personality of the protagonist. Throughout the album we never know for sure if we are in the reality of the real Rael, in that of his most profound, reflective and good personality, or in a very vivid but not real dream. Maybe a little one and a little the other.
So I tried this transposition between boundary and reality by alternating real images with those built like comics, because everyday life could be just that. You wake up, a coffee, go to work, come back, a shower, and then with your head between a book or a DVD you immerse yourself in a fantasy world where many of us would like to be.
Making the Lamb movie has always been Peter Gabriel's dream. Do you think he would like this work of yours?
In 1979 Peter Gabriel proposed to director Jodorowsky to make a film, Peter did everything to be the protagonist, but as we know, all this was never conceived.
I don't know if my work could reflect Gabriel's artistic thought and I don't even know how Jodorowsky got the score of the proposed film and the reasons why the two did not agree. I made this animated transposition of the concept album after seeing and reading many books and videos, sometimes very opposed to each other, to then get an idea and work on it.
To think that Peter Gabriel might like this way of seeing me would be, as a fan, an immense satisfaction, but I remain with my feet firmly glued to the ground and I enjoy the appreciation of friends or the "sick" like me of Genesis who have donated to have this DVD.
Will you let her have it?
With our friend Leonardo Antonelli we moved in this direction with the 4 guest stars of the project. We sent the DVD to the referents who take care of their image. As for Peter Gabriel, he is a little more complicated, he is a very private person, we don't want the job to be handed over to any person and then put aside. We are interested in being able to get it to him by people he trusts short hand, then if we are lucky enough to have an answer we will let you know.
Do you think it can ever become a real movie, with actors in flesh and blood, as Peter thought it?
In an interview from 1988, granted by Gabriel to his biographer Spencer Bright, the singer tells how two adapted versions of the story were elaborated, one written in his own hand and the other by Jodorowsky. Gabriel realized the "weakness" of his version compared to that of the director and so, unconvinced of the turn that the project was taking, he decided to end it.
The version told by Gabriel does not shed light on two other important aspects that heavily influenced the failure of the film. First, Gabriel's idea of ​​playing Rael was discarded, and in my opinion even more unlikely today. Secondly, then, Charisma Films considered the cost too high and risky, Gabriel persevered pursuing the making of the film for a few years but met with less and less support, even from the other members of the band, not very enthusiastic about taking part in a totally focused project on them frontman and who seemed to have died on departure. Today, for the economic conditions of the film market and the conditions of any protagonists, one name above all, Phil Collins, seems absolutely unthinkable to me.
Why do you think Rael is so symbolic for Genesis fans? What strings does it touch?
Rael is trying to describe the indomitable entity of life. A life that changes constantly, as he himself changes into solid, liquid, fluid, which converge together towards the true Rael. It means that in all the moments of his life in New York, and then in that surreal adventure, in every beautiful, ugly, terrifying or exciting moment, he was always simply Rael.
We perhaps, but certainly I, find myself in this thought. In everything you do, you have to be yourself. What Rael saw in his brother John is none other than himself and therefore I always try to be good and bad myself. Peter Gabriel encourages each listener to find its meaning. There is an incentive to make our life what we want.
And why were you attracted to The Lamb, why is it a concept album or for other reasons?
I started following Genesis very early, I am from '57, end of '60 beginning of '70 were the years of great rock in all its facets. From Trespass in '70 to Foxtrot in '72 I saw the quality of their compositions grow album after album, 1973 with the release of "Selling England by the Pound" for me was the apotheosis of progressive rock or as they called it then " Symphonic Rock ".
The quality of the sounds, the compositions, the lightness that Hackett and Rutherford gave to the guitars was unrivaled. That album was for me the consecration of the best prog-rock band. I thought, "but after that, what could they have done better?"
Instead the year after arrival "The Lamb Lies Down on Broadway" BRILLIANT! Still considered the best story ever conceived and put into music ever. I must confess that at the beginning I struggled to understand the concept, I hardly chew English and the album is full of expressions and meanings very difficult to understand.
Then there are pieces full of sound effects such as "The Waiting Room" where Rael, caught by his fears, remains petrified not knowing where and how to escape from the imaginary white walls where he is. Or "Ravine" with the raven running away with the test tube containing Rael's penis. Here are these passages, over time, made me appreciate, in addition to the beauty of the album, also a story, as I said before, in which we could all meet.
With his previous works, Peter Gabriel has demonstrated that he has an excellent Homeric and Baroque historical background, with texts that are very difficult to interpret in order to identify us. While The Lamb is more within reach. The difficulty in creating animations in these points as difficult as the two songs described was a challenge for me. And in these two years in which I collected the material and then assembled it, I have deepened even more the beauty of this work and consequently the attraction towards it.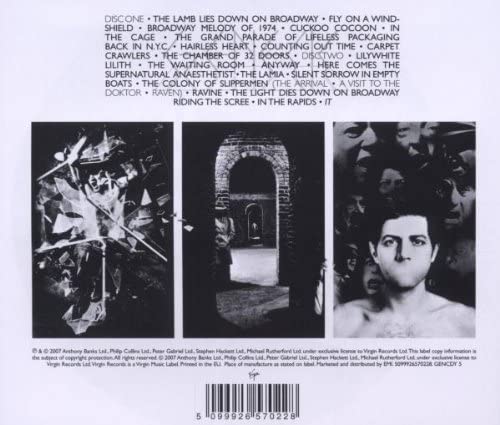 The DVD supports Emergency in the fight against Covid-19. Why this choice?
This project, as mentioned before, had been incubating for two years, however it was necessary to have time to assemble the puzzle of all the material I had accumulated. And of time - alas or in this case fortunately, don't get me wrong - COVID-19 and this lockdown made one possible full immersion at work.
Eight hours a day dedicated exclusively to video editing, including effects, character overlays, etc. So Even in this case, as last year for "When Ray in Rome", my friend Leonardo Antonelli, suggested me, given the period of discouragement for the epidemic in Italy, to give help to an association, in the Emergency case , to ensure that they could purchase medical supplies through donations for the DVD.
To date, thanks to the many friends who believed in this project, we have already collected a first important figure and we are proud of it.
Remember how you can buy the DVD.
You can send your requests directly to me: vitaledomenico.mimmo@gmail.com.
If you allow me, I would like to thank my friend Leonardo Antonelli for supporting me in full. This project is also his. Special thanks go to Mario Giammetti, Giorgio Rosa and Michele Maran with the cultural association "Duke"Of Padua, I thank Marco Zatterin, journalist and writer for his detailed review in the booklet, a hug to dear friend Roberto Conditi, an important presence when it comes to Genesis, without their help we could not have given an imprint of professionalism to DVD. Lastly, our heartfelt thanks to these extraordinary professionals who have married without batting an eyelid the project and the "Rael per Emergency" initiative, giving us their presence, and their extraordinary music.
Thanks! Mr. Steve Hackett, Mr. Ray Wilson, Mr. Martin Levac Mr. David Myers
The bands that participated in the project:
Anyway (Turin), Ray Wilson & band, Dancing Knights (Rome), Real Dream (Genoa), Dusk eB @ nd (North East Italy), Revelation (Rome), Estro (Rome), Steve Hackett & band, Get'em Out (Milan), Supper's Ready (Bolzano), Martin Levac & band, The Cage (Parma), Oberon (Palermo), solo piano David Myers.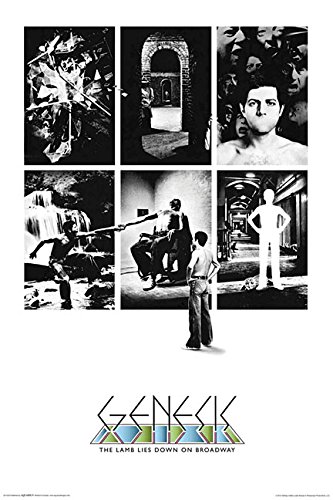 Sign up to our newsletter
Sign up to our newsletter
Listen to Genesis & Co. also on: