Peter Gabriel attended another event on June 26, 2020 live stream of "Artists United for Amazonia, Protecting the Protectors", with other big names in the show and beyond. Here are his words.
The Artists United for Amazonia: Protecting the Protectors, global event live stream, was held on Friday 26 June and presented, as usual, a mix of home musical performances, interviews, indigenous wisdom and calls to action.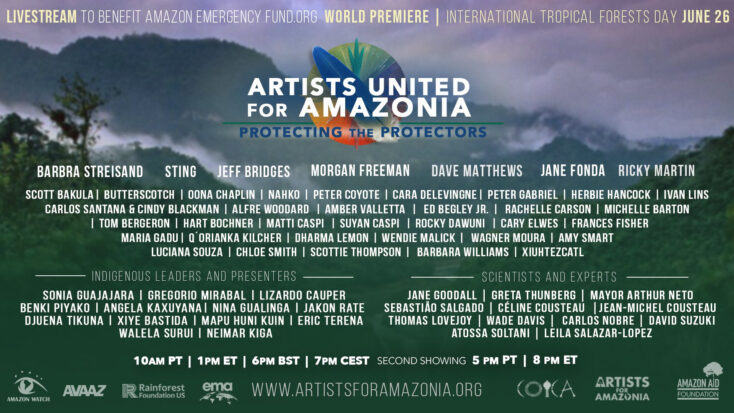 Peter has participated together with numerous other artists such as Barbara Streisand, Sting, Jeff Bridges, Herbie Hancock, Morgan Freeman and Jane Fonda. They joined indigenous leaders, scientists and a large coalition of NGOs in the live stream event produced by Artists for Amazonia.
Here is Peter's speech:
Support the Amazon Emergency Fund - CLICK HERE.
PARTICIPATION IN THE LIVESTREAM:
ARTISTS
BARBRA STREISAND
STING & TRUDIE STYLER
MORGAN FREEMAN
DAVE MATTHEWS
JANE FUNDA
RICKY MARTIN
JEFF BRIDGES
SCOTT BAKULA
BUTTERSCOTCH
OONA CHAPLIN
NAHKO
PETER COYOTE
DEAR DELVINGNE
PETER GABRIEL
HERBIE HANCOCK
IVAN LINS
Carlos Santana
ALFRE WOODARD
AMBER VALLETTA
ANDERSON VAREJAO
ALICE BRAGA
ED BEGLEY, JR.
RACHELLE CARSON-BEGLEY
KOREN BROTHERS
SEBASTIO SALGADO
GRETA THUNBERG
MICHELLE BARTON
TOM BERGERON
HART BOCHNER
CINDY BLACKMAN
CRAZY CASPI
SUYAN CASPI
ROCKY DAWUNI
CARY ELWES
ISLA FISHER
FRANCES FISHER
MARIA GADU
Q´ORIANKA KILCHER
DHARMA LEMON
WENDIE MALICK
MATTHEW MODINE
WAGNER MOURA
AMY SMART
LUCIANA SOUZA
CHLOE SMITH
MICKEY SUMNER
SCOTTIE THOMPSON
LYNNE TWIST
KALI UCHIS
BARBARA WILLIAMS
XIUHTEZCATL
... AND MUCH MORE!
INDIGENIDELL'AMAZZONIA
SONIA BONE GUAJAJARA
GREGORIO DIAZ MIRABAL
ANGELA KAXUYANA (AKA AMANAKWA KAHYANA)
LIZARDO CAUPER
BENKI PIYAKO
NINA GUALINGA
JAKON RATE
GBENGA AKINNAGBE
HELENA GUALINGE
DJUENA TIKUNA
XIYE BASTIDA
ERICK TERENA
MAPU HUNI KUIN & INKA YUBE HUNI KUI
WALELA SURUI
NEIMAR KIGA
SCIENTISTS AND EXPERTS
JANE GOODALL
CARLOS NOBRE
THOMAS LOVEJOY
LEILA SALAZAR-LOPEZ
WADE DAVIS
JEAN MICHEL COUSTEAU
ATOSSA SOLTANI
CELINE COUSTEAU
CHRISTINA MILLER
ARTHUR NETO, MAYOR OF MANAUS
On May 28, 2020 Peter Gabriel participated in the previous live stream event "Artists United for Amazonia, Protecting the Protectors", with other big names in the show and beyond.
Among these, Morgan Freeman, Carlos Santana, @SantanaCarlos, Jane Fonda and, in fact, Peter Gabriel participated in the live stream benefits for the Amazon region, which in Brazil has been particularly affected by COVID.
Watch the video of Peter Gabriel's speech:
«We all have a role to play in preventing the spread of # COVID19 in the Amazon!
Artists United for Amazonia: Protecting the Protectors, a special livestream event for the Amazon Emergency Fund in support of the Amazonian indigenous population under the extreme threat of COVID-19
Our powerful livestream offers musical performances, showbiz characters, indigenous leaders, scientists, conservation advocates and more! »
ARTISTS
JANE FUNDA
MORGAN FREEMAN
Carlos Santana
JEFF BRIDGES
PETER GABRIEL
HERBIE HANCOCK
DEAR DELVINGNE
NAHKO
XIUHTEZCATL
KALI UCHIS
CARY ELWES
Q'ORIANKA KILCHER
ED BEGLEY, JR.
RACHELLE CARSON BEGLEY
IVAN LINS
LUCIANA SOUZA
FRANCES FISHER
AMBER VALLETTA
MATTHEW MODINE
TOM BERGERON
WENDIE MALICK
ROCKY DAWUNI
BUTTERSCOTCH CLINTON
SCOTT BAKULA
ALFRE WOODARD
CHLOE SMITH (RISING APPALACHIA)
SCOTTIE THOMPSON
BARBARA WILLIAMS
HART BOCHNER
SUYAN CASPI
WAGNER MOURA
GBENGA AKINNAGBE
CRAZY CASPI
MICHELLE BARTON
... AND MANY MORE!
INDIGENOUS LEADERS
SONIA GUAJAJARA
ANGELA KAXUYANA
GREGORIO DIAZ MIRABAL
LIZARDO CAUPER
MAPU HUNI KUIN
SCIENTISTS AND EXPERTS
JANE GOODALL
THOMAS LOVEJOY
CARLOS NOBRE
LEILA SALAZAR LOPEZ
ATOSSA SOLTANI
WADE DAVIS
JEAN-MICHEL COUSTEAU
CELINE COUSTEAU
CHRISTINA MILLER
Sign up to our newsletter
Sign up to our newsletter
Listen to Genesis & Co. also on: