Peter Gabriel and the stages of his new album "i / o", in preparation for quite a few years.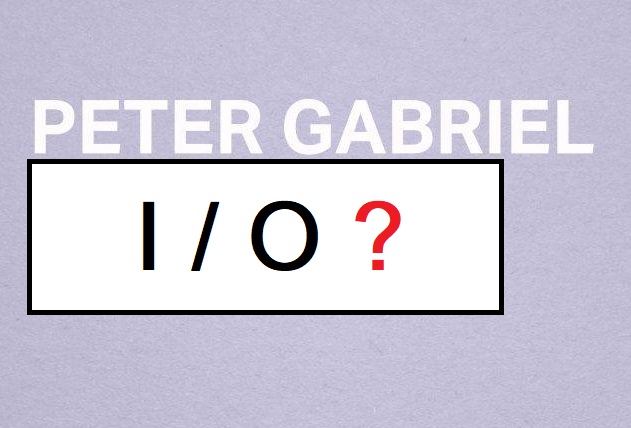 All Peter Gabriel fans are wondering when the new album arrives.
On November 8, Peter announced i / o The Tour, hinting at the arrival of the new album, but without giving dates:
Peter Gabriel: i / o The Tour in Italy in Verona in Milan - DATES & TICKETS
The previous clue, almost a confirmation, had arrived on November 4, with these posts on social media:
Visualizza questo post on Instagram
A few days earlier, Gabriel told ABC Audio: "It's nearing completion. I'm running out of things. So, there should be ... some news soon."
On June 4, 2022, Manu Katche,Asked by the French newspaper Ouest-France about what he is working on, he replied: "At the end of the year I will release a new album with Peter Gabriel and in 2023 we will tour the US and Europe. I will also record a new album and release a book - with [French publishing house] Éditions Grasset, which will be introspective." .
Here is Peter's latest Facebook post dated October 30, 2021:
On October 21, in Milan, Peter revealed new details:
Ipse Dixit: Peter Gabriel speaks in Milan for his daughter Anna's photo book - VIDEO
A precedent was the interview with UNCUT Magazine, dated July 16, 2020:
HR Press Review: Peter Gabriel talks about new album on UNCUT Magazine - HERE'S WHAT HE SAID
Earlier, in a June 16, 2020 interview with the BBC, had declared:
«As far as music is concerned, I haven't had as much time as I usually do, which is not as before. But there have been some news. There is a COVID song - well, there is a COVID lyrics, actually -. I have been asked to write something and it will probably turn into a song. So there are songs and pieces that go in the right direction ». (Interview by Matt Everitt).
In March 2020 Peter had written to a newspaper giving another indication of his compositional activity, although very slowly.
The site genesis-news.com had signaled Peter Gabriel's reaction to a Times article (see Matt LeDonne's image taken from genesis-news.com).
Peter has thus revealed that he is working on a new song on aging, called "So Much".
In an article of March 6, the newspaper The Times reported Phil Collins' words: "Rock old men should talk about their generation."
Peter took pen and paper and replied that he is working on one "song about aging" called "So Much".
The author of the Times article posted it on Twitter, confirming that it was Peter who replied.
In an interview with BBC Radio 6 Music in April 2019, Peter had talked about new songs and the album:
https://www.bbc.co.uk/programmes/m0003zly
In the winter of 2018 Peter published this post on Facebook:
Again fueling the hopes of fans.
To these indications must be added the songs that Peter only mentioned, such as "Here Comes Love?", which he spoke about on Facebook on October 28, 2014 or released in various ways and which have not yet been included in an album, such as "I'm Amazing", posted on YouTube on June 17th 2016 (read here how the song was received) and inspired by the life and battles of Muhammad Ali.
The song was followed shortly after "The Veil", arrived on 8 September 2016 (read here how the song was received). It was part of the Oliver Stone film "Snowden", but without joining the soundtrack (another indication that bode well).
At the moment the picture is complete, in the sense that some material is available to fans even if, having spent so much time, we would expect something more concrete. We'll see. If you want to stay updated on developments, subscribe to our newsletter below.
More news on Peter Gabriel
Sign up to our newsletter
Sign up to our newsletter