Unforgettable stories and memories, through audio, video, documents and much more.
By D.B.
On August 16, 1975, the newspapers published a statement by Peter Gabriel, who made his decision to leave the band known.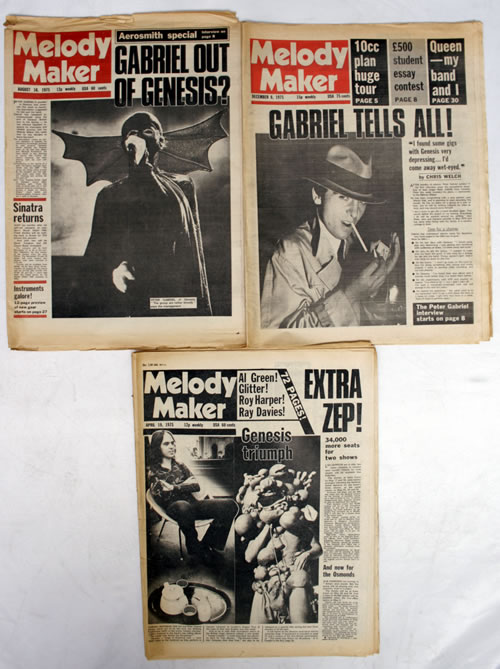 Listen to the Podcast (in Italian) - CLICK HERE.
Here it is in its original version:
I had a dream, eye's dream. Then I had another dream with the body and soul of a rock star. When it didn't feel good I packed it in. Looking back for the musical and non-musical reasons, this is what I came up with:

OUT, ANGELS OUT - an investigation.

The vehicle we had built as a co-op to serve our songwriting became our master and had cooperated us up inside the success we had wanted. It affected the attitudes and the spirit of the whole band. The music had not dried up and I still respect the other musicians, but our roles had set in hard. To get an idea through "Genesis the Big" meant shifting a lot more concrete than before. For any band, transferring the heart from idealistic enthusiasm to professionalism is a difficult operation. I believe the use of sound and visual images can be developed to do much more than we have done. But on a large scale it needs one clear and coherent direction, which our pseudo-democratic committee system could not provide. As an artist, I need to absorb a wide variety of experiences. It is difficult to respond to intuition and impulse within the long-term planning that the band needed. I felt I should look at / learn about / develop myself, my creative bits and pieces and pick up on a lot of work going on outside music. Even the hidden delights of vegetable growing and community living are beginning to reveal their secrets. I could not expect the band to tie in their schedules with my bondage to cabbages. The increase in money and power, if I had stayed, would have anchored me to the spotlights. It was important to me to give space to my family, which I wanted to hold together, and to release the daddy in me. Although I have seen and learned a great deal in the last seven years, I found I had begun to look at things as the famous Gabriel, despite hiding my occupation whenever possible, hitching lifts, etc. I had begun to think in business terms; very useful for an often bitten once shy musician, but treating records and audiences as money was taking me away from them. When performing, there were less shivers up and down the spine. I believe the world has soon to go through a difficult period of changes. I'm excited by some of the areas coming through to the surface which seem to have been hidden away in people's minds. I want to explore and be prepared to be open and flexible enough to respond, not tied in to the old hierarchy. Much of my psyche's ambitions as "Gabriel archetypal rock star" have been fulfilled - a lot of the ego-gratification and the need to attract young ladies, perhaps the result of frequent rejection as "Gabriel acne-struck public school boy". However, I can still get off playing the star game once in a while. My future within music, if it exists, will be in as many situations as possible. It's good to see a growing number of artists breaking down the pigeonholes. This is the difference between the profitable, compartmentalized, battery chicken and the free-range. Why did the chicken cross the road anyway? There is no animosity between myself and the band or management. The decision had been made some time ago and we have talked about our new direction. The reason why my leaving was not announced earlier was because I had been asked to delay until they had found a replacement to plug up the hole. It is not impossible that some of them might work with me on other projects. The following guesswork has little in common with truth: Gabriel left Genesis. 1) To work in theater. 2) To make more money as a solo artist. 3) To do a "Bowie". 4) To do a "Ferry". 5) To do a "Furry Boa round my neck and hang myself with it". 6) To go see an institution. 7) To go senile in the sticks.
Newspapers publish the letter delivered by hand in the editorial offices.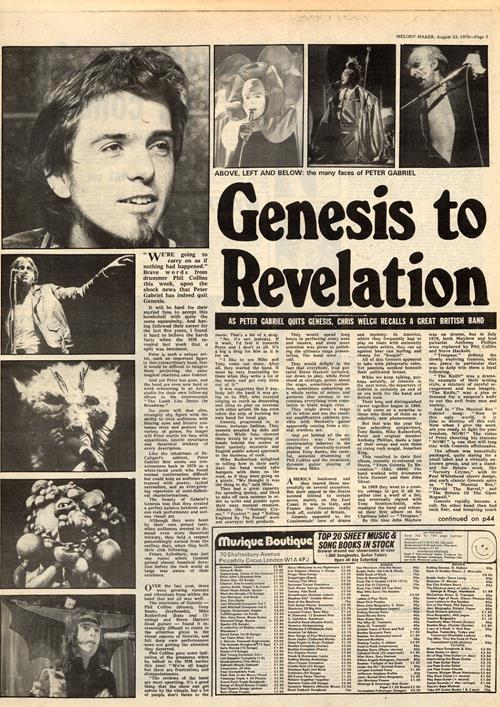 Peter has already informed his teammates of his decision to leave the band on November 25, 1974 all 'Swingos hotels Cleveland, USA, among the first stops of the tour. LISTEN TO THAT CONCERT:
The band is first incredulous, then bewildered, then worried about their future.
Also there is a demanding tour to carry on, with songs little known by the public - the lineup provides everything The Lamb, released only a few days before + two encores: The musical box e Watcher Of The Skies, sometimes replaced by The Knife - and the fear that Peter's abandonment could leak out and cause a crash in ticket sales.
Here is thelast recording of a concert in Peter Gabriel's Genesis. The final concert of 4 May 22 precedes by 1975 days: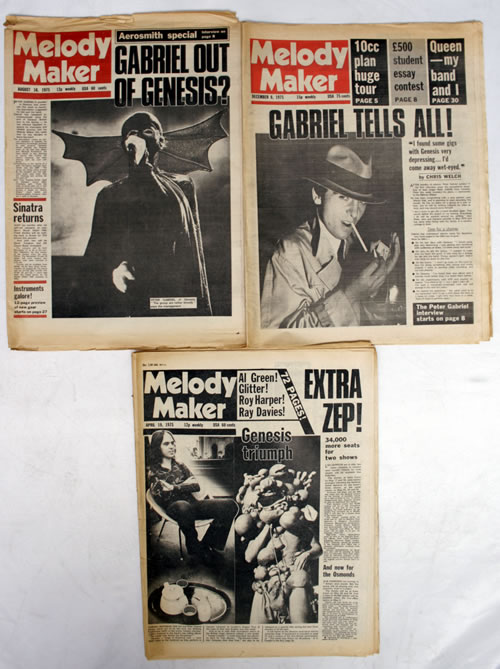 On August 26, therefore, the Genesis are forced to release an official statement, to complement that of Peter. In this they write that the band is looking for a new singer, who is composing a new album and will soon start recording it. The album will be released at Christmas and the tour will start at the beginning of the new year.
The news causes one shock in the music world and the media begin to give up the Genesis experience. But, as Gail Colson says, his close collaborator for years,
"Tony Stratton-Smith (founder and manager of Charisma Records Ed.) Was the only one who believed in them 100% and predicted that they would have grown even bigger without Peter. He always said that as long as there were Tony Banks and his tunes, then there were Genesis. "From: Without borders. Life and music of Peter Gabriel, di Daryl Easley.
Stratt appears to be right. A Trick Of The Tail, first album without Gabriel and with Phil Collins singer, released in March 1976, sells more than previous records and paves the way for success for Genesis and a career far from the end. Though for millions of fans the band without Gabriel is no longer theirs.
Peter currently retires to private life, although, as we know, not definitively. But that's another story.
If you have stories, memories and material from this period write to Horizons Radio [su_button url = "https://www.horizonsradio.it/contatti" style = "3d" background = "# dc0505" size = "5"] Click here [/ su_button]
Collector's Corner:
Sign up to our newsletter
Sign up to our newsletter
Listen to Genesis & Co. also on: