"Six String Salute", the virtual concert for the benefit of the Crew Nation, saw the participation of Steve Hackett.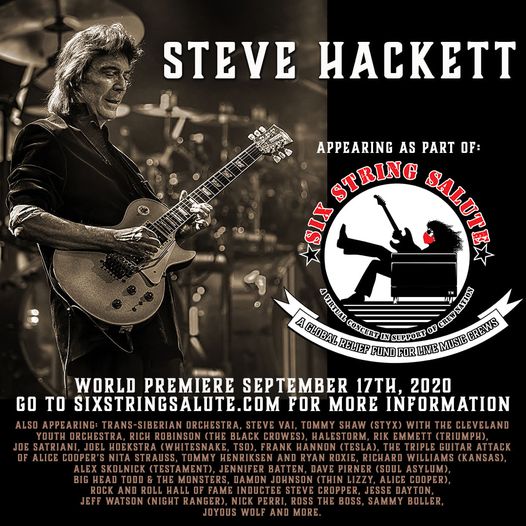 The bottom Crew Nation aims to help support all live music trades, which have been directly impacted with the show stopping due to COVID-19.
It was featured on Live Nation's "Live From Home" channel on Thursday 17th September.
Here is the channel address: youtube.com/user/livenation
The encore on Friday, September 18, 2020 begins at 20.00 pm East Coast Time, on the Six String Salute Facebook page of the Facebook Live platform: facebook.com/sixstringsalute2020
Limited edition merchandising, including t-shirts and masks, will help raise money for the Crew Nation on the Six String Salute website at https://www.sixstringsalute.com/.
Le crew they are the backbone of the live music industry, and must be sustained in this temporary gap, until we can once again unite millions of people around the world through the power of live music.
The Crew Nation is supported by the Music Forward Foundation, a charitable organization, which will administer the fund.
Live Facebook
Sign up to our newsletter
Sign up to our newsletter