Unforgettable stories and memories, through audio, video, documents and much more.
By D.B.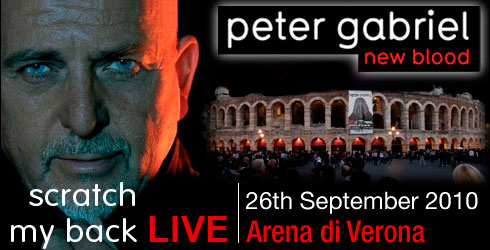 10 years ago, on September 26, 2010, Peter Gabriel performed at the Verona Arena during the New Blood Tour, after the release of the album "Scratch My Back".
La performance was filmed by Anna Gabriel and the material she shot is the basis of two films: 'Scratch My Back' and 'Taking The Pulse - Live in Verona'.
Peter Gabriel writes on the site PeterGabriel.com:
«Ten years ago, I asked my daughter Anna to film the concert that we wanted to bring with an orchestra to the Verona Arena, a unique setting in which to perform. Despite a severe cold that prevented me from reaching the notes as I wanted, Anna, along with her collaborator Andrew Gaston and their team, did an excellent job and captured a truly special evening. "
Peter continues:
"Anna's filming was not seen by a large enough audience. Now that many are in isolation at home, we would like to broadcast them on Real World's Vimeo channel for those interested, with my only request that you consider making a donation to one of these virus-fighting organizations:
If you prefer, donate to associations or organizations operating in your area. "
Peter in fact made the two films available in the period of lockdown for Covid-19.
And here are other videos from that concert:
Gabriel again:
«For almost 50 years I have loved Italy: the people, the culture, the food, the history and more recently Sardinia.
Italy gave us work when there was none. Particularly during the summers of the 70s, when he always managed to find something to play. The best and most chaotic tours were those in which the whole country was driven by car to make a mixture of fantastic concerts, from coastal discos to mountain soccer fields.
Both the Genesis music and mine found a wonderful and passionate audience that sang our pieces during the concerts. When we had to record a live album, I always asked first if it was possible to do it in Italy.
I speak little Italian, not very well, but enough to make me feel at home. As a family, we were deeply shaken by the daily bulletins of so many missing persons and so much suffering brought by this brutal virus. "
Peter was joined by the orchestrator and musical director John Metcalfe, the conductor Ben Foster, the soloist Louisa Fuller and the pianist Tom Cawley, together with the singers Melanie Gabriel and Ana Brun and the New Blood Orchestra.
Anna Gabriel states, on the PeterGabriel.com website:
"When I talked to my father about the filming of one of his shows, I jumped at the opportunity to shoot at the Roman amphitheater in Verona.
Italians have always been a very enthusiastic audience and give a lot to the artist and the camera.
I made this film with my friend Andrew Gaston, who was my real collaborator throughout the process.
It's always fun for me to film my dad, because I know the material and his performances so well that I feel I can capture a side of him that feels more personal to me.
I also wanted to film the orchestra in an exciting way, and along with Andrew's editing, I think we really captured the energy of the whole performance.»
Sign up to our newsletter
Sign up to our newsletter