The photo book celebrates the universe of the band from the seventies to today.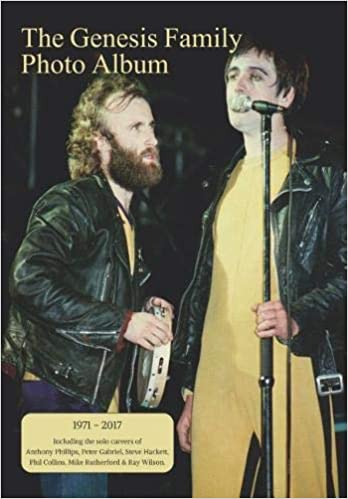 In addition to being packed with images of Genesis from the time of Peter Gabriel up to reunion Part 2007, the book includes solo career photos of Peter Gabriel, Phil Collins, Steve Hackett, Mike & The Mechanics, Ray Wilson and Anthony Phillips.
Buy it here:
Includes unpublished photos of concerts dating back to Lyceum, London, in 1971; Plymouth, 1972; Brighton, 1973 and unique photos taken in Headley Grange, Hampshire, in 1974 while recording The Lamb Lies Down On Broadway - the last album with Peter Gabriel.
The journey continues with photos never seen before first tour after Gabriel's departure and Gabriel's first solo tour.
After the departure of Steve Hackett in 1977 the band is captured at the massive '78 Knebworth gig.
There are also photos of Hackett and Gabriel from their appearances at the Reading Festival where Peter duet with Phil Collins.
Moving on to the next decade and beyond, there are many shots of the band during the hugely successful period with Phil Collins at the helm and also the short stint with his successor Ray Wilson.
As well as the one-off reunion with Gabriel and Hackett at the Six Of The Best concert in Milton Keynes in 1982.
Additional images of Collins' solo tours and Mike Rutherford's band Mike & The Mechanics round out the book along with many photos that continue to document Hackett and Gabriel's solo careers of late, as well as paying homage to the band's original guitarist Anthony Phillips, which thus covers all the souls of the band.
Sign up to our newsletter
Sign up to our newsletter