"The Rome Pro (G) ject" is back, with Steve, Jo, John Hackett and other Prog artists, in the new project by Vincenzo Ricca.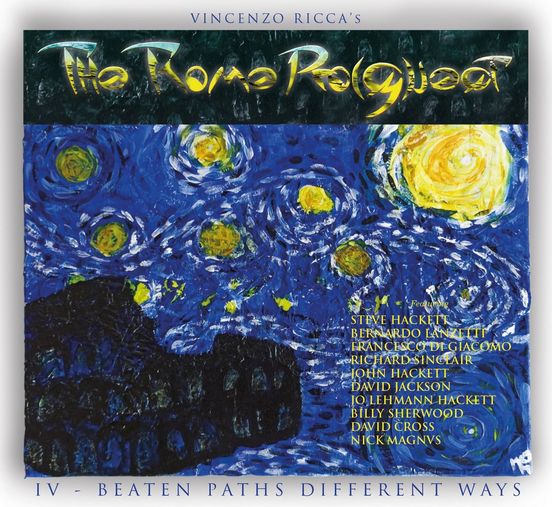 "III - EXEGI MONVMNTVM AERE PERENNIVS" (2017), seemed the "possible" last album of "The Rome Pro (G) ject", the end of an exciting trilogy.
That "possible", however, never fully convinced Vincenzo Ricca who, on the contrary, immediately after the release of the third album, decided to put the band together for a tour that should have been followed by the release of an album live entitled "Miliarvm Avrevm".
Due to "Covid-19", the programs have changed: and here is an album that celebrates ten years of "The Rome Pro (G) ject".
And so, once again under the independent banner of "TRP Records", the creator, composer, multi-instrumentalist and producer of Pro (G) ject, publishes "IV - Beaten Paths Different Ways", 13 tracks divided into three parts: unreleased , rearranged (and / or reproduced), sung.
Buy it here:
We find all the artists who contributed to the three albums, for the first time brought together in a single disc, which is thus embellished with the unmistakable sounds of Steve Hackett's electric guitars, the narrating voice of his wife Jo Lehmann, the magic flute of his brother John Hackett , of the piano romanticism of the first keyboardist of the Hackett Band, Nick Magnus, the unmistakable narration of the late Francesco di Giacomo (Banco), the more than the only fretless bass by Richard Sinclair (Caravan, Camel, Hatfield), David Jackson (Van Der Graaf Generator ), Billy Sherwood (YES, Circa), David Cross's fantastic electric violin (King Crimson), Bernardo Lanzetti (PFM, Acqua Fragile).
Alongside these Prog Rock giants, the best promises of the new progressive: Franck Carducci, Jerry Cutillo (OAK), Daniele Pomo (RaneStrane), Riccardo Romano (RaneStrane), Roberto Vitelli (Ellesmere, Taproban), Mauro Montobbio (Narrow Pass) , Paolo Ricca, Giorgio Clementelli, Lorenzo Feliciati, Danilo Chiarella and Maurizio Mirabelli.
Although Vincenzo Ricca's "romantic prog" has so far been proposed and distinguished with three albums all composed of exclusively instrumental pieces, this time five of them have been sung.
The baptism of this new phase takes place with the song performed by Bernardo Lanzetti: his legendary voice represents the real surprise in the collective of progressive rock masters that has always revolved around the project.
The other albums:
Here is the SPQR video:
https://youtu.be/H_TuMnpkRQ4
Here are more videos from The Rome Pro (G) ject:
Sign up to our newsletter
Sign up to our newsletter