Unforgettable stories and memories, through audio, video, documents and much more.
By D.B.
On February 2, 1976 he left The Trick Of The Tail, the first Genesis album after the release of Peter Gabriel. Here is a multimedia story.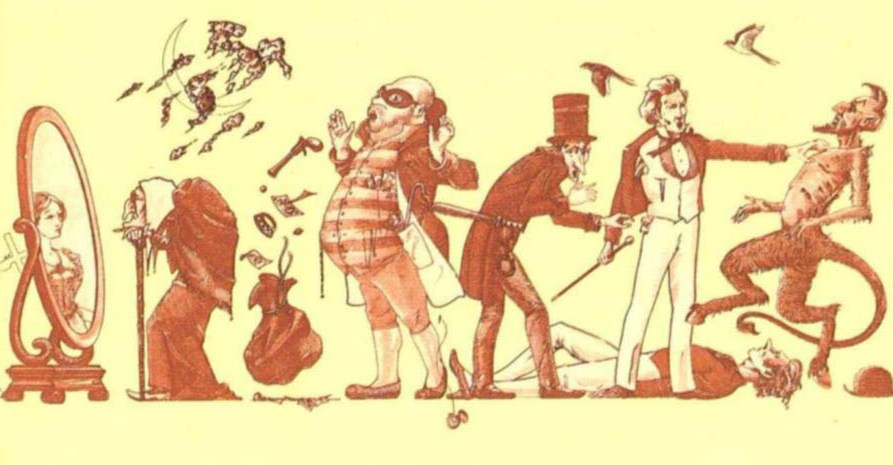 I Genesis tell the album like this:
"To our great relief it is understood quite quickly that we can get away even without Peter", Phil Collins tells in his autobiography.
"The songs come to us as in the old days, and it's good stuff. We are ready Dance on a volcano. They follow Squonk e Los Endos, for the album that
will be titled A trick of the tail."

All while the Melody Maker throws the bomb: "Peter Gabriel leaves Genesis". The news leaked before they had time to catch up.
ganize. Thus, in the musical environment there is a rumor that Genesis is over.
"Composing A Trick of the Tail was like the beginning of an exciting new chapter. I would not have liked that Peter left, but I knew there was going to be a change. " Mike Rutherford tells in his autobiography.
"Now that he was gone we felt like a new band - Mike says -. It seems strange to say now, but Phil's voice was not what it would become. Stratton-Smith said Phil sounded more like Pete than Pete, but in reality their voices weren't similar at all. It only seemed so if they were singing the same song, the same Genesis-style melody.
"It often seems to me that life in the Genesis is divided into two halves - the Pete years and the Phil years. During Pete's years we were like school children. Everything changed when Pete left - Mike continues -. Pete's departure had made us grow a bit like people, although for Tony and me it also meant learning to relax a little. "
But the four do not give up. They audition potential singers every week. Phil teaches them the vocal parts, singing with them. Firth of Fifth, The Knifedifficult tracks for any aspirant frontman.
Genesis audition for five or six weeks. They see about thirty boys. But the time that passes quickly, there is already talk of another tour,
you have to go to the recording studio.
But when i tracks are recorded and there is still no singer, time is running out. Mick Strickland è a little better than the others and the Genesis they ask to go to the Trident to try. "We give it to sing Squonk - remembers Phil -. The first line of that song is bastard: "Like father, like son ...". Such a father, such son ... We don't ask him for his hue or his extension. We just give it to her. Attack! Poor fellow. It is nowhere near his
shades. We have to say: "Thank you and goodbye ...". TO Thinking about it now, I feel guilty about Mick. "
Meanwhile, the hours in the studio yes they are piling up. "Then I say: «What do you think if I try?"- cPhil continues -. And the boys shrug: "A lot worth. " Inside me I know I can do it, but sing it on serious is another matter entirely. Sometimes the brain says yes, but the voice shouts "No!".
But Phil tries. "Mike and Tony later on me they will say it is like one of those cartoon moments animated where the bulb lights up. They look at eachother in the control room and the eyebrows say it all: «Acdamn, it's perfect! "."
A modecisive chin for Collins.
After exploring every other point of view, it seems that that of the drummer who puts himself in front of the microphone is the final choice. Phil is torn, mainly because he likes to play drums. "Here is my sore point - reveals -. Yet the truth cannot be denied: I can sing those songs."
Now the knot to untie is the upcoming tour.
"Bagive it well, I was not yet willing to go on stage singing as a frontman - says Phil -. On stage it will be a whole other thing. So in reality we are still without a singer.
"Singing was one thing, but the real problem for me was whether Phil would agree to be our frontman - admits Mike Rutherford. Ibaphorists
generally tend to think that singers are the icing on
cake, and not quite the same caliber as a musician to everyone else in the band. "
For the first time Genesis make three video clips of their songs. We have already seen two of them above. Here is the third:
Genesis' first concert with Phil Collins as singer took place at the London Arena in London in Ontario, Canada on March 26, 1976.
There were 2.200 fans at the old Bathurst Street arena for Collins' debut as frontman.
Read how it went - CLICK HERE.
Eugenio Delmale tells A Trick of the Outtakes, or when Genesis had not yet chosen the new singer, in place of Peter Gabriel, in 1975 (in Italian).
See the remastered versions of A Trick of the Tail. Click here
Save
And here's one Horizons Radio playlist from YouTube dedicated to The Trick Of The Tail:

Listen to "A Trick of the Tail":
Listen to Genesis:
Sign up to our newsletter
Sign up to our newsletter