Steve Hackett participates in the new album entitled "Windhover" by the singer-songwriter and multi-instrumentalist Lee Gobbi.
Steve contributes a solo of his to the album's title track which also features Dik Cadbury, Nick Magnus and many others.
Buy it here (click on the album cover):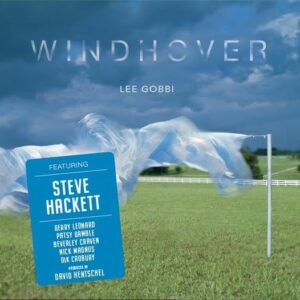 The album was co-produced by David Hentschel (who worked on "A Trick Of The Tail" and "Wind & Wuthering") and mastered by Alex Wharton at Abbey Road Studios.
TRACK LISTINGS:
01 FEEL LIKE A ZOMBIE - download
02 BURNING CANDLES
03 FUNNY FACES
04 GIRLS FROM VENUS
05 LOVE JUST LETS US DOWN
06 WINDHOVER - with Steve's solo
07 CAROUSELS
08 LOVE TO LOVE HER - download
09 THE REAL LIFE
10 LLAMATALK
STAFF:
LEE GOBBI // VOCALS, PIANO, KEYBOARDS, ACOUSTIC 6 STRING (ON 'CAROUSELS' AND 'THE REAL LIFE'), AND 12 STRING GUITAR (ON LLAMATALK), DRUM PROGRAMMING, STRING PROGRAMMING.
DIK CADBURY // BASS, VOCALS AND HARMONIES.
STEVE HACKETT // LEAD GUITAR ON 'WINDHOVER'.
GERRY LEONARD // ELECTRIC LEAD GUITAR, SLIDE GUITAR, ACOUSTIC GUITAR, 'SPOOKY GUITARS'.
PATSY GAMBLE // SAXOPHONE ON 'LOVE TO LOVE HER'.
NICK MAGNUS // ELECTRIC PIANO AND STRINGS ON 'CAROUSELS'.
NANCY MARCH // VOCALS AND HARMONIES ON 'THE REAL LIFE'.
BEVERLEY CRAVEN // VOCAL AND HARMONIES ON 'CAROUSELS'.
DAVID HENTSCHEL // KEYBOARDS, DRUM PROGRAMMING, SAMPLING, TAURUS BASS PEDALS.
ARCANE STRING ORCHESTRA // STRINGS.
RECORDED IN CONNECTICUT AND NEW YORK USA, AND ENGLAND.
ARRANGEMENTS // DAVE HENTSCHEL, LEE GOBBI
PRODUCED BY DAVID HENTSCHEL AND LEE GOBBI.
ENGINEERED AND MIXED BY DAVID HENTSCHEL IN ENGLAND.
MASTERING // ALEX WHARTON, ABBEY ROAD STUDIOS, LONDON ENGLAND
Steve Hackett's latest on Horizons Genesis:
Sign up to our newsletter
Sign up to our newsletter