The new issue of Dusk, the first and historic Italian Genesis Magazine.
It's Dusk's number 101 and, as usual, it hosts exclusive interviews and numerous reports on the latest news from the Genesis world.
Here is the cover: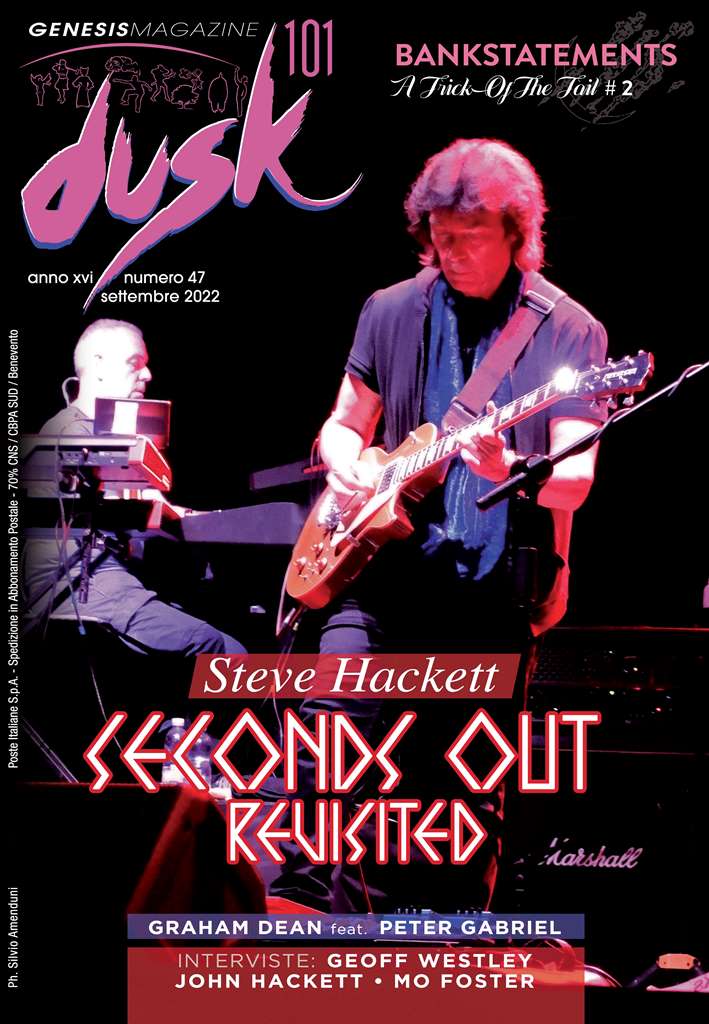 And here's the summary:
Steve Hackett:
Seconds Out Revisited
The Italian tour - exclusive interview - Genesis Revisited Live: Seconds Out & More

Bankstatements #9
Trick Of The Tail 2
Graham Dean - Strange Beauty
the painter's box with music by Peter Gabriel (Undercurrents)

reviews:
Live At Womad 1982 (feat. Peter Gabriel)
Arcade Fire (feat. Peter Gabriel)
Sun's Signature (feat. Steve Hackett)
Ryo Okumoto (feat. Steve Hackett)
Vinyl reprints:
Steve Hackett: Genesis Revisited Band & Orchestra Live At The Royal Festival Hall
Steve Hackett6: The Tokyo Tapes
Djabe special guest Steve Hackett: In The Footsteps of Attila and Genghis
Peter Gabriel: Live Blood
Robert Fripp: Exposures (feat. Peter Gabriel)
Exclusive Interviews:
Geoff Westley
John hackett
Mo Foster
All that remains is to wait for the arrival at home of this new issue of Dusk, as always rich in Genesis & Co. material.
And who has not already done so, can sign up and subscribe here.
Sign up to our newsletter
Sign up to our newsletter