Unforgettable stories and memories, through audio, video, documents and much more.
By D.B.
Il 6 agosto 1970 i Genesis riprendono per poche date il tour di From Genesis to Revelation nel Gaumont Cinema di Doncaster in UK, senza Anthony Phillips.
Infatti, qualche giorno prima, il 18 luglio, alla Sussex Hall di Haywards Heath, Ant era si era esibito in concerto per l'ultima volta con i Genesis.
"The stage phobia was much more than just a fear, it was terror", he says Mike Rutherford in his autobiography The living years.
Ant is very thin and appears destroyed, but the band does not have the time to notice what is happening in the friend's soul. It is a time when things seem to move. They just registered Trespass (will be released in the fall) and they are on tour, even if the dates are not for large numbers, as we will see later.
Among the many Genesis engagements in that period was the recording of the Jackson Tapes on 9 January 1970 at the BBC Studios Shepherds Bush in London. LISTEN TO THE SPECIAL OF HORIZONS RADIO.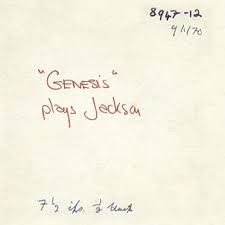 "Dopo le session di registrazione mi sentivo come uno zombie", Phillips said in 2007. He also had health problems, probably related to too much work.
"I was mentally and physically debilitated - told Ant seven years later to Armando Gallo and reported in his book Genesis: I Know What I Like -. Eravamo un branco di perfezionisti. Dopo ogni concerto c'erano sempre lunghe, lunghe, lunghe autopsie".
The music he loves so much is becoming the cause of unhappiness for Ant e la sua buona educazione inglese gli impedisce di affrontare a muso duro i compagni per cercare di cambiare le dinamiche della band. "Non mi sentivo più amico di nessuno - continua Ant - ero come alienato. Eravamo ormai divisi in due gruppi che avevano perso la loro strada".
Mike is the first to know Ant's intentions. Just before a concert at the Richmond Rugby Club, they retreated and the revelation arrived like a cold shower. Rutherford knows that his friend is afraid of the stage, but there was no time to deepen the speech and Ant had no longer mentioned his phobia.
Here is a very rare Genesis video in concert at that time. It was filmed at the Atomic Sunrise Festival on March 11, 1970 at the Roundhouse Club in London:
That July 18th ad Haywards Heath Genesis play in front of 25 people. The journey home Mile Rutherford and Peter Gabriel do it in Pete's new car, a Hillman Imp. Together they take the situation into consideration.
"Per me non c'era dubbio che senza Ant i Genesis non avevano ragione di esistere", ricorda Mike nell'autobiography. Anthony seems irreplaceable, the Genesis appear to be indivisible, the urge to quit is about to take over.
Yet during the journey something different matures, the idea of ​​being able to do it even without a friend takes over. "It was about developing a new philosophy based on the assumption 'let's try and see what happens'", writes Mike. So no pause is considered to allow Anthony to gather ideas. Must go on.
Here are the Genesis that perform the unpublished "The Shepherd"live on the BBC radio program"Nightride"on April 22, 1970. Probably the oldest live Genesis recorded on a disc, the bootleg homonym:
A decision shared also by Tony Banks and that today seems right, but very painful: "It was the hardest blow we've ever received"Gabriel said to a magazine the following year and quoted in Without Frontiers: The Life and Music of Peter Gabriel by Daryl Easlea. "Ci sarebbero state altre dipartite - rivela Mike -, ma nessuna avrebbe avuto su di me l'effetto che ebbe l'abbandono di Ant".
I Genesis ne approfittano per operare una piccola rivoluzione. Stanno per entrare nella band Phil Collins, che proprio in questi giorni sosterrà il provino, e Steve Hackett.
A bond with Ant, however, has not broken. In his first solo album The Geese And The Ghost, there is several material composed with Mike. Phil Collins sings in two tracks and John Hackett plays the flute there. And in the first demos of Peter Gabriel after leaving Genesis there is Ant's hand.
Sign up to our newsletter
Sign up to our newsletter
Listen to Genesis & Co. also on: