It is called "¡RELEASED! The Human Rights Concerts 1988: Human Rights Now!" Peter Gabriel's 2CD Digipak to be released on February 12, 2021.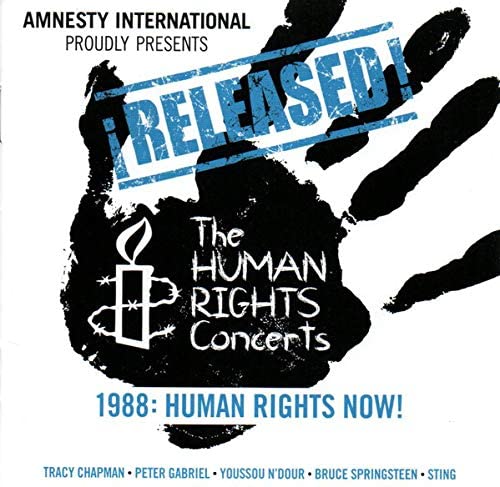 In 2013 there were several releases of the Amnesty International "Human Rights Now" concerts. Later also a complete box of 6 DVDs.
Time the double CD with a 1988 recording is reissued and released in a new digipak on February 12th with the title ¡Released! 1988: Human Rights Now! ".
Pre-order it here in Mp3 and CD:
This is the concert in Buenos Aires, Argentina on October 15, 1988, in which Peter Gabriel has performed with Tracy Chapman, Sting, Youssou N'Dour and Bruce Springsteen.
Track list:
CD1
01 Youssou N'Dour - N'Dobine
02 Youssou N'Dour - Deugeu (The Truth)
03 Tracy Chapman - Across The Lines
04 Tracy Chapman - Why?
05 Tracy Chapman - Freedom Now
06 Tracy Chapman - Talkin '' bout A Revolution
07 Peter Gabriel - Sledgehammer
08 Peter Gabriel / Youssou N'Dour - In Your Eyes
09 Peter Gabriel - Biko
CD2
01 Sting - Don't Stand So Close To Me
02 Sting - They Dance Alone
03 Sting & Bruce Springsteen - Every Breath You Take
04 Bruce Springsteen & The E-Street Band - Born In The USA
05 Bruce Springsteen & The E-Street Band - I'm On Fire
06 Bruce Springsteen & Sting (with The E-Street Band) - The River
07 Bruce Springsteen & The E-Street Band - Raise Your Hand
08 Bruce Springsteen & The E-Street Band - Twist And Shout / La Ramba
09 Bruce Springsteen, Sting, Peter Gabriel, Youssou N'Dour & Tracy Chapman - Chimes Of Freedom
10 Bruce Springsteen, Sting, Peter Gabriel, Youssou N'Dour & Tracy Chapman - Get Up Stand Up
To learn more:
More news on Peter Gabriel
Sign up to our newsletter
Sign up to our newsletter