On September 18, 1993, al Cowdray Park, in Sussex, United Kingdom, in a very special concert, it is staged Phil Collins' last concert with Genesis (not definitive). Here is the story of those summer days.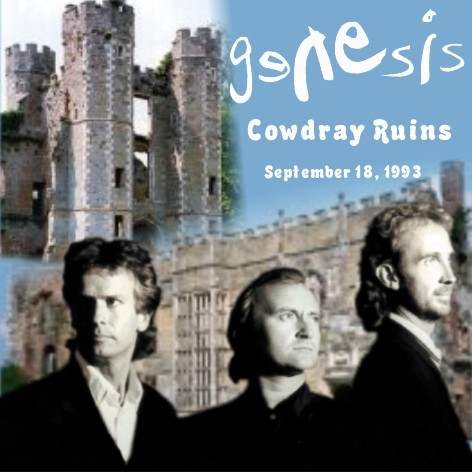 By DB
A benefit concert for the King Edward VII Hospital, at Cowdray Park, near Oxford, has become an absolute special event, but historic for Genesis.
On stage, in front of about 1000 people, there are that September 18, 1993 Queen without Freddy Mercury, Pink Floyd and Genesis with Phil Collins for the last time (although not definitive).
Genesis play I Can't Dance, That's Just The Way It Is (by Collins soloist), Turn It On Again, Hold On My Heart e Invisible Touch with Phil Collins on vocals, Mike Rutherford on bass, Tony Banks on keyboards, Tim Renwick on guitar, Gary Wallis and Roger Taylor on drums.
The supergroup is called The Ruins Band, name and line-up that will last the space of one night and that takes its cue from the location of the concert, in the ruins of Cowdray Castle. It is made up of members of bands like Queen, Pink Floyd and, of course, Genesis.
Mike Rutherford also plays bass for Pink Floyd, while Mike Young of Mike + The Mechanics sings and duets with David Gilmour. Eric Clapton performs two songs accompanied by Mike Rutherford and Roger Taylor.
Then all together on stage for encores: Ain't That Peculiar, Gimme Some Lovin ' e Witness Together.
Here is the recording of a part of the concert:
And here's the super line-up: TONY BANKS Genesis Keyboards, ERIC CLAPTON Guitar, PHIL COLLINS Genesis Vocals, JOHN DEACON Queen Bass, DAVID GILMOUR Pink Floyd Guitar, ADRIAN LEE Mike &. Mech Keyboards, NICK MASON Pink Floyd Drums, TIM RENWICK Mech./Floyd Bass / Guitar, MIKE RUTHERFORD Genesis Guitar / Bass, ROGER TAYLOR Queen Vocals / Drums, GARRY WALLIS Drums, RICHARD WRIGHT Pink Floyd Keyboards, PAUL YOUNG Mike &. Mechanics Vocals.
But let's go back to Phil Collins. For him this is not a concert like the many that he has already supported in his career. IS will have a devastating role in the future of Genesis.
Phil writes in his autobiography No, I'm not dead yet, Mondadori:
"On 17 November in Wolverhampton, the last date of the We Can't Dance Tour, there are no heads. After the gigantic series of concerts around the world, they are broken."
Il We Can't Dance Tour it was exhausting, but triumphant. Phil again:
"The success of Genesis has never been so immense, but I've never felt so small. (...) Thinking back to the We Can't Dance Tour, I realize that the weight of leadership had worn me out. Sin from the beginning of the greatest tour in the history of Genesis he had breathed a sense of nostalgia, style "look how far we have come". "
Listen to the BBC interview, in the Rockline program on May 6, 1992, on the start of the tour in Dallas:
As it often happens in Phil's life, sentimental situations complicate things, even in the professional sphere. A tangle of emotions, the basis of the solo album Both sides, which will be released in October 1993.
"As I fly left and right to promote" Both Sides "at the end of 1993, my life is chaos. I released what I consider my best album, but at what price? These songs are born from the attempt to clarify within me: they speak of separation, of a lost love. Furthermore, the freedom that I experienced realizing them made me want to record other records as "Both Sides", personal and self-sufficient. Who forces me to have a group? "
Just in a moment of great afterthoughts and sentimental "woes", this concert arrives in Cowdray, which brings Phil back to the band's companions after almost a very troubled year. But something snaps that day Collins definitely feels that the adventure with Genesis is over.
"Well, for positive and negative reasons, after dedicating half of my life to the Genesis, it's time to say goodbye to them."
He talks to manager and confidant Tony Smith about it. However, he asked him not to make the decision known immediately. A practice reminiscent of Peter Gabriel's farewell. On this topic READ THE SPECIAL OF HORIZONS RADIO.
"The people around me take me crazy, I notice it. Tony Smith, in particular, realizes that leaving Genesis and my second wife will cost me dearly, or rather double. But it doesn't matter to me, I need air. "
Tony Smith hopes for an afterthought by Phil, which however does not happen. Phil again:
"I don't blame Genesis for the constant trauma in my private life. It may be that I felt perpetually obliged to go on tour, to honor commitments and projects, to guarantee everyone satisfaction and work. Basically, however, the responsibility is mine. "
During a dramatic lunch, Collins communicates his intention to others. Here is the memory of Mike Rutherford in his autobiography The Living Years, Arcana:
"Looking back now, I realize how strange it was for him to move from the role of drummer to that of singer. He did it with such aplomb that Tony and I didn't pay attention to all the implications that could entail, but one thing remained that we didn't. had never been in his plans. All of this meant that when we set up a meeting at Tony Smith's house in Chiddingfold one day in 1996 and Phil said, "I think I better stop here," it wasn't really a surprise. The surprise was that it was stayed with Genesis for so long, after all that had happened to him with his solo career "
The March 28 1996 a press release to press agencies around the world tells the end, after more than 25 years, of Phil Collins' long adventure with the band, although it promises the continuation of the Genesis experience with a new vocalist.
And, as we know, too Phil's farewell will not be final, albeit episodic. Mike felt it then:
"And I think I also knew that there was a possibility that it wasn't quite finished yet."
But that's another story.
by DB
ALL RIGHTS RESERVED © Copyright Horizons Radio info@horizonsradio.it
Sign up to our newsletter
Sign up to our newsletter
Listen to Genesis & Co. also on: