08-03-2020 Tutto il giorno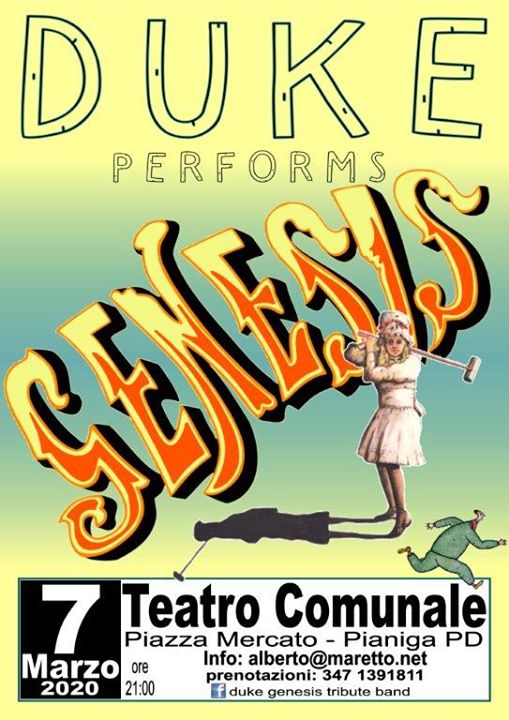 Sabato 7 marzo 2020 alle ore 21:00 - 
Teatro comunale di Pianiga (VE) - 
DUKE performs Genesis live.
Clicca qui per informazioni sull'evento.
Related upcoming events
13-12-2019 Tutto il giorno

Venerdì  13 dicembre alle ore 22:00 - 

Officina Di Dio Palermo - 

Via G. Puglisi Bertolino, 25/27, Palermo - 

Ingresso gratuito, è consigliata la prenotazione: 3346947185

------ [ OBERON ] ------------
Joshua Ross - Voce / Chitarre
Stefano Siragusa - Chitarre / Cori
Giuseppe Bertini - Tastiere / Cori
Marcello Castellucci - Basso
Daniele Modica - Batteria

Fonia: Alessio Romeo

Clicca qui per altre informazioni sull'evento.

Clicca qui per informazioni su Oberon.

25-01-2020 Tutto il giorno

25 gennaio 2020 ore 21:30 -

Stazione - 

Via Placanica 172, 00118 Roma -

"La più antica tribute band dei Genesis romana torna a Stazione per riproporre una selezione di classici dell'era Gabriel."

Clicca qui per informazioni sull'evento.

13-03-2020 Tutto il giorno

Venerdì 13 marzo 2020 ore 21:00 - 

CrossRoads Live Club - 
via Braccianense 771, 00123 Roma - 

Biglietti www.crossroadsliveclub.it
The Watch plays Genesis - "A Prog journey 1970/1976"

European tour 2020

"The Watch announce a European tour with their deliciously intense performances of early Genesis classics, 1970-76.

The best from Genesis first albums (including '76 Trick of the Tail) selected to bring you back in time to early seventies! Just close your eyes and it's like being at 70s Genesis concert.
This is not just a cold reproduction or imitation but the real vibe of a Genesis show, performed with the same energy of those early days.

No other group manages to capture the adventurousness and electricity of Genesis in their pioneering days with quite such raw emotion.

The dramatic Gabrielesque vocals of The Watch singer and the all-round instrumental excellence of the band ensure a special tour not to be missed.

Steve Hackett (Genesis lead guitarist) says: "The Watch is a band of very talented people and I recommend them."

Paul Whitehead (Genesis graphic artist): "The band who remind me most of the Genesis magic."

UK Prog Newsletter: "What's unique here are the vocals, so very similar to those of a young Peter Gabriel"

ECHO-News UK: "It's like a time-machine for those who used to go to concerts back in the 70s and want to feel the same vibes nowadays""

Clicca qui per informazioni sull'evento.