By Old King Cole -
Find the Genesis & Co. Tribute Bands concert closest to you.
And Finally Phil Collins -
Top UK Tribute at Loughborough - 
8 novembre 2019 h. 19:30 UTC - 
Loughborough Town Hall - 
Market Place, LE11 3EB Loughborough - 
Mostra mappa
tickets:
www.loughboroughtownhall.co.uk
"For over 30 years, Phil Collins has written a diverse range of songs that have defined generations.

And Finally…Phil Collins are credited as being the UK's Top Phil Collins Tribute, fronted by singer Chris O'Connell who brings to the stage the charisma and characteristics of the man who fronted Genesis and has sold 150 million albums in his solo career.

This production delivers a two hour high energy show packed full of Phil's solo hits including 'In The Air Tonight', 'Another Day In Paradise' and 'Sussudio' along with a sprinkling of Genesis hits for good measure. Featuring some of the country's top touring musicians, two drums kits and the esteemed 'And Finally Horns'.

This is a great opportunity to come and celebrate with us the illustrious career of the one and only Phil Collins."
Still Collins - Best of Phil Collins & Genesis Live - 
9 Novembre h. 20:00 - 
City Forum - 
Hochstr.39-41, 53879 Euskirchen - 
tickets:
headlineconcerts.de
"Not Dead Yet Live" heißt die Revival-Tournee, mit der Phil Collins seit 2017 weltweit den beeindruckenden Beweis dafür liefert, welch immenser Nachfrage und Beliebtheit er sich nach langer Tourpause immer noch erfreut. STILL COLLINS bietet als gefragteste Phil Collins- und Genesis-Tributeband in Europa seit 1995 das passende Tribute Programm und zählt mit mehr als 1450 gespielten Konzerten zu den renommiertesten Acts der europäischen Tributeband-Kultur. Mehrere Konzerte mit dem ehemaligen Genesis Sänger Ray Wilson oder dem WDR-Funkhausorchester und Sydney Youngblood sind nur einige der Sternchen, die sich Still Collins in den letzten Jahren ans Revers heften durften. Stimme, Sounds, Arrangements - selbst eingefleischte Fans des Originals tun sich schwer, einen akustischen Unterschied zwischen "Tribute" und dem "Meister" auszumachen."
Phil Collins Tribute - 
9 novembre 2019 h.20:30  UTC - 
The Crossley Club, Lightwater - 
113 Guildford Road Lightwater Surrey GU18 5RA, GU185 - 
"A Stunning Tribute To The Music, The Sound & The Energy of Phil Collins
by Andrew James, The Easy Lover."
Tribute to Phil Collins - 
9 novembre h.20:30  · UTC+02 - 
"Tribute to Phil Collins" organisé par Souffl'Events - 
Soufflenheim / CERAM:
- Samedi 14 Septembre (20h30) / COMPLET
- Dimanche 15 Septembre (16h30)
Roeschwoog / MOC:
- Samedi 9 Novembre (20h30)
"Un hommage moderne réunissant huit musiciens et cinq chanteurs qui vous fera vibrer sur les plus grands tubes de la légende Phil Collins."
L'entrée est de 12 euros et gratuite pour les moins de 10 ans.
Réservation:
- soufflevents@outlook.fr
- 06.36.91.04.25
- auprès des musiciens
Petite restauration et buvette sur place.
Chris Hayward is one of the most sought after tribute acts in the UK - and we have him here at The Blue Bell!! Chris is AMAZING and sounds just like the real thing. Normally working in HUGE theatres, he is coming back to The Blue Bell for the second time!! DO NOT MISS THIS!!
15 nov h. 20:00 · Im Wizemann · Stoccarda - 
Tickets sind bei allen bekannten Vorverkaufsstellen erhältlich unter www.gcm-konzerte.de.
Mehr Info: www.phil-online.de
15 nov h.

19:30 UTC

 · Exmouth Pavilion · Exmouth
So - A tribute to Peter Gabriel - 
17 novembre 2019 h. 20:00 UTC - 
LoSt LaNe Dublin - 
1-2 Adam Court, Grafton Street Dublin 2, Dublin D02 P285 - 
tickets: lostlane.ie - 
"Some of Ireland's finest musicians have got together to celebrate the career of Peter Gabriel.

Named after his 5 time platinum album SO, this show features all the hits starting with his debut solo single Solsbury Hill and the most played video on MTV – Sledgehammer.

Expect all the hits and all your favourites for this great celebration show!"
Tutti i concerti delle Tribute Bands di Genesis & Co. in Italia:
Select Language English Italiano Venerdì 9 ...
Info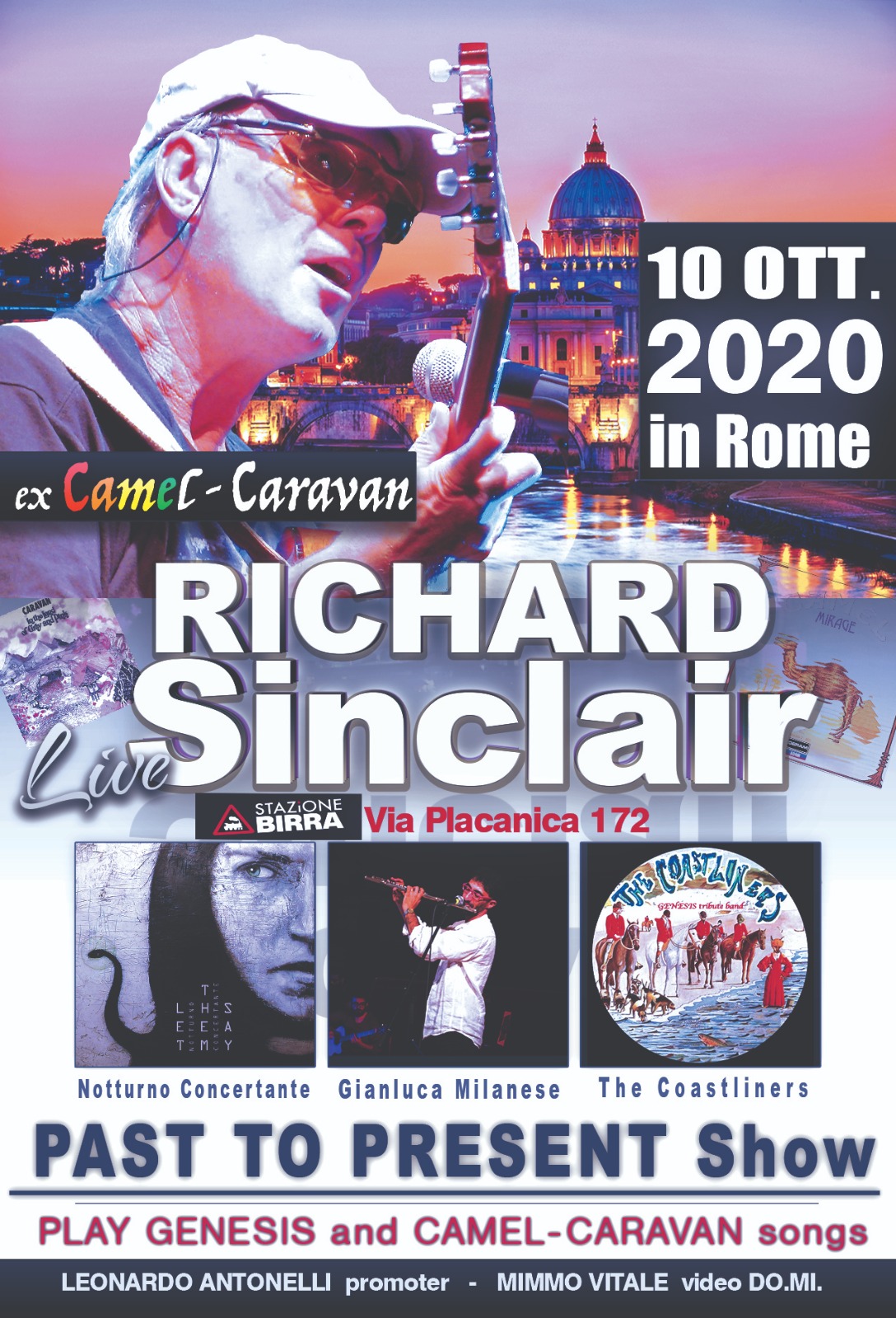 Select Language English Italiano Guarda Richard ...
Info
Select Language English Italiano Mercoledì 31 ...
Info
Segnala un evento della tua Tribute Band
Iscriviti alla nostra Newsletter
Iscriviti alla nostra Newsletter
Iscriviti alla nostra Newsletter