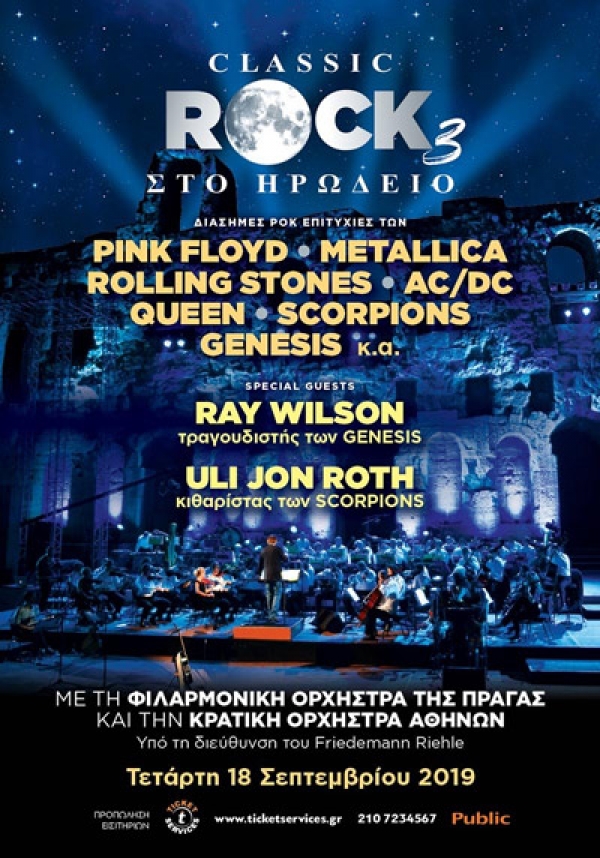 Wednesday 18 September 2019 hour: 21.00 - 
Classic Rock 3 In HEROES - 
80 classical musicians, excellent singers, electric instruments, the Uli Jon Roth virtuoso and Ray Wilson's exciting voice on an unforgettable night under the Acropolis.
THE BIGGEST ROCK SUCCESSES
 SCORPIONS, PINK FLOYD, ROLLING STONES, AC / DC, METALLICA, GENESIS
With THE FILARONIAN ORCHESTRA OF THE PRAGUE and THE STATE ORCHESTRA OF ATHENS 
Under the direction of Friedemann Riehle 
What is Classic Rock
In September 2017 an evening was scheduled but eventually two sold out concerts were made at Herodion! 9,000 people saw the rock ... otherwise! The same thing happened in September 2018. Two concerts, the ultimate Sold out! The appointment was established. Classic Rock 3 will be here, this year at the Herodotus with strong guests, and the greatest rock hits in a totally new explosive playlist!
One of Europe's largest orchestras, the Prague Philharmonic Orchestra presents the concert with which rock music has been able to penetrate and be heard in all the major operas of Europe. Classic Rock! Famous songs of the biggest rock bands such as PINK FLOYD, ROLLING STONES, AC / DC, METALLICA, SCORPIONS, GENESIS, QUEEN etc are presented with symphonic sound along with electric instruments! And this year at Herodion, the program will be presented with the collaboration of the Athens State Orchestra under the musical direction of the conductor, composer and orchestra Friedemann Riehle.
On Wednesday, September 18, 2019, we will live the most glorious night in September where the rock stars and the moon of classical sound will shine with their sparkle the stage of Herodion in a musical life experience for the audiences of Athens who will be lucky to be found in the most important artistic event of the summer. Charismatic and emblematic musicians Uli Jon Roth and Ray Wilson are the only ones who can join in a great combination of hard rock and progressive rock with Vivaldi.
Classic Rock is a fascinating blend of sounds, images and experiences that you should not miss!
Most famous rock stars and bands have collaborated with orchestras and have created a new dynamic sound around the world.
As Frank Zappa has said: "The mind of a musician is like a paragliding. It can not work unless it's open ... "
Live this September the ultimate musical experience of Classic Rock 3.
The heart of rock music strikes with classical sounds at Herodion.
This year's concert pays tribute to the initiator of the idea to come up with such a great musical event in our country as Tasos Alexopoulos (see article), general manager of Robin4Arts who left last April.
This year's guests: Uli Jon Roth and Ray Wilson
TICKET PRICES
GOLD VIP: 83 € 
Distinctive: 73 € 
A Zone: 63 € 
B Zone: 53 € 
C Zone: 43 € 
Upper Depth: 30 € 
Student / Unemployed: 25 €
- Entry is allowed for children over 7 years and only by buying a ticket 
- Discount tickets are issued in the upper fare in a limited number 
- For the purchase and use of discount tickets it is necessary to show the appropriate supporting documents.
ADVANCE 
TICKET SERVICES 
- Boxoffice: 39 (Pesmazoglou Arcade) 
- Telephone: 210 7234567 (*) 
- Online: www.ticketservices.gr (*)
(*) Telephone and online purchases include a 2.5% service charge on the ticket price
PUBLIC 
- In all PUBLIC stores (**) 
- at tickets.public.gr (**)
(**) with service charge of € 1 per ticket
TICKET RECEIVING 
Tickets purchased by telephone or online can be received at any time at Ticket Services's ticket office at 39 University or on the day of the event at Herodion's Cashier. An identity card or credit card used is sufficient to receive it.
E-TICKET 
By purchasing your tickets online, if you have your own printer, you can download them in PDF format and print them. This way you can enter the venue directly without first getting out of the cashier.
From PRESS RELEASE
Clicca qui per le informazioni sull'evento.