The Watch plays Peter Gabriel Live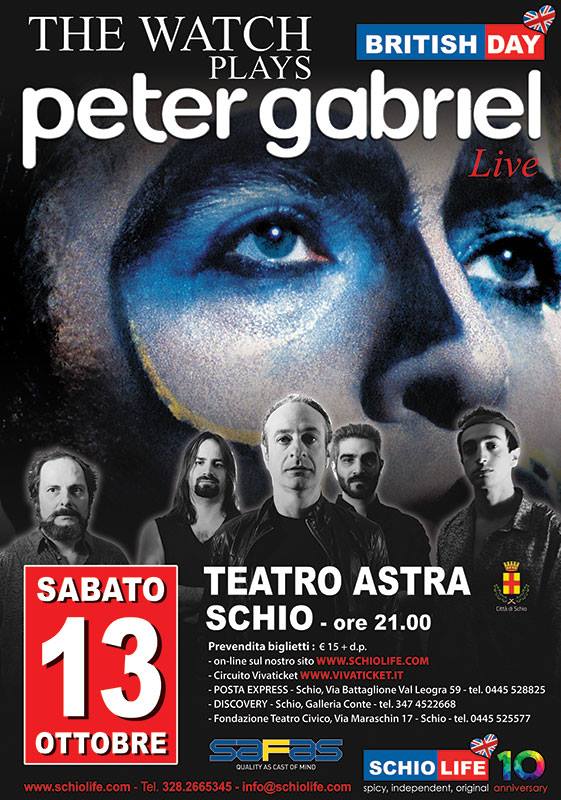 The Watch durante il loro lungo tour europeo 2018 approdano a Schio per il British DAY che quest'anno sarà dedicato a PETER GABRIEL.
In esclusiva eseguiranno buona parte dei brani del doppio album di Peter "Plays Live". 
Del set faranno parte anche dei brani tratti dall'album "So".
Uno spettacolo che abbraccia un arco temporale che va dalle ultime collaborazioni con i Genesis fino alla metà degli anni '80.
Biglietti in prevendita a 15 euro:
► online via Paypal >http://ticket.schiolife.com/prenotazione-posto_lit_68_262.asp?id_concerto=66
► on-line Vivaticket con scelta del posto diretta:https://www.vivaticket.it/ita/event/the-watch-plays-peter-gabriel-live/113883
e presso i punti vendita:
► Posta Express Schio, Via Battaglione Val Leogra, Schio Barbara Fernicola
► Fondazione Teatro Civico presso Teatro Civico, via Maraschin 17, Schio - Tel. 0445 525577 Teatro Civico Schio
► Discovery : Piazza Alvise Conte, 6 Schio - telefono: 0445 523985 Discovery Schio
► Gentes Agenzia Viaggi : via IV Novembre, 18 Barbarano Vicentino : 0444 886737 Gentes Viaggi
► Dischiponte : via Angarano, 9 Bassano del Grappa - telefono: 0424 503834 Riccardo Dischiponte
► Libreria La Bassanese : via J. Da Ponte, 41 Bassano del Grappa - telefono: 0424 521230 Libreria La Bassanese
► Associazione Pro Marostica : Piazza Castello, 1 Marostica - telefono: 0424 72127 Associazione Pro Marostica
► Iat di Thiene : piazzetta Rossi, 17 Thiene - telefono: 0445 804837
► Tabaccheria Punto Servizi Balasso: via Trieste, 16 Thiene - telefono: 0445 370388 Punto servizi Balasso Daniela e Marco
► Elfeide Viaggi : via XX Settembre, 43 Vicenza - telefono: 0444 1460406 Eleonora Viaggi
► Tabaccheria di Sella Renzo : corso Ss Felice e Fortunato 360 Vicenza - telefono: 0444 287918
► Posta Express Zane' : via Monte Pasubio, 220/1 Zanè - telefono: 0445 315343