Il 19 Aprile 1972 i Genesis sono live al Teatro Mediterraneo di Napoli.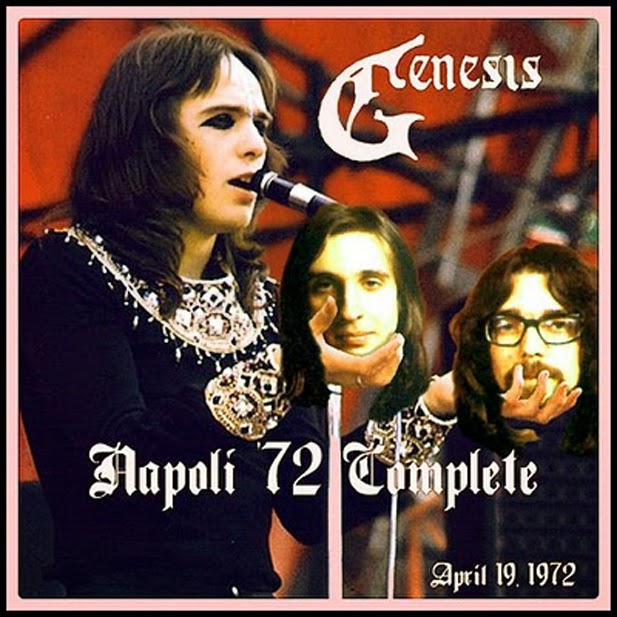 Un doppio concerto che chiude la prima parte del Nursery Cryme Tour dei Genesis in Italia.

Ecco l'audio del live:
00:00 - Happy The Man;
04:18 - Stagnation;
14:53 - The Fountain Of Salmacis;
23:20 - Twilight Alehouse;
32:14 - The Musical Box;
42:23 - The Return Of The Giant Hogweed;
49:11 - Phil's Solo;
51:24 - The Knife.
Una data che resterà nella storia dei Genesis, perchè sul tetto dell'Hotel Domiziana, che ospita la band, Mike e Tony scrivono il testo di Watcher Of The Sky.
Il brano viene già utilizzato per il sound check prima dei concerti. A Napoli quindi viene completato e, come sappiamo, aprirà il prossimo album dei Genesis, in uscita l'ottobre seguente: Foxtrot.

Le date italiane portano ulteriore fortuna ai Genesis, che assestano il loro successo nel nostro paese. Non solo, tornando in patria, Steve Hackett conoscerà Ellen, che diventerà la sua prima moglie e madre di Oliver.
E non finisce qui: i Genesis torneranno in Italia ad agosto, per una seconda parte del tour. Ma questa è un'altra storia.
Se hai ricordi di questo concerto scrivi a info@horizonsradio.it
Salva
Salva
Salva
Salva
Salva
Salva
Salva
Salva
Salva
Salva
Salva
Salva
Salva
Salva
Salva
Salva
Salva