Genesis Tribute Band: Mad Men Moon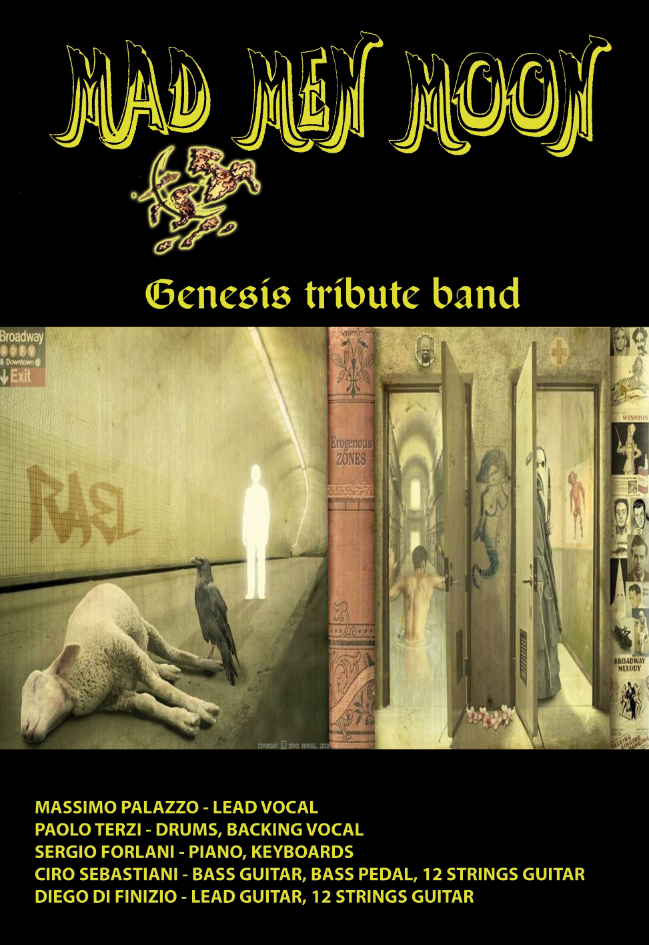 Pagine multimediali di Horizons Radio sulle Tribute Band dedicate a Genesis & Co. Ecco i Mad Men Moon.
Autopresentazione:
Dopo più di dieci anni di onorata carriera i Mad Men Moon tornano con una formazione rinnovata, ma con la stessa passione di sempre. Un grazie di cuore

all'amico Lello, membro fondatore della band certamente noto a chi ci segue da tempo, che ha vissuto con noi fatiche, soddisfazioni e piccoli successi dell'ultimo decennio. Grazie anche a tutti quelli che hanno gravitato nell'orbita MMM a vario titolo. Un benvenuto a Sergio che ha scelto di accollarsi l'arduo compito di emulare Tony Banks. Grazie, infine, a tutti quelli che vogliono bene ai Genesis e, indirettamente, anche ai Mad Men Moon.
Membri
Massimo Palazzo - Lead Voice, Diego di Finizio - lead and 12 strings guitar, Sergio Forlani - piano and keyboards, Ciro Sebastiani - bass, bass pedals and 12 strings guitar, Paolo Terzi - drums and backing vocals.