Genesis Tribute Bands: Sona et Labora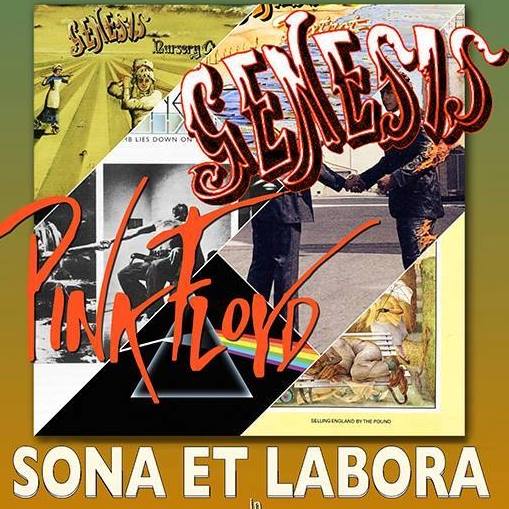 Pagine multimediali di Horizons Radio sulle Tribute Band dedicate a Genesis & Co. Ecco i Sona et Labora.
Pink Floyd / Genesis tribute band (Pistoia, Toscana).
Autopresentazione:
Il gruppo nasce nel 2007 in seguito allo scioglimento di una precedente formazione (Ars Nova) di cui facevano parte Luca Lombardi, Massimiliano Guidicelli, Lorenzo Righi, Cristiano Mungai (voce) e Alberto Rossi (batteria). L'arrivo di Francesco Monari come voce solista determina un mutamento verso un sound più morbido, e brani come Comfortably numb e Breathe segnano l'inizio di un percorso che impegna il gruppo in un repertorio che spazia dal progressive al rock melodico, sia italiano che inglese.

Nel 2010 si aggiungono Fabio Del Vigna (batteria), Iacopo Verdi (chitarra) e Andrea Bracciali (voce) e Ilaria Gironi, Angela Pacini e Roberta Toma (cori). Il progetto The Wall può finalmente decollare.

Nel 2011 il primo concerto al Melos di Pistoia rappresenta un episodio significativo per la band. È infatti in quell'occasione che inizia la collaborazione con Gabriello Losso (regia) che aggiunge alla magia della musica il fascino di video creati appositamente per i brani dell'album, una scelta naturale, quasi obbligatoria, trattandosi dei Pink Floyd.

Gli eventi successivi come il concerto all'interno del Pistoia Festival nella suggestiva cornice del Parterre (luglio 2011) e lo spettacolo al Teatro Bolognini (marzo 2012), con la partecipazione del coro di voci bianche della scuola Mabellini, descrivono appieno il nuovo percorso della band e la sua capacità di relazionarsi con le amministrazioni e associazioni del territorio.

Dopo il concerto del 2012 l'assetto della band cambia di nuovo: Claide Magrini sostiuisce Fabio Del Vigna alla batteria; Filippo Brilli (sassofoni) si unisce al gruppo per le parti di sax presenti nei brani Shine on you crazy diamond, Money e Us and them; Irene Micheli sostituisce Ilaria Gironi.

Nel mese di aprile del 2013, al Teatro Manzoni di Pistoia, la band presenta un concerto basato sugli album The Wall, Wish you were here e The dark side of the Moon. Al concerto partecipano un corpo di ballo e un coro di bambini di una scuola media locale (per la parte di Another brick in the wall).

Negli anni successivi la band si esibisce in diversi teatri dell'alta Toscana: Teatro Afieri di Castelnuovo Garfagana, Teatro Montand di Monsummano Terme, Teatro Nazionale di Quarrata, Teatro Pacini di Pescia; non mancano occasioni estive quali il Festival di Empoli, la Fiera di Casalguidi (Pistoia) e la Festa delle Quarantore a Montale (Pistoia). Comincia inoltre la collaborazione con il Santomato Live.

In questo periodo escono dal gruppo Angela Pacini e Roberta Toma, sostituite da Stefania Russo, e Alberto Rossi, Andrea Bracciali e Iacopo Verdi, sostituito da Diego Lopilato. Nel 2016 Andrea Michelozzi sostituisce Diego Lopilato, e dal 2017 Stefano Negri (sassofoni) sostituisce Filippo Brilli per alcuni eventi.

A partire dallo stesso anno il gruppo aggiunge alla musica dei Pink Floyd quella di un'altra mitica band del progressive britannico: i Genesis. Nel nuovo repertorio, recentemente presentato al Santomato Live, è presente il medley che la formazione inglese ha proposto a Roma del 2007, comprendente estratti da In the cage, The Lamia, Supper's ready, The cinema show, Slipperman e Many too many, oltre ai celebri brani I know what I like, Follow you follow me e Firth of fifth (tratto da Selling England by the pound). Le parti di flauto traverso sono eseguite da Irene Micheli.

Ogni spettacolo è sempre corredato dai video di Gabriello Losso, instancabile regista di ogni evento e concerto.

La band è inserita all'interno del sito Pink Floyd Style. 
Luca Lombardi (voce, basso elettrico)
Massimiliano Guidicelli (tastiere, pianoforte)
Lorenzo Righi (chitarre)
Andrea Michelozzi (chitarre)
Claide Magrini (batteria, percussioni)
Francesco Monari (voce, cori)
Irene Micheli (flauto traverso, voce, cori)
Stefania Russo (voce, cori)
Guarda i video - CLICCA QUI

Salva
Salva
Salva