By D.B. & Saimon P.
[GTranslate]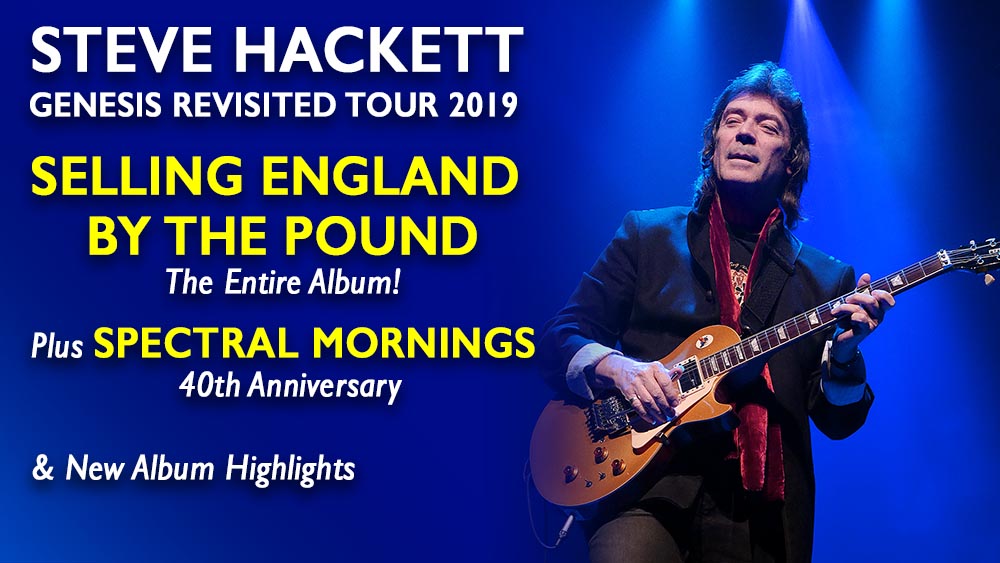 H.R.: Steve, you're back on the road. Do you ever get tired of this life on the road?
STEVE HACKETT: Being on the road has been part of my life for so long now. It is always a joy to play for everyone and I love being onstage with the fantastic band that works with me.
Are you happy to come back to Italy? Is there an Italian city in particular where you are happy to come back?
I always love to come back to Italy. The people are always so welcome and we have many friends there. I love every Italian city! Italy is an incredibly beautiful country with spectacular towns and cities.
What kind of bond do you have with Selling England By The Pound? What is your favorite song? What will you do?
Selling England By The Pound has always been my favourite Genesis album because everything was developing musically for us at that time. My favourite song is Dancing With The Moonlit Knight, which goes through so many fascinating changes. I'll perform the whole of that album on tour, as well as most of Spectral Mornings and some of my new album At The Edge Of Light.
You've rediscovered the missing song Déjà Vu started by Peter Gabriel and finished by you for Genesis Revisited 1. How is it sung by Nad?
Nad sings beautifully on Déjà Vu. It sounds incredible in rehearsal. It is a wonderful performance of that amazing "missing song" from Selling England.
You stated that in the days of Selling England By The Pound you felt that you were playing the guitar in the best band in the world, and that all the doors were opening for you; what was the atmosphere in the band then?
The band was very happy at that time. We felt the world was opening up for us and we were very creative musically.
https://www.facebook.com/stevehackettofficial/videos/433228730785533/
What other Genesis songs will you play?
Planning on Dance on a Volcano and Los Endos. Selling England with the addition of Déjà Vu will take up most of the Genesis set.
What kind of bond do you have with Spectral Mornings? An album that you do a lot in concert. Will you perform songs never performed?
Although I equally love recent albums I've made, Spectral Mornings has always been a special album for me, and also for many fans. We'll perform some songs played in recent times like Every Day, Spectral Mornings and Clocks, but also numbers not played for a long time like Virgin and the Gypsy, Tigermoth and The Red Flower Of Tai Chi Blooms Everywhere.
What kind of choice did you make on the tracks of At The Edge Of Light? Was it painful to leave someone out?
I chose those tracks which I felt would work best live. I always like to involve some of my new material to keep the set vital.
What's up with Craig Blundell replacing Gary O'Toole on drums? Have you had difficulty entering a band so close together for years?
Craig has settled in well from the start. He is a terrific drummer and a great guy. We're all thrilled to have him with us.
Is there any artist, living or dead, that you would love to collaborate with? Or maybe perform live on stage?
I would have loved to perform live on stage with Richie Havens, who had such an amazing voice and stage presence.
A lot of guitar players look up to you in terms of musicianship. Growing up, did you have an musician that you looked up to? What about now?
When I was very young, it was Hank Marvin of The Shadows. Later it was Brian Jones of the Stones and later still Jimi Hendrix. Then I very much developed my own style. There are still guitarists I enjoy today like Joe Bonamassa.
How has your music style evolved over the years? What influences you the most?
I was initially influenced by Blues but then I was thrilled with the explosion of new sounds from bands like the Beatles, Procul Harem and King Crimson in the late '60s. Then with Genesis I enjoyed the way many different musical genres could be linked and developed.
Picasso once said that art is a reinterpretation of old models, with a new twist. Would you say that that applies to music, too?
Yes, all basic models have been done before but when you develop and link different genres and ideas you give birth to new forms. That is where music gets exciting!
[siteorigin_widget class="WYSIJA_NL_Widget"][/siteorigin_widget]
[siteorigin_widget class="WYSIJA_NL_Widget"][/siteorigin_widget]
Ascolta Genesis & Co.anche su: